It's time for some bump fun in the sun! Sexy Mama Maternity knows that a sunny destination in winter is one of our Babymoon must haves. We've collected our best Babymoon looks, including our fave Black Friday maternity swimsuits, as part of our Black Friday sale! 
Let's Talk Swim!
We suggest packing a minimum of two suits for your Babymoon getaway. Variety is key for comfort and all those bump pics you're sure to snap! Let's dive into our top babymoon must haves picks.
Firstly, this leopard maternity swimsuit is here to steal your heart and become your go to swimsuit from our many Black Friday maternity swimsuits. This maternity swimsuit features a thin strap and square neckline. This fashionable, mom favorite swimsuit, is also available in a gorgeous tan leopard print and a classic black.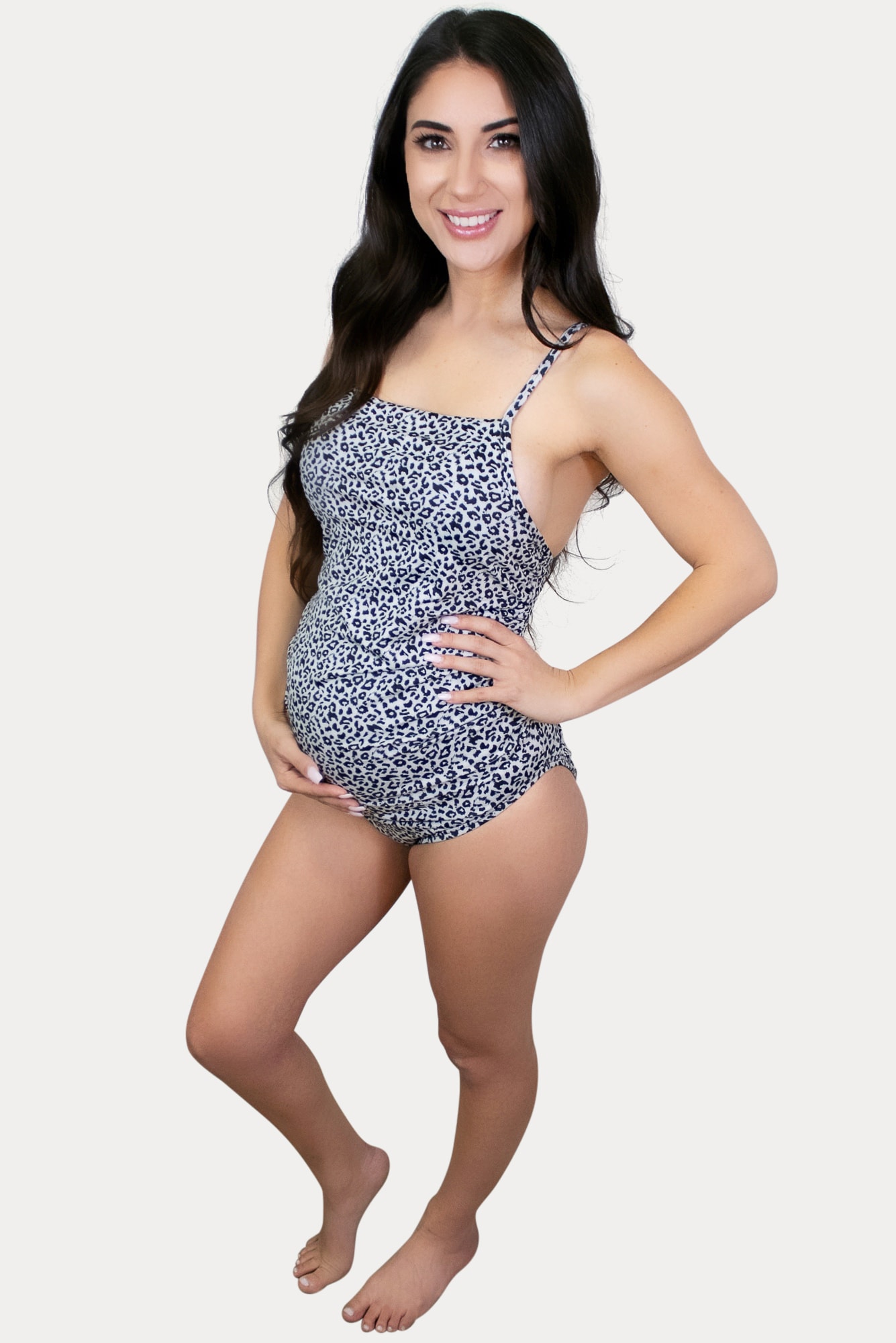 Secondly, for Sexy Mama Maternity's Black Friday maternity swimsuits is this stunning sweetheart swimsuit. This maternity swimsuit comes in four bold and fun colors to perfectly match your personality (or baby's gender).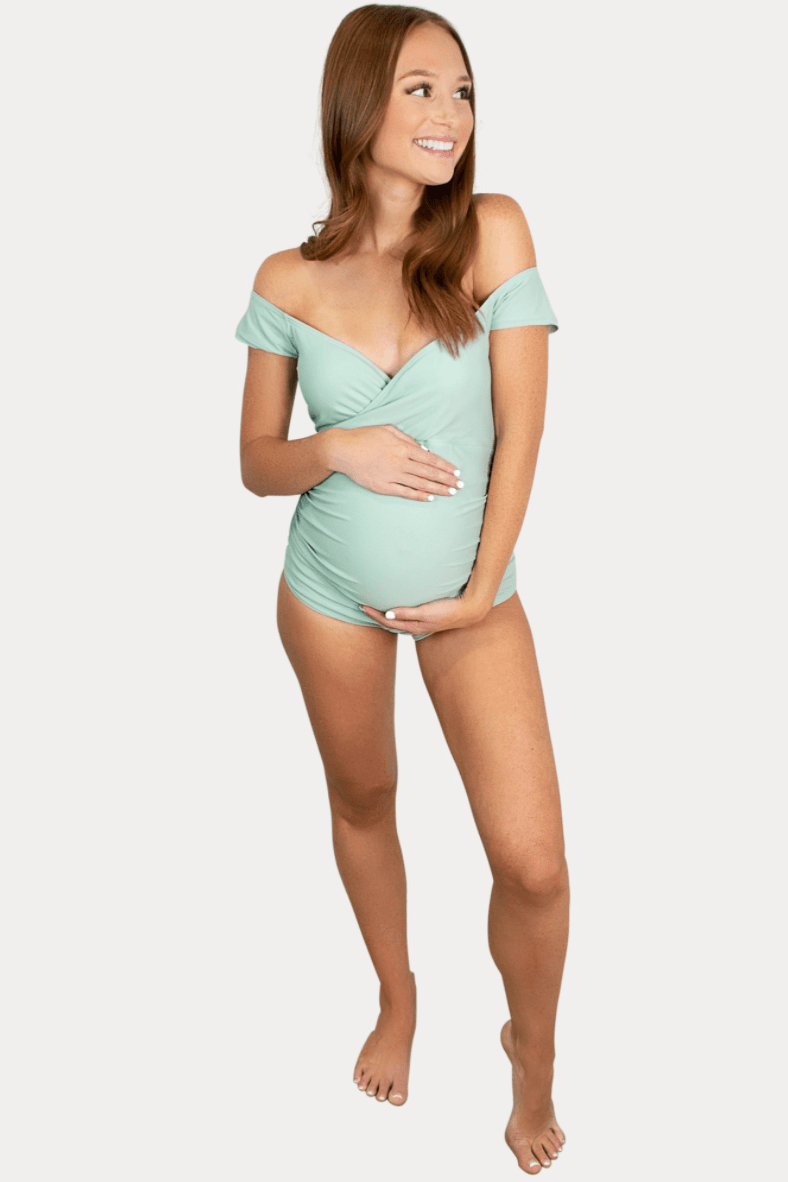 Lastly, to round up the Black Friday maternity swimsuits is this flattering floral v-neck maternity swimsuit. This maternity swimsuit features a beautiful V neckline with subtle ruching that will keep you comfortable at the beach, pool, or patio. This swimsuit also comes in the staple colors, black and white.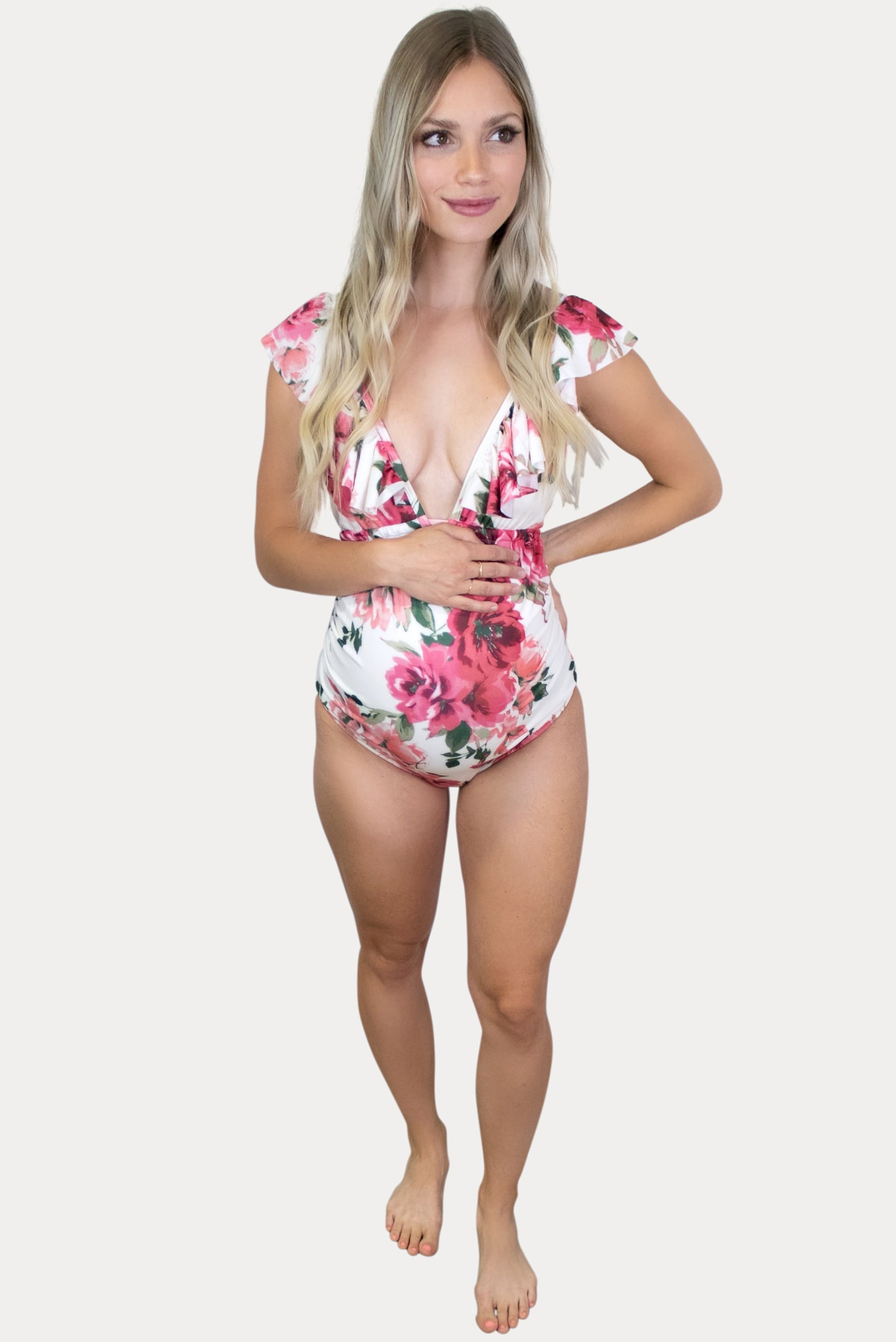 Warm Weather Denim
Find the perfect maternity shorts to bring along on your babymoon. Sexy Mama Maternity shorts are made of the best blend of denim and stretch. These shorts can be paired with a Sexy Mama swimsuit or dressed up for a beachy date night. Talk about a babymoon must haves!
These classic cuffed maternity denim shorts are a mama favorite and are the must-have shorts for your babymoon. In addition to wearing these shorts with your go to top, our ultra-stretch shorts can be layered with your favorite Black Friday maternity swimsuits from Sexy Mama!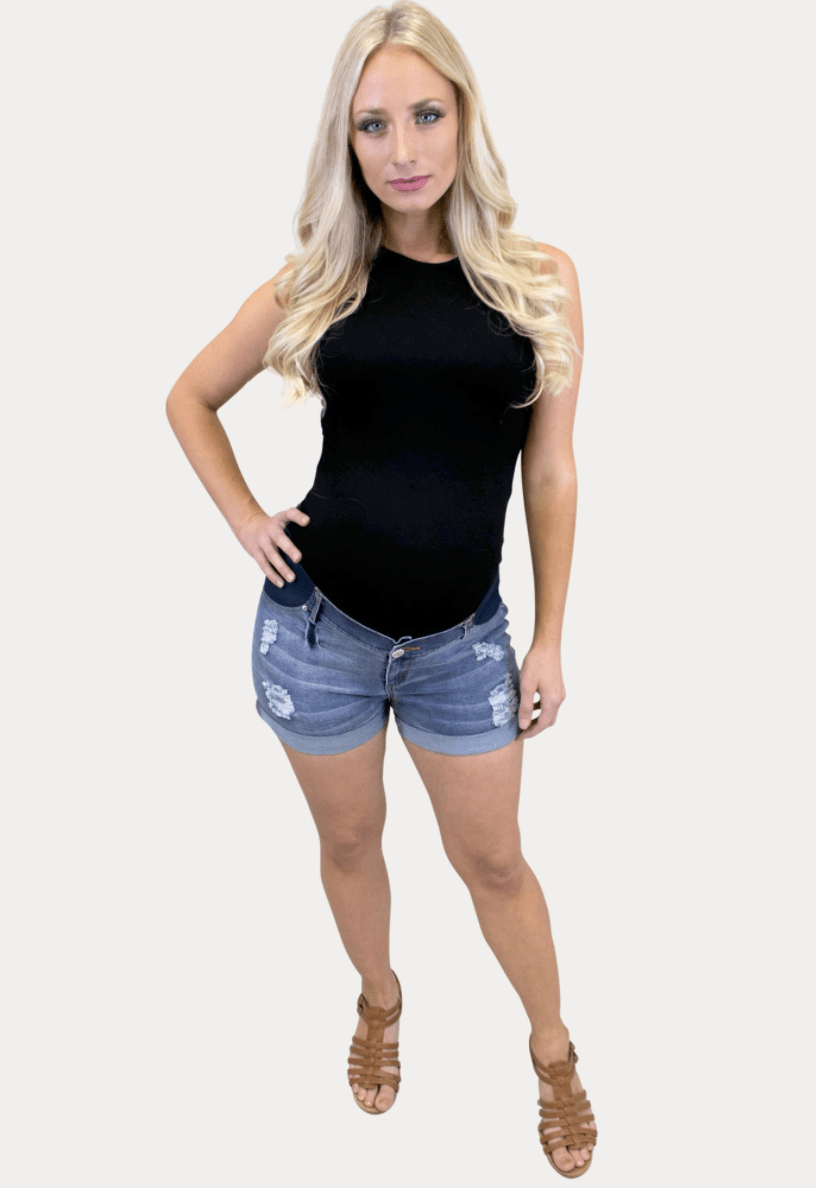 Time to dress up for a beachy date night, these black ultra-stretch shorts are the staple pieces you need for your babymoon. These black shorts feature an under belly adjustable band and a trendy raw hem bottom. Above all, keep feeling sexy even when you can't see your legs!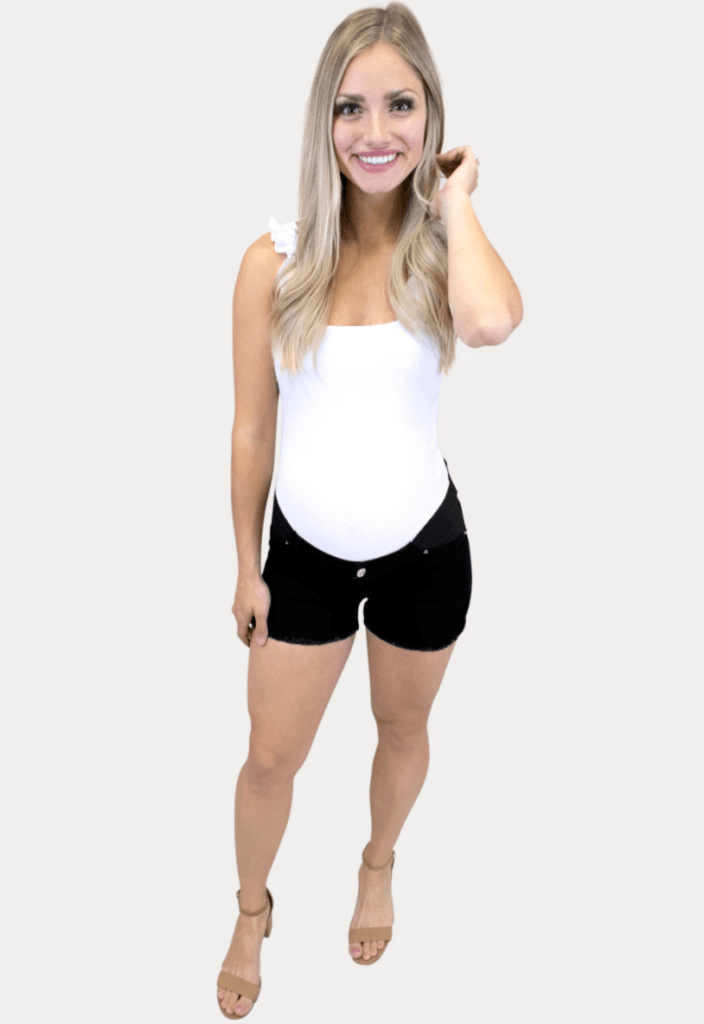 A quick and easy cover up, Sexy Mama bumperalls! These ultra-stretch shorts overalls are trendy and easy to pair with anything, a staple for your babymoon. Our overalls feature adjustable sides which makes these overalls perfect to wear throughout your whole pregnancy and beyond.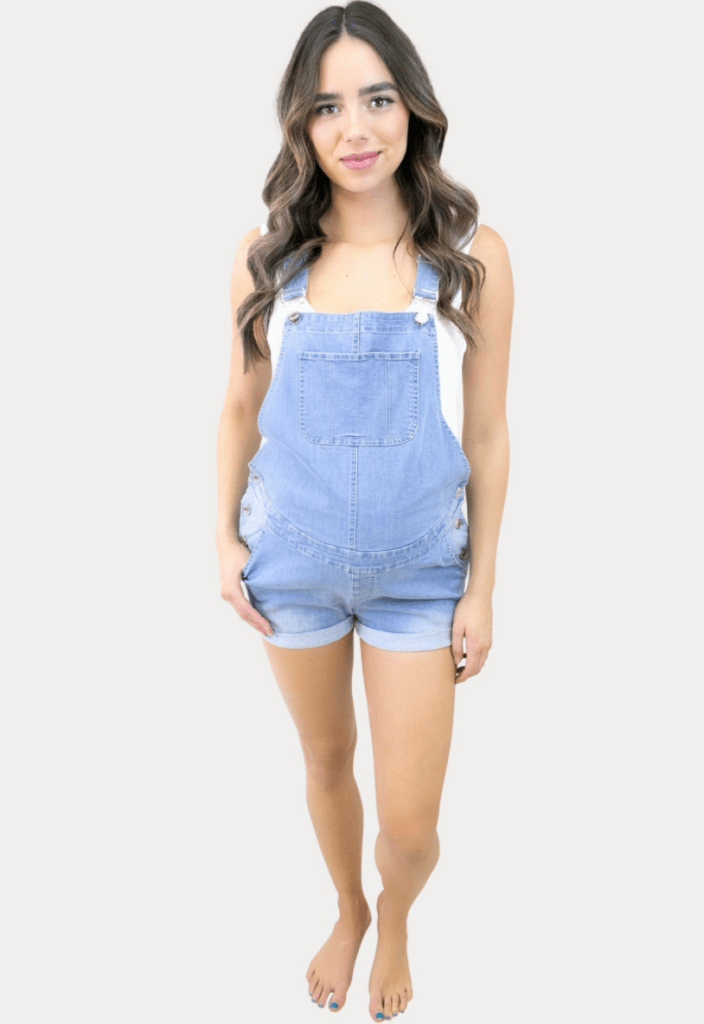 Babymoon date night outfit alert! These white overalls are easy to dress up for a fun date night on the beach. They can also easily be paired with flip-flops or sneakers, layered over your Black Friday maternity swimsuit for a more casual look throughout your babymoon.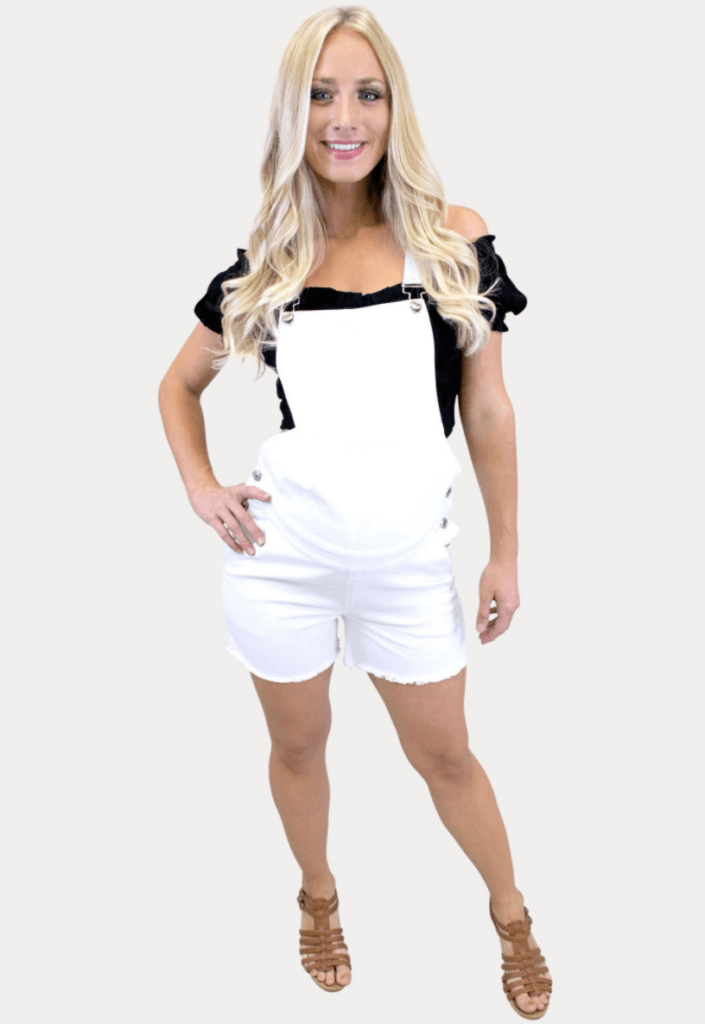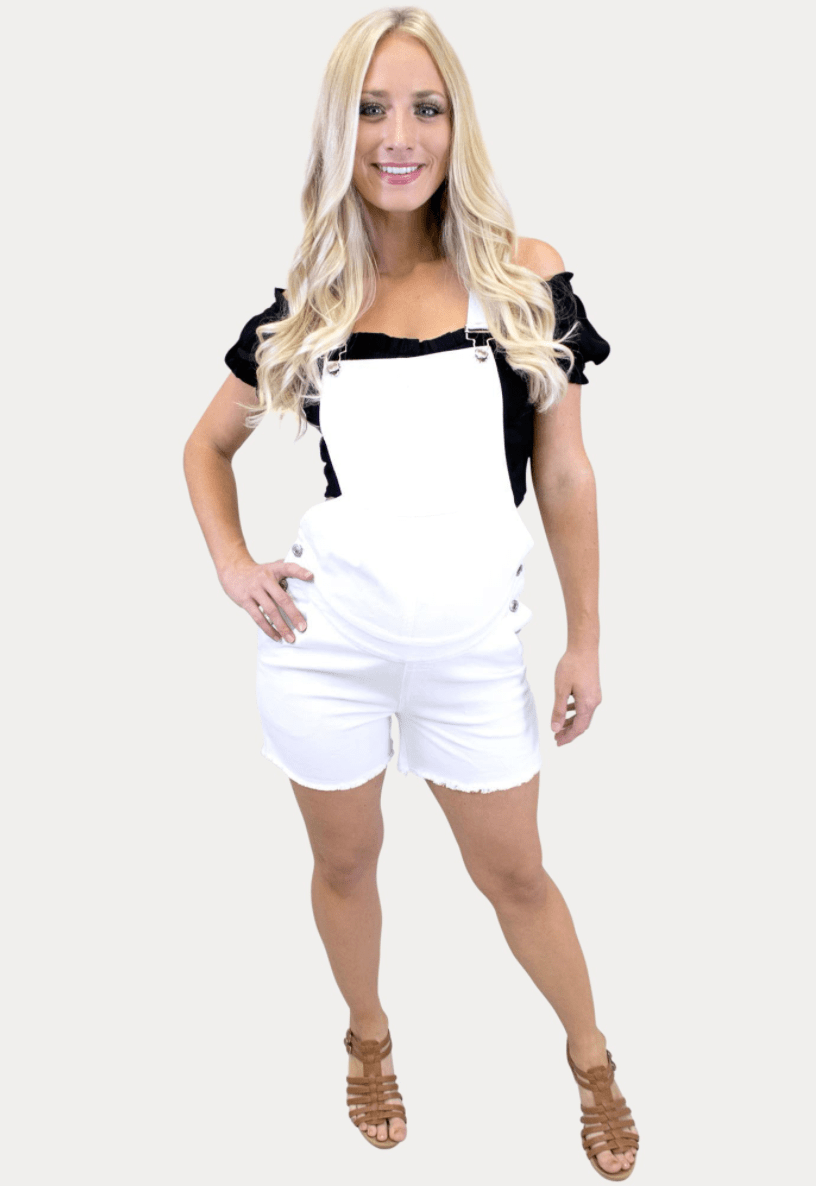 Beachy Maxis
During your babymoon everyone needs a maxi, or two or three. Our maxi's are the best dresses to quickly put on for a comfortable and stylish look! 
This tie dye maxi adds a fun pop of color to your maternity wardrobe. It features a strapless top and a flowing fit which makes it perfect for a day on the beach, babymoon adventures or an easy layer over your Black Friday maternity swimsuit!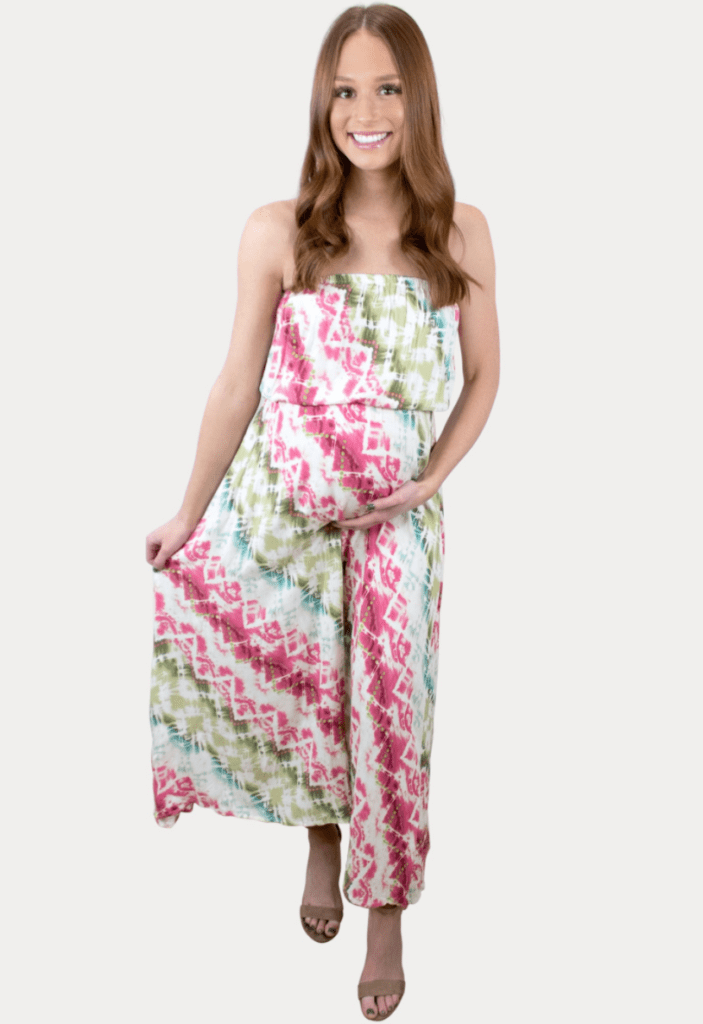 Our V-Neck Tie Dye Maternity Maxi is what babymoon dreams are made of! This maxi is the perfect mix of fashion and comfort. Easy to dress down for a lazy beach day or dress up for a glamorous date night. Truly a top babymoon must haves.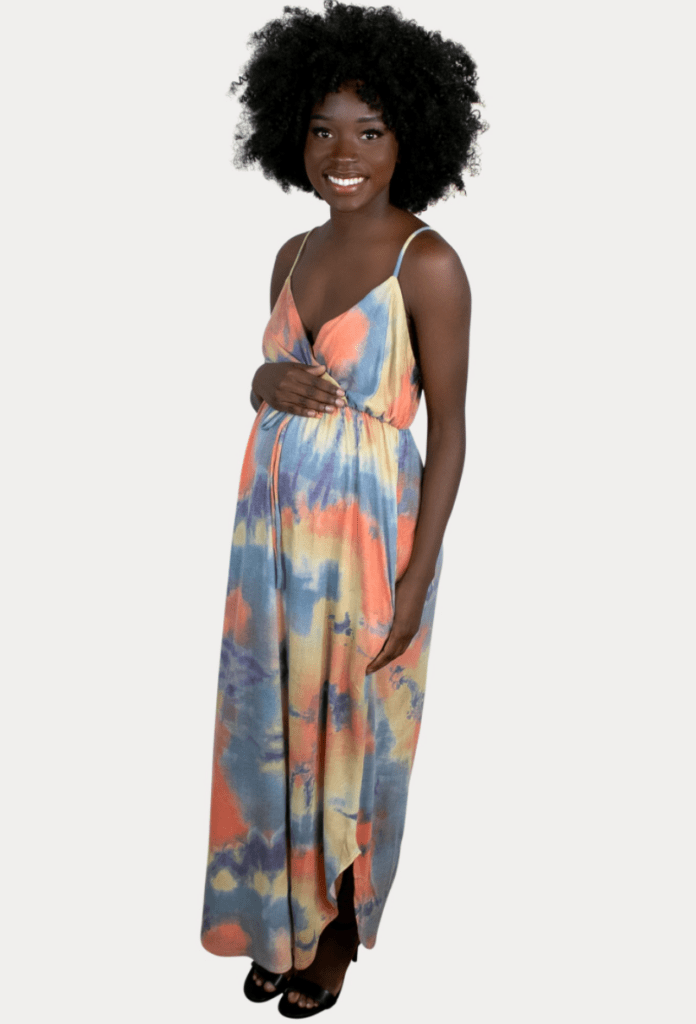 Get lost in paradise wearing this cute tropical pink maternity maxi! This maxi is constructed on a flowy material that will keep you comfy all day long. A perfect addition to your babymoon suitcase that will double as a favorite after pregnancy.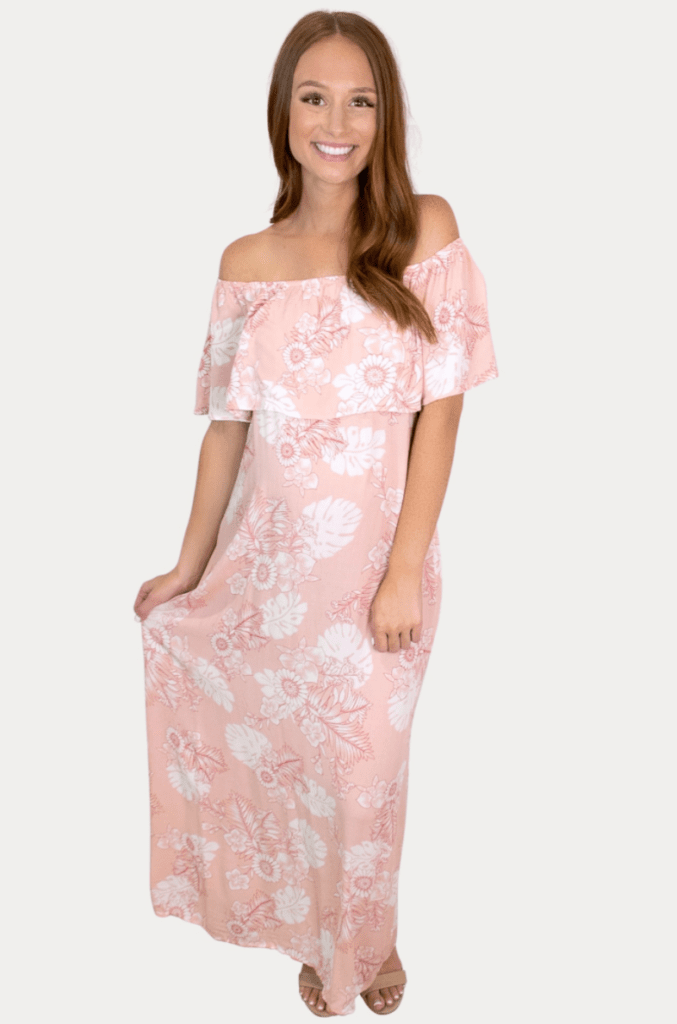 The pink and yellow floral maternity maxi is the dress of your dreams! White with a gorgeous floral print, it features an off the shoulder ruffle top and a flowy bottom. This maxi can easily be dressed up for a sunset date night or dressed down for a casual look.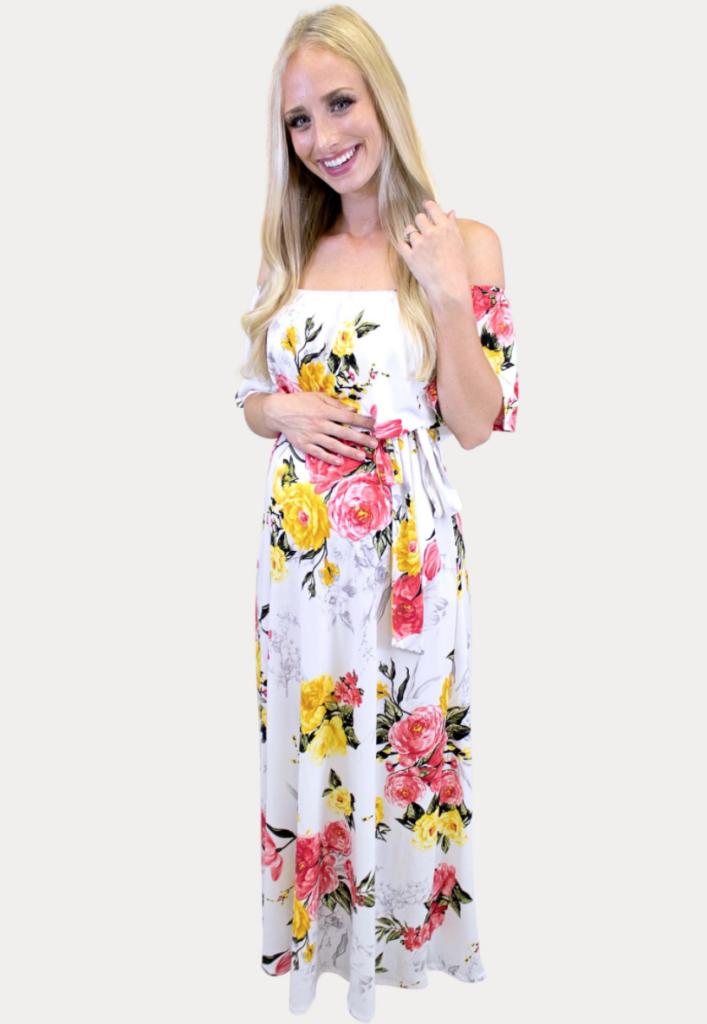 Date Night Inspo
During your babymoon a couple fancy date nights are a must! Here are a few mama favs for a fun and easy date night look.
Overall, a Sexy Mama favorite! This bodycon maternity dress is the dress you've been dreaming of. It is constructed of a premium stretch material and available in over 40 colors. Since, this maternity dress can easily be dressed up for your dream babymoon date night it is the perfect addition to bring on vacation.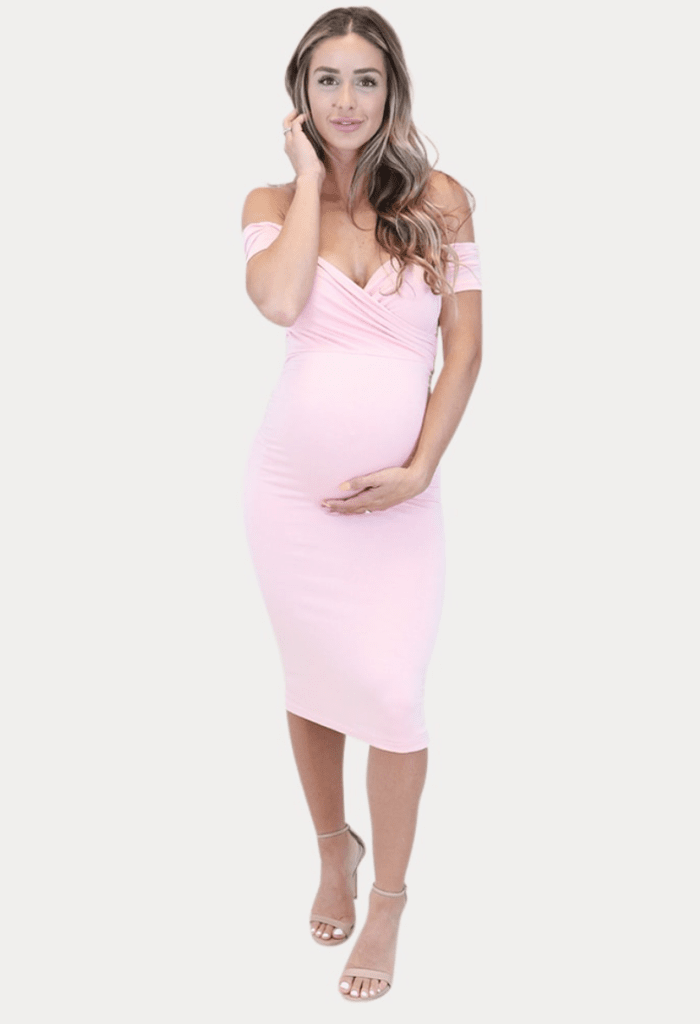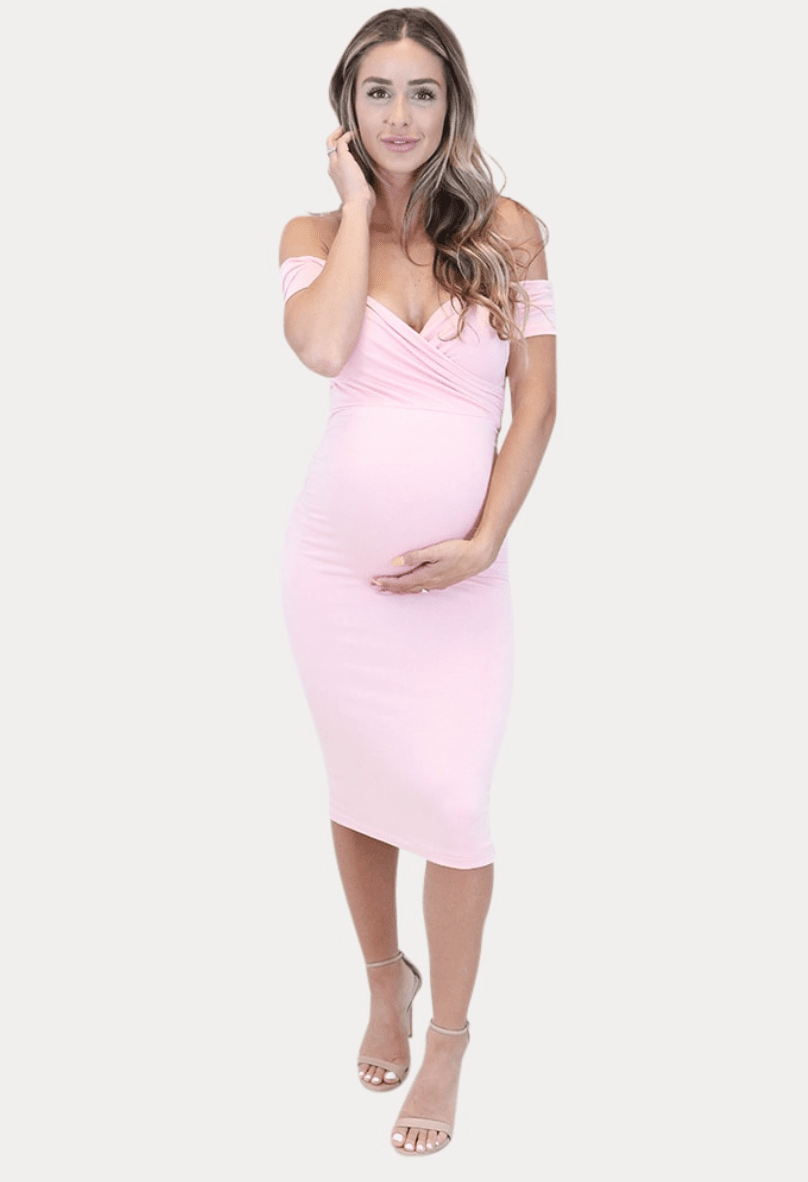 Add a little sexy fun for date night with this flattering striped cutout bumper! Since there is a bow in the front and a deep v neck, you can't go wrong with this adorable style.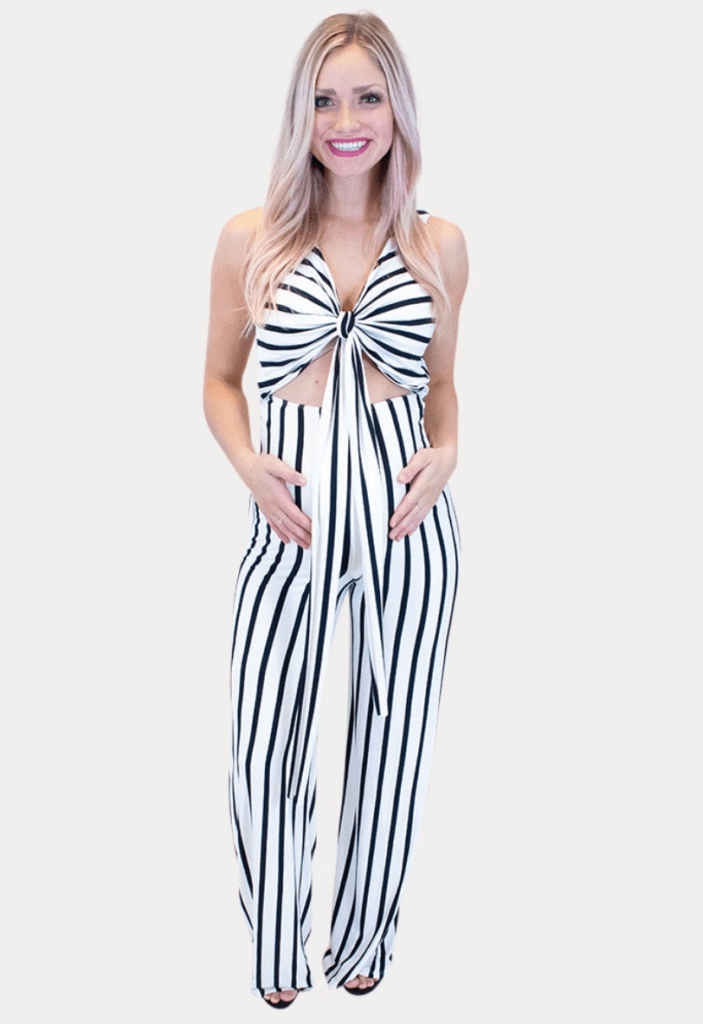 Feel fierce while wearing this cutout leopard bumper! You will love your leopard maternity jumpsuit and so will everyone who sees it. Add this maternity jumpsuit to your babymoon suitcase for an instant win!
Babymoon Beach Shoot
Most importantly, while on vacation, it is time to schedule a gorgeous maternity photoshoot to capture memories that will last a lifetime! These Sexy Mama gowns are here to help capture these beautiful times.
This lace boudoir maternity gown is the perfect mix of sexy and elegance to perfectly capture your beach maternity photoshoot during your babymoon getaway. This gown is available in a stunning pink and classic black color.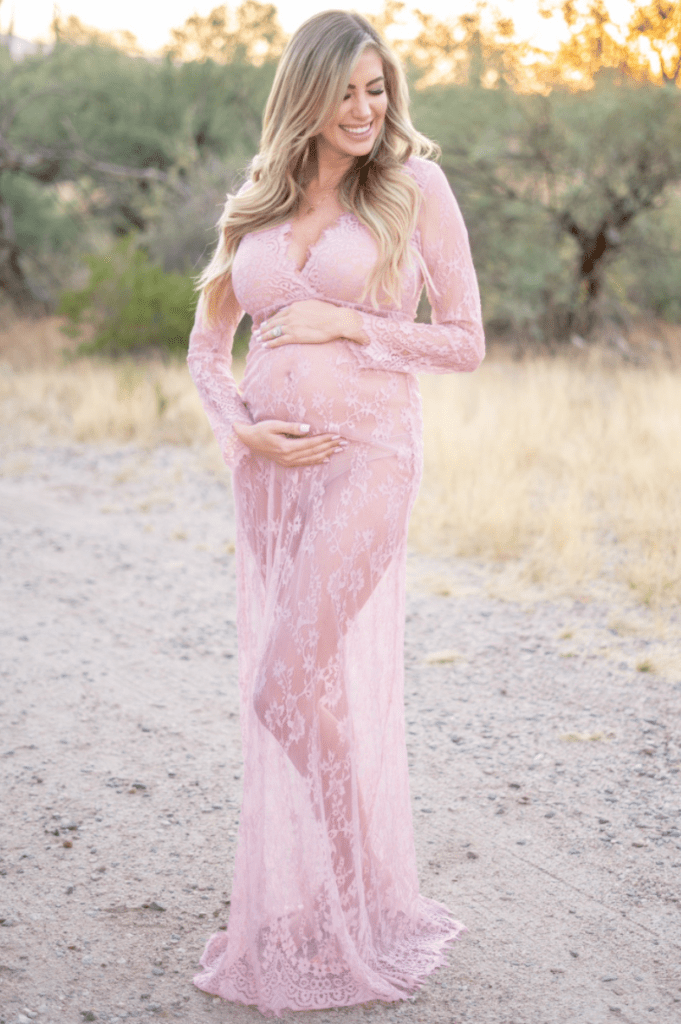 Our custom made maternity gowns are created to perfectly suit you for every occasion. This gown features a gorgeous sweetheart neckline and is made of a premium stretch material. Complete your babymoon with a stunning beach photoshoot in a gown made just for you!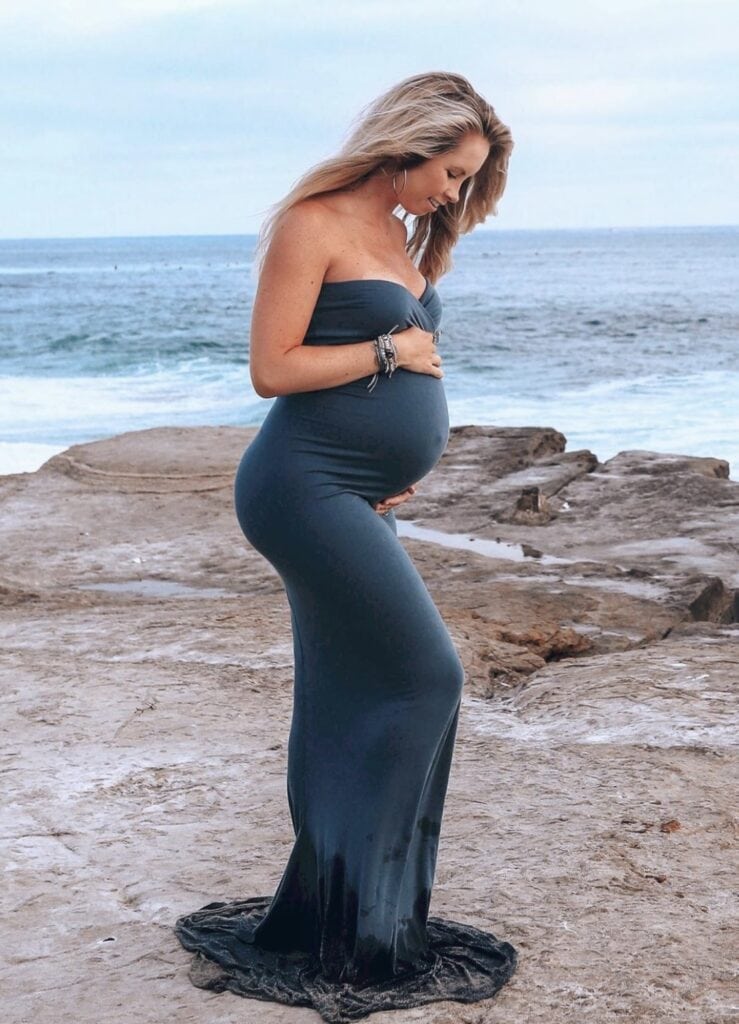 Need help selecting the perfect size for your babymoon must haves? As always, Sexy Mama Maternity is here to help! Chat with a stylist through the website or send us an email for sizing and styling assistance. Most importantly, don't forget to also send us your pictures! We'd love to see your babymoon outfits!