There is no better way to capture your pregnancy than a Fall maternity photoshoot! A Sexy Mama gown, plus the fall scenery, makes for gorgeous images to forever remember the beautiful times of your pregnancy. We have gathered some of our favorite Autumn photos and tips to give you inspiration and ideas for your upcoming Fall maternity photoshoot! And as always, don't hesitate to reach out to a Sexy Mama stylist to help you select the perfect look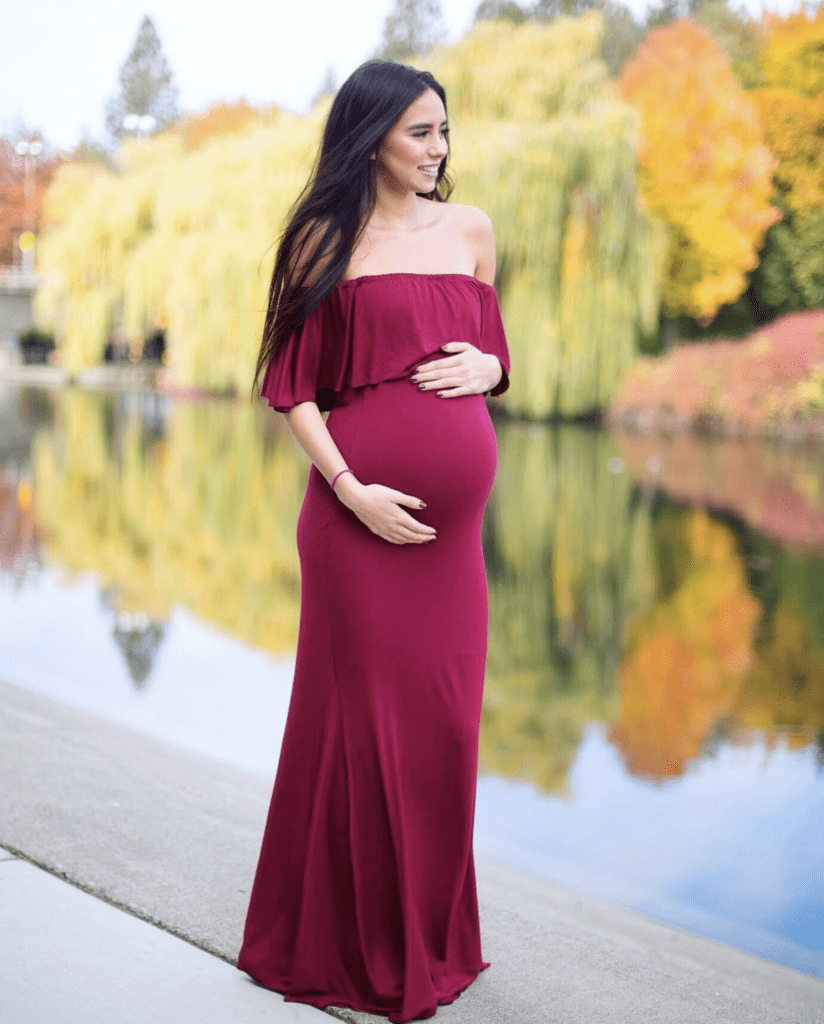 Nothing says Fall more than the vivid warm tones of the changing leaves. You can incorporate these colors by wearing a gown in a complimentary color such as Burgundy. Pictured here is Burgundy in our Off the Shoulder Flare Gown. The trees reflect beautifully onto the water, creating a romantic visual of Autumn.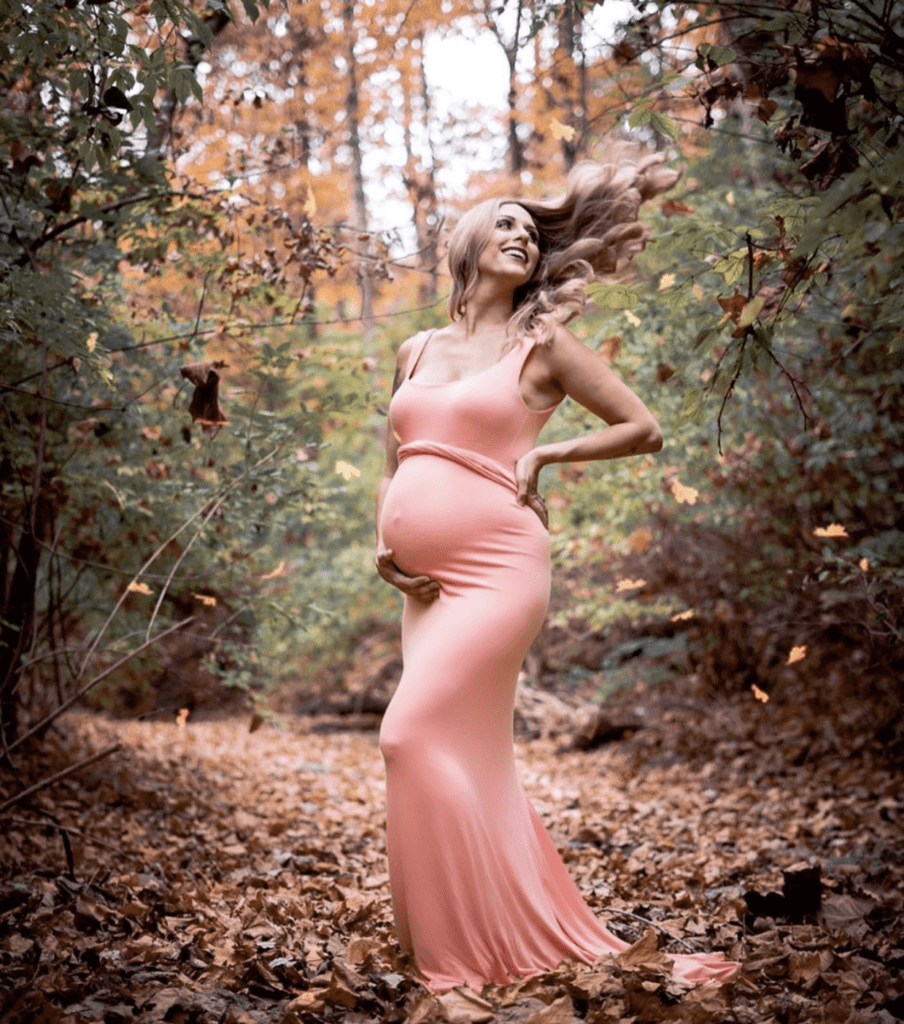 A key to success with any shoot is the background. Fall offers endless possibilities to truly capture the season. The image above shows the magical nature of the Autumn leaves melting fall into the background, combined with a playful shot that almost takes us back to childhood leaf piles. Pictured here, @ellie_stines is wearing our Cross Bust Flare Gown in Papaya.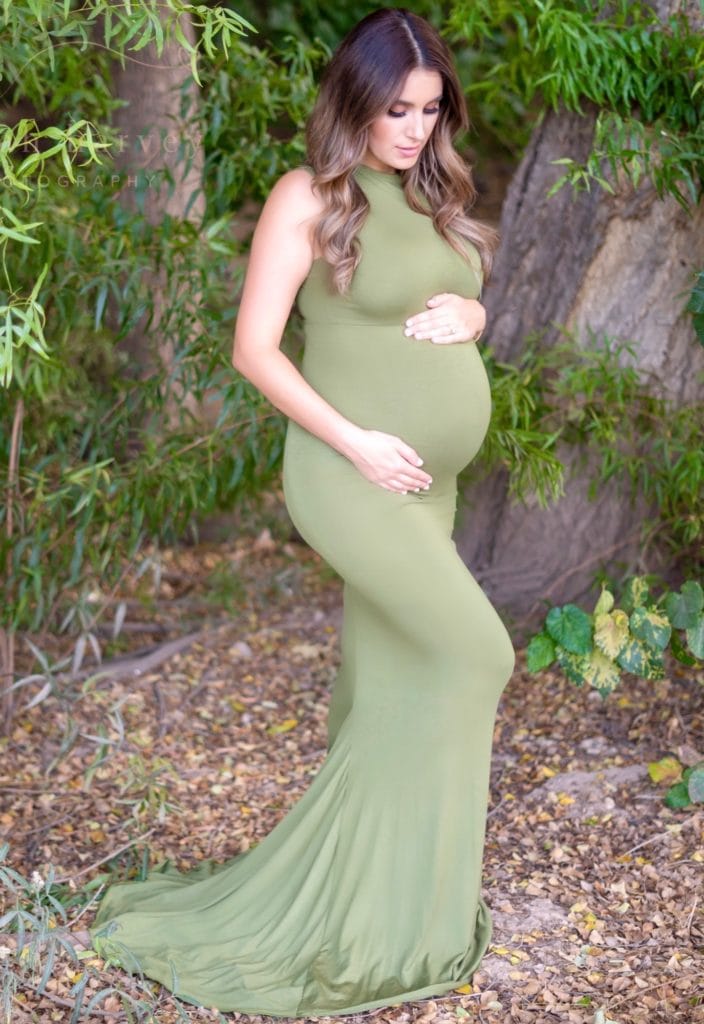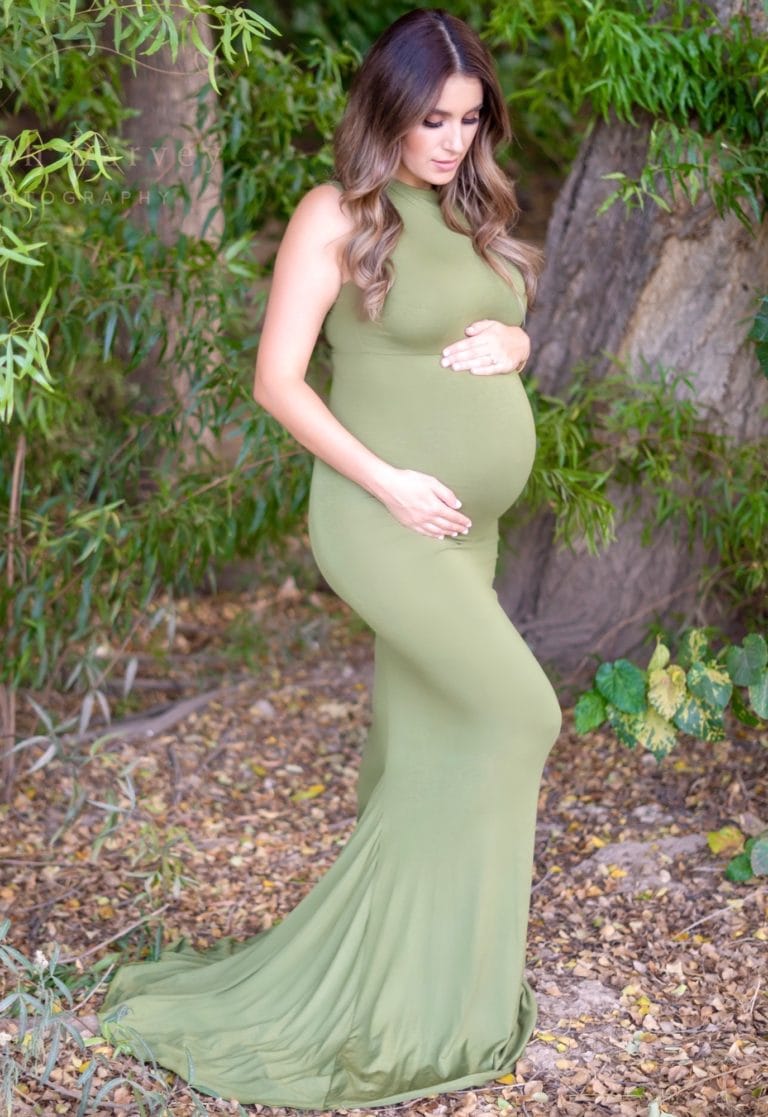 Colors are everything when it comes to selecting the gown for your Autumn photo session. Here we have our newest green, Moss, in a timeless favorite, the Sleeveless Mock Neck Gown with Mini Train. This color compliments the beautiful earthy tones of Fall, as well as flatters your mama curves. It is a bit more of a year-round classic rather than the photo above which steams Fall.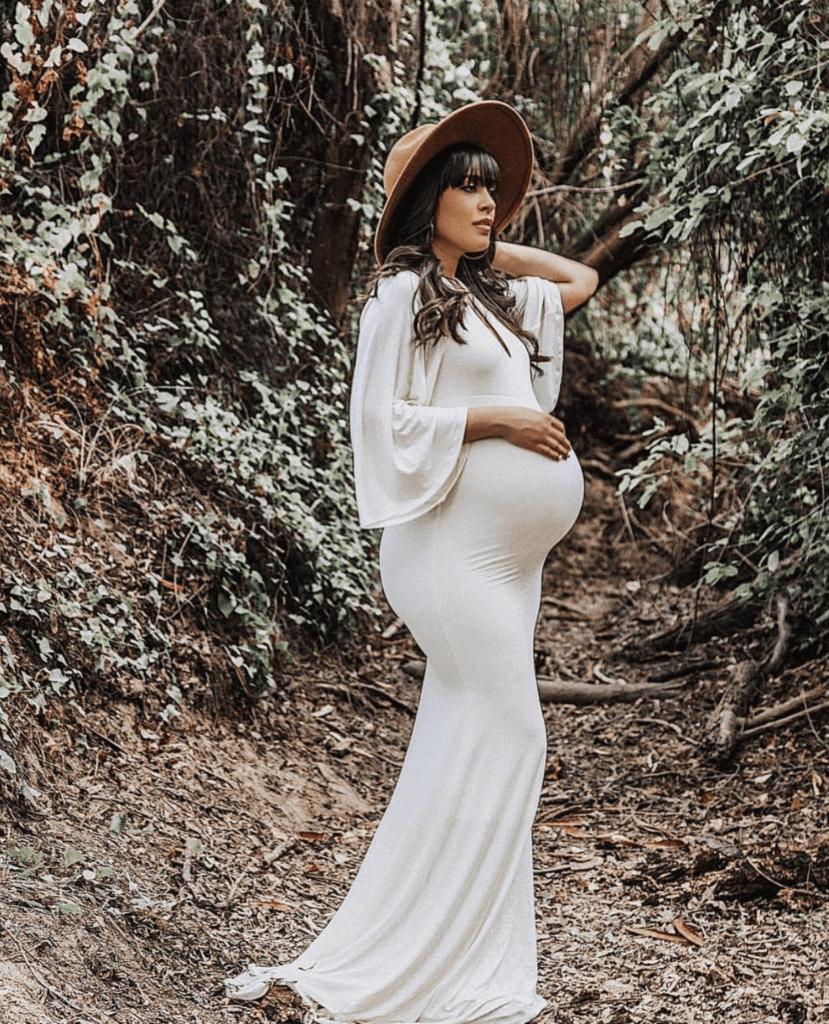 @spanglishfashion is showing everyone how it's done when it comes to Autumn photo sessions, so let's take notes! A trendy felt hat adds the perfect boho twist to the classic maternity gown photoshoot. The Cream color creates a gorgeous contrast between the earthy tones behind her. This ends up making an absolutely stunning look, perfect for your own Fall session.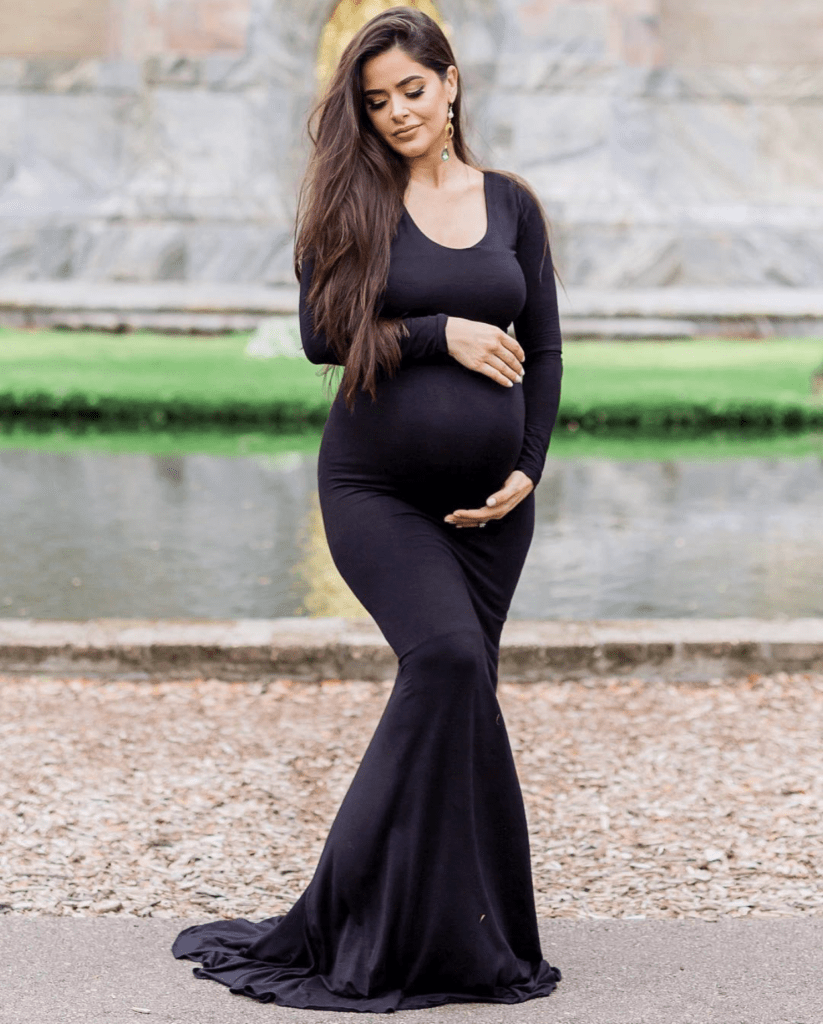 A Black long sleeve gown, like our Simple Long Sleeve Gown with Mini-Train, creates an elegant, classy look that's also perfect for chilly breezes for Fall photoshoots. Here, @vaniragiselle paired her gown with a pair of statement earrings and classic makeup, leaving an overall stunning photoshoot look, which could easily transition to Winter!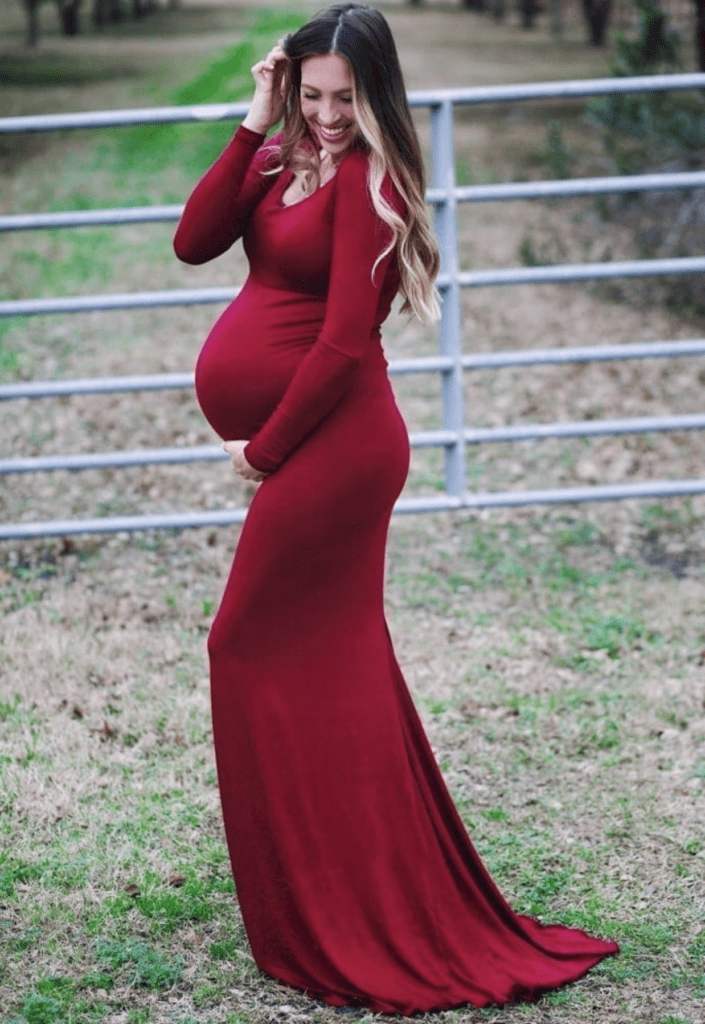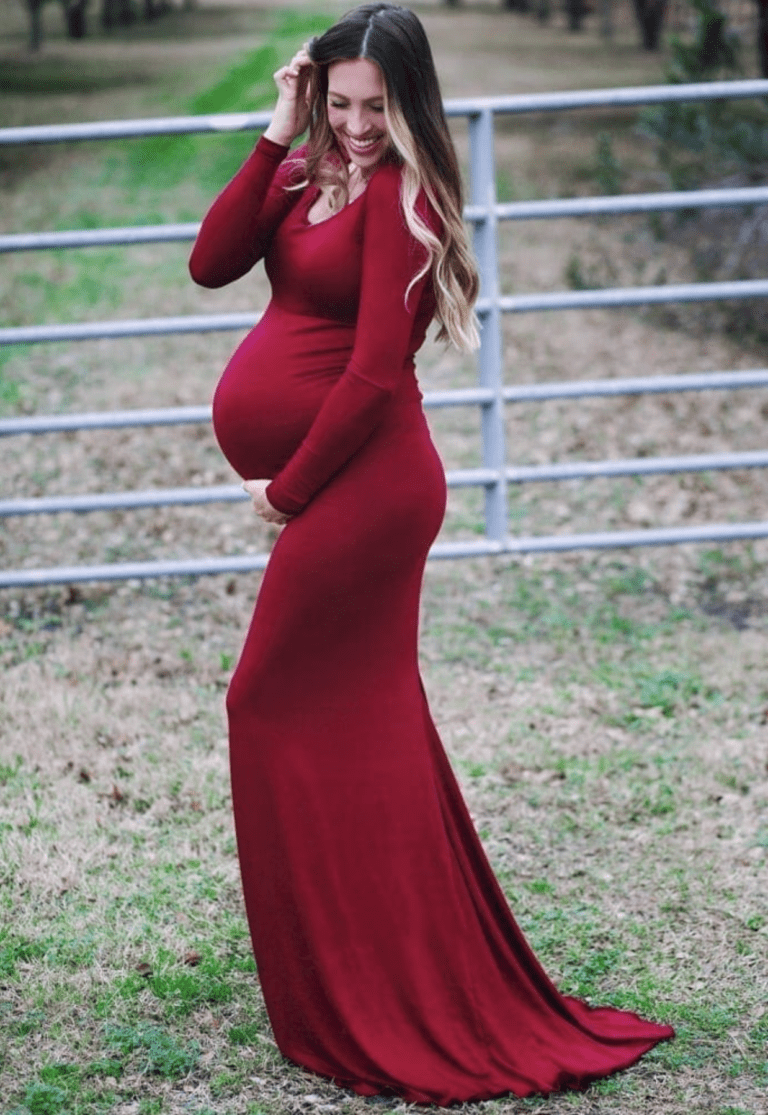 A crisp weather classic, the Simple Long Sleeve Gown with Mini-Train is shown here as well, but in Burgundy. Burgundy is the queen of all the Fall colors, because it pairs well with green backdrops, the oranges of the leaves, and even the white when it snows. Beautiful mama @monicakase is featured here looking gorgeous, and cozy! The gown has been a favorite of mamas for many years now.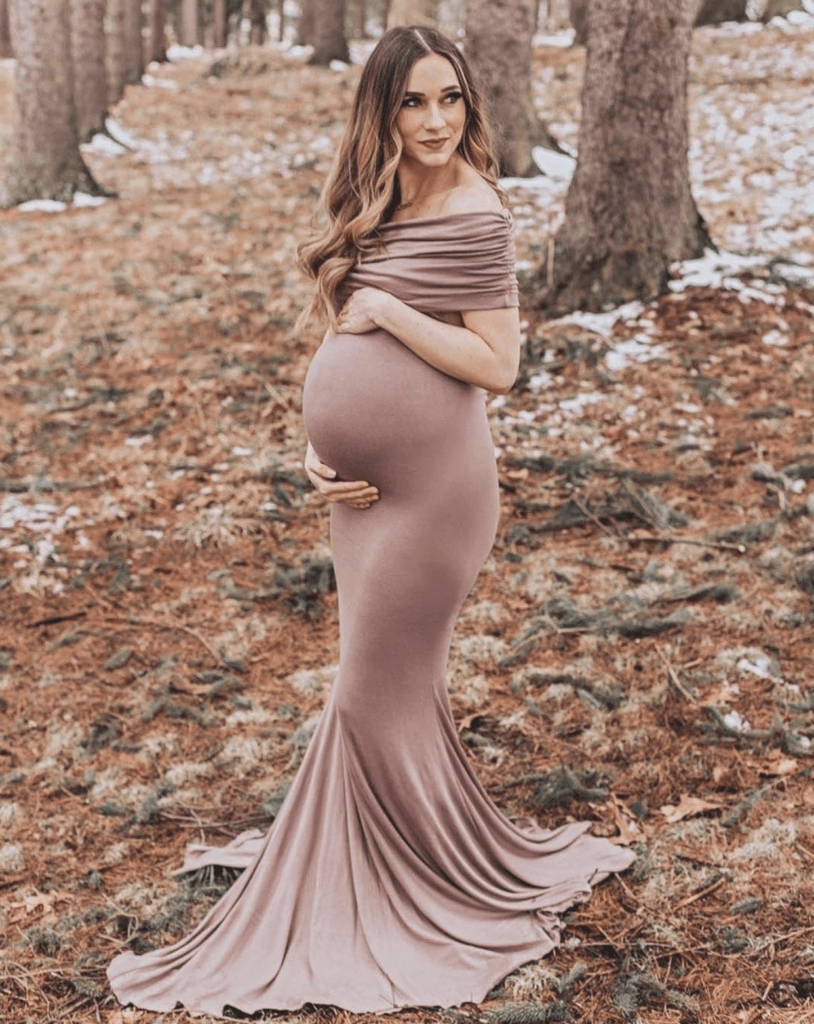 A hint of snow, the fading colors of nature, and a beautiful mama make for a stunning photo session. Mama @the_cityfarmhouse is wearing our Ruched Fold Over Flare Gown in Taupe, a classic Fall color. The brown tones in her gown compliment the rust-colored shades of the backdrop, creating a romantic and elegant look.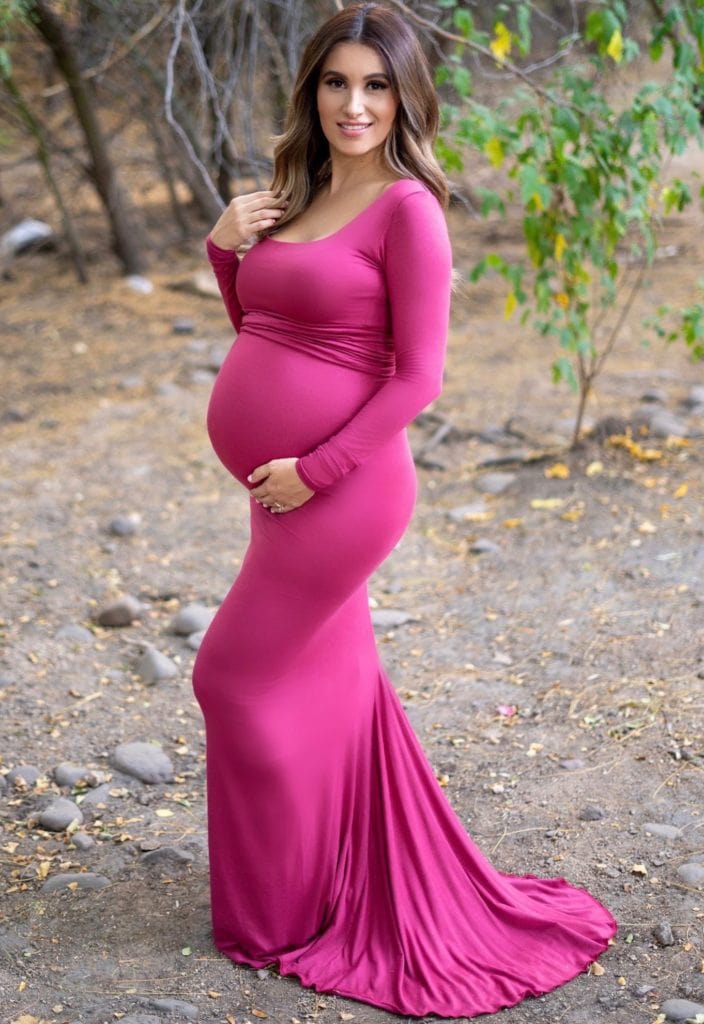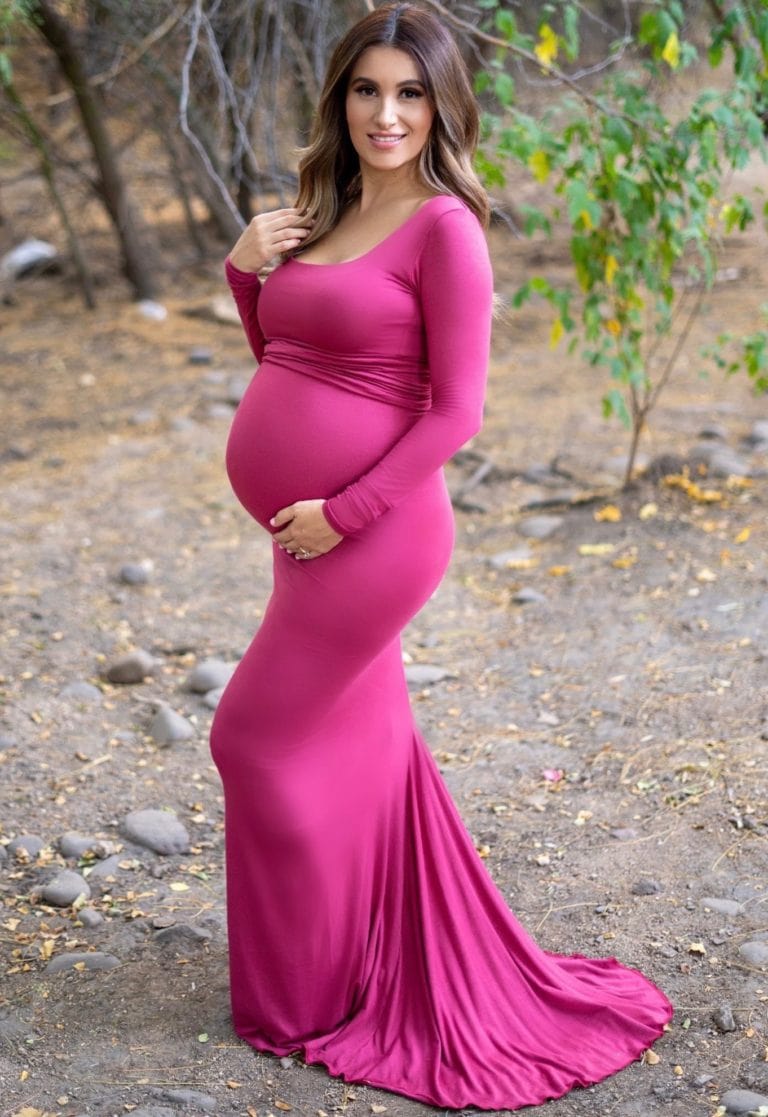 If you want you and your beautiful bump to be the center of attention, go with a vibrant color to bring the focus on you. Here we have a mama fav, Peony, shown in the Long Sleeve Cross Bust Gown with Mini-Train. A pretty pink like this will make any background melt away with all eyes on you!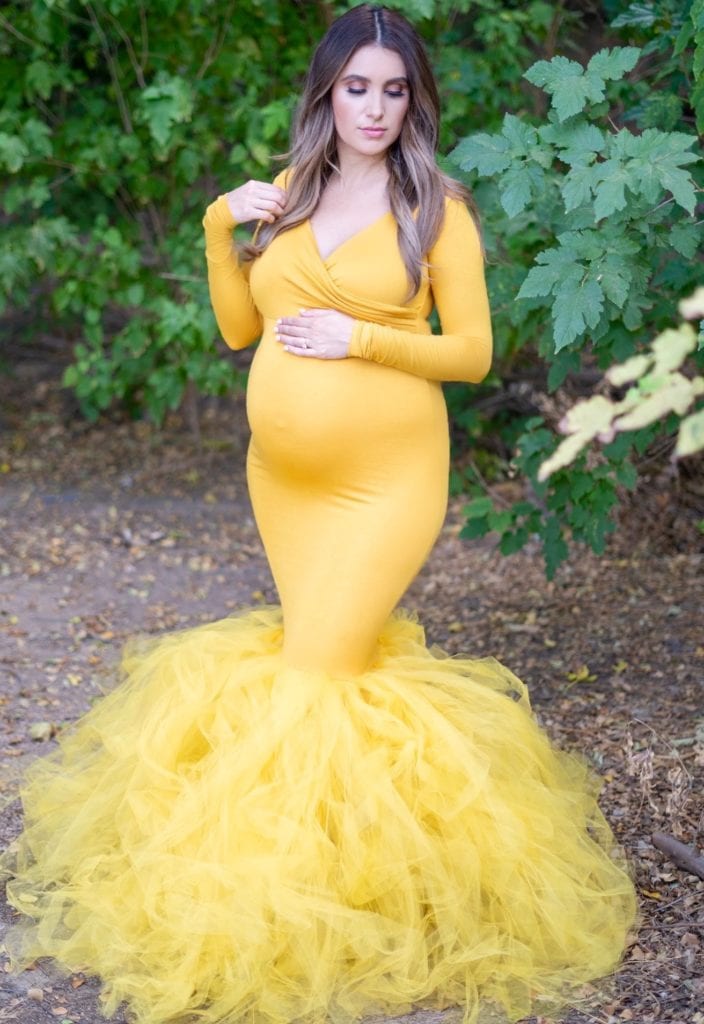 For mamas who love to make a statement, but need a little coverage against the Autumn breeze, go for our new Sweetheart Tulle Gown with Long Sleeves. Pictured in the classic Fall color, Gold, this gown will make your photos unlike anyone else's. The tulle creates a magical feel which is perfect for golden hour photoshoots!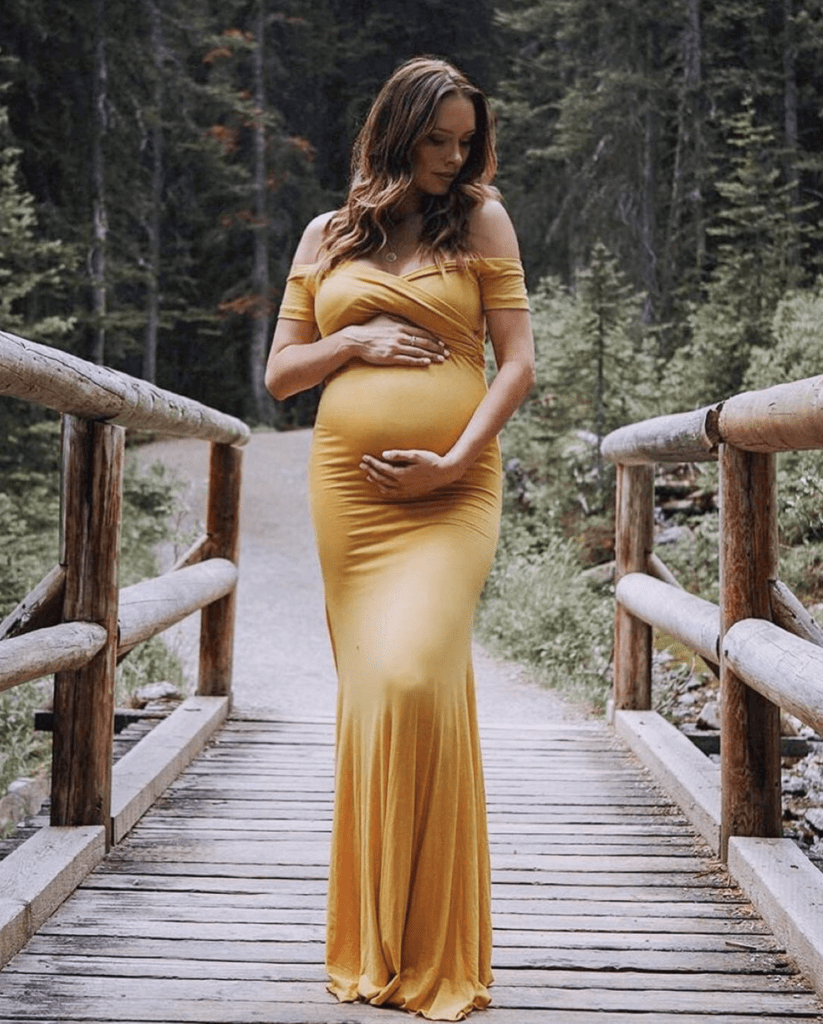 Fall is the perfect time for magical, woodland photo sessions. High up in the mountains are the perfect place to take Fall maternity photoshoots, like @charissa_littlejohn shows us here! She is wearing our Off the Shoulder Sweetheart Flare Gown in Gold.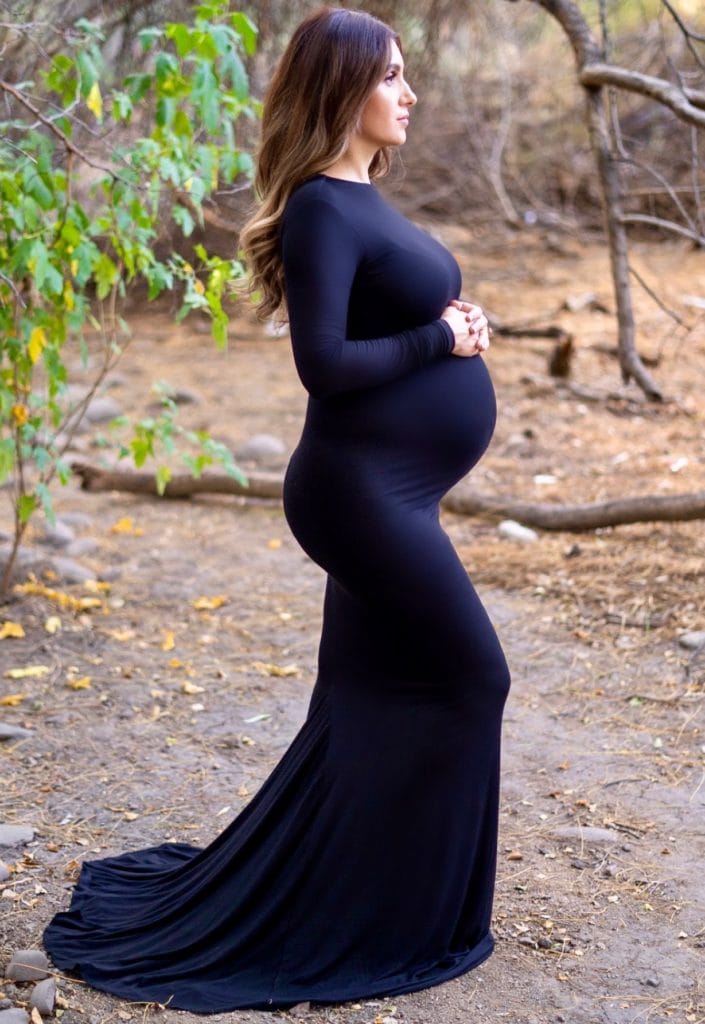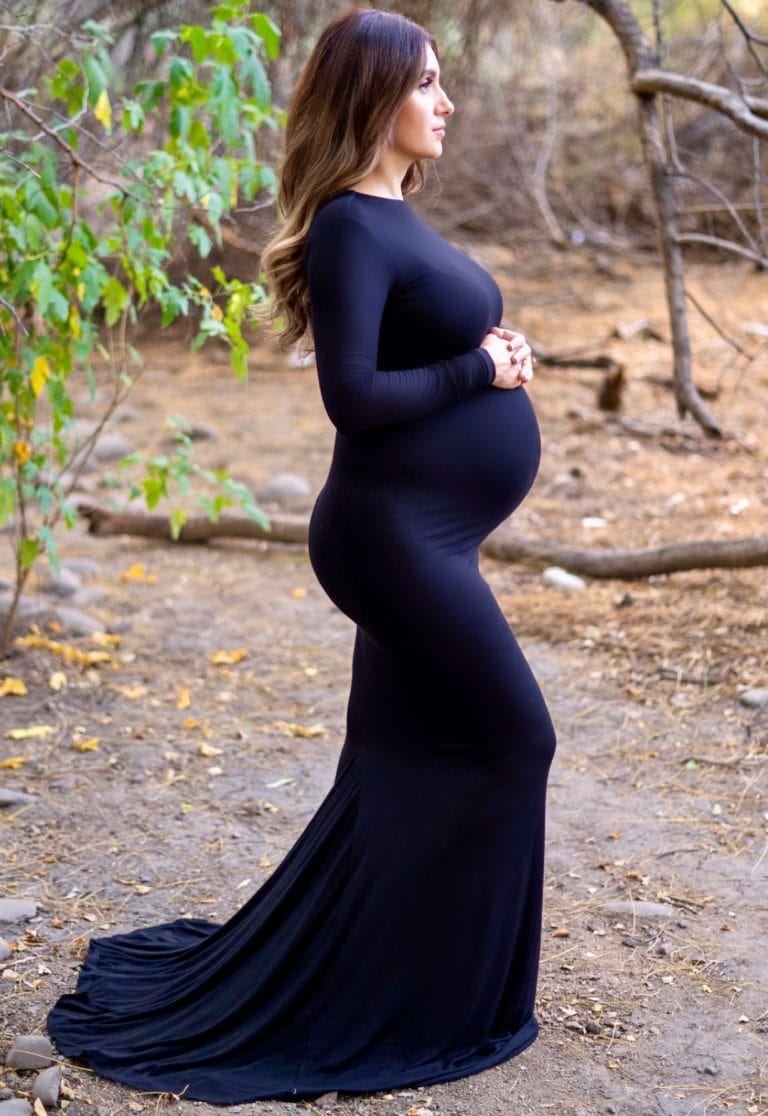 For classic mamas taking their Fall photos, a Long Sleeve Gown with Mini Train is perfect! The dark color pictured here, as well as the high neck and long sleeves makes for a flattering and polished look, perfect for all body shapes. The mini train is perfect for photos as it creates the extra bit of detail and drama.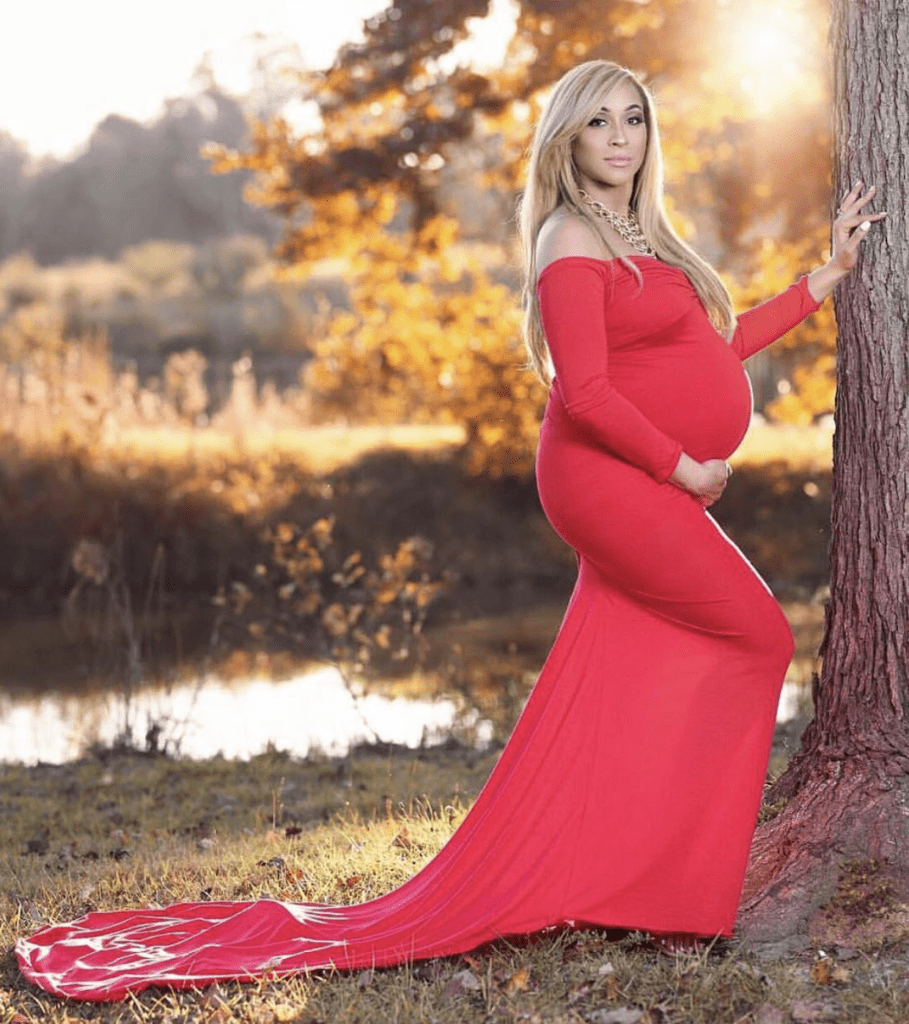 A Red gown with a long train, paired with a beautiful Autumn landscape, is a photographer's dream. @kellmybelle is seen in the Long-Sleeve Ruched Off the Shoulder Gown with Extended Train in Red. Golden hour is the perfect time for Fall photos, not to mention, it enhances the natural warm tones already there.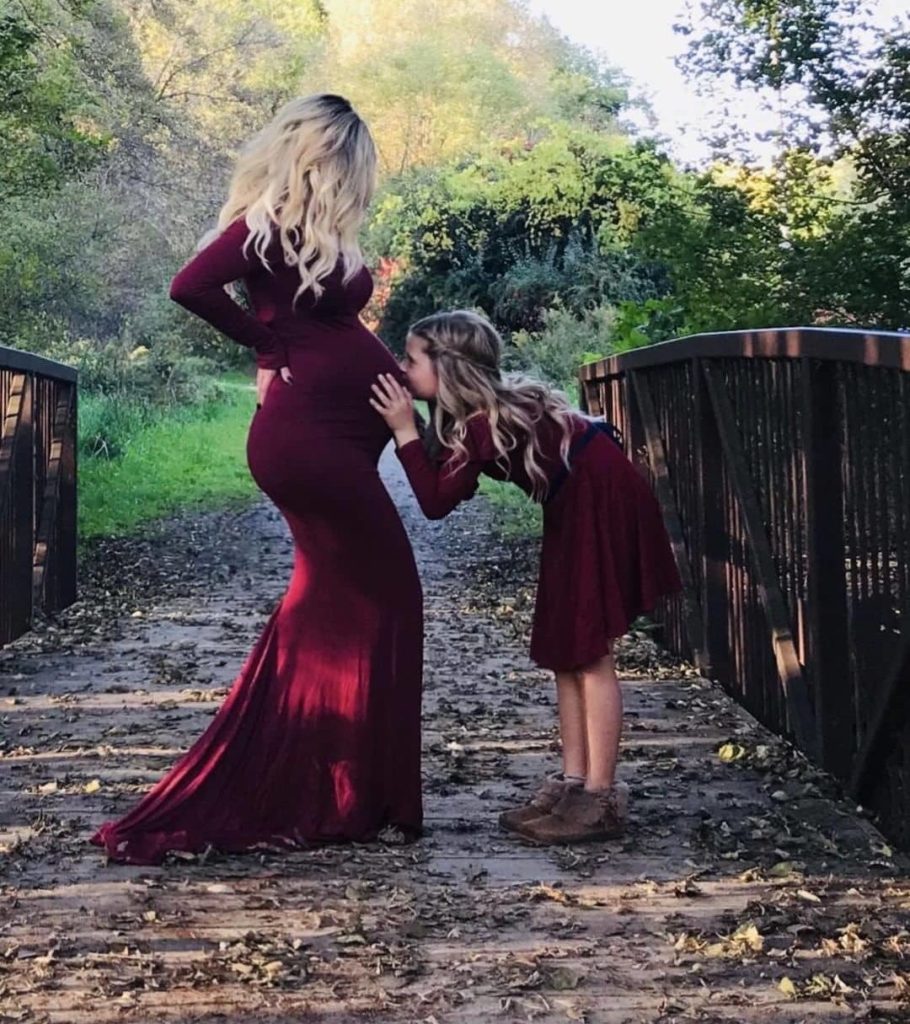 If you have a mini-me joining you for your photoshoot, there is no better way to incorporate them, then by coordinating outfit colors! You could choose to do matching shades of Burgundy, like @kylisabeth did with her little one. We offer matching Mommy and Me little gowns for your daughters, so they can feel included in the celebration too!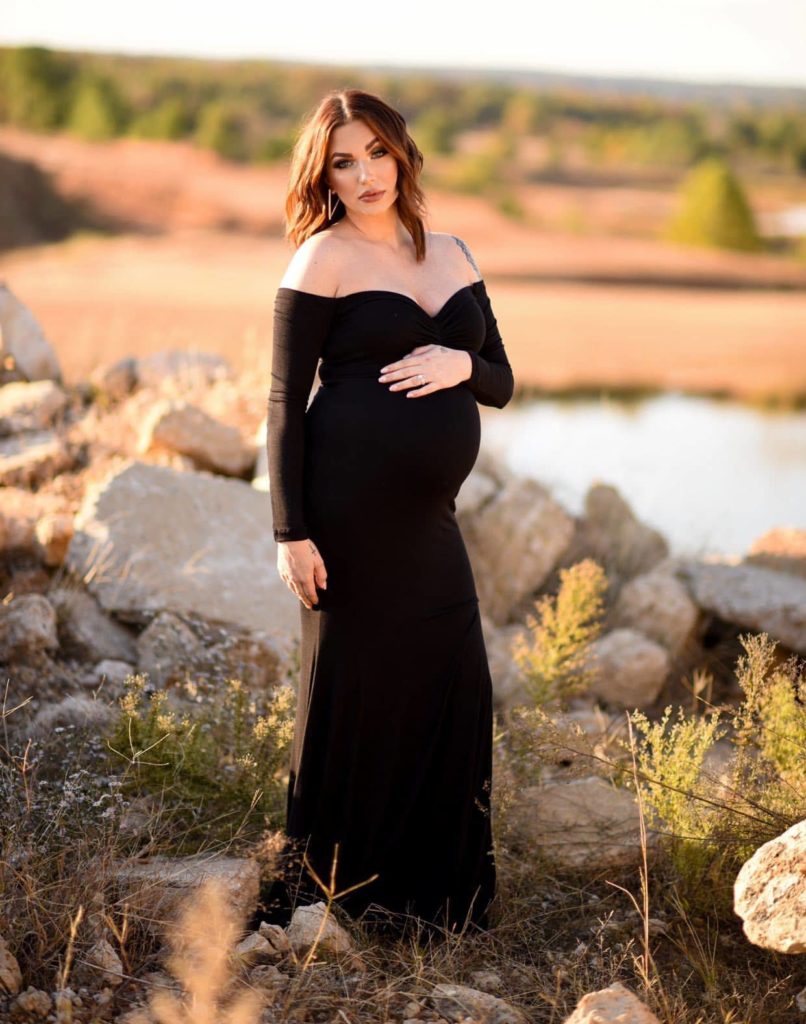 You can't go wrong with black for Fall and Winter photoshoots! It is flattering for any body type, and combined with the sweetheart neckline, it will make you feel and look amazing. This photo features @hopegabriela in her Off The Shoulder Sweetheart Flare Gown with Long Sleeves.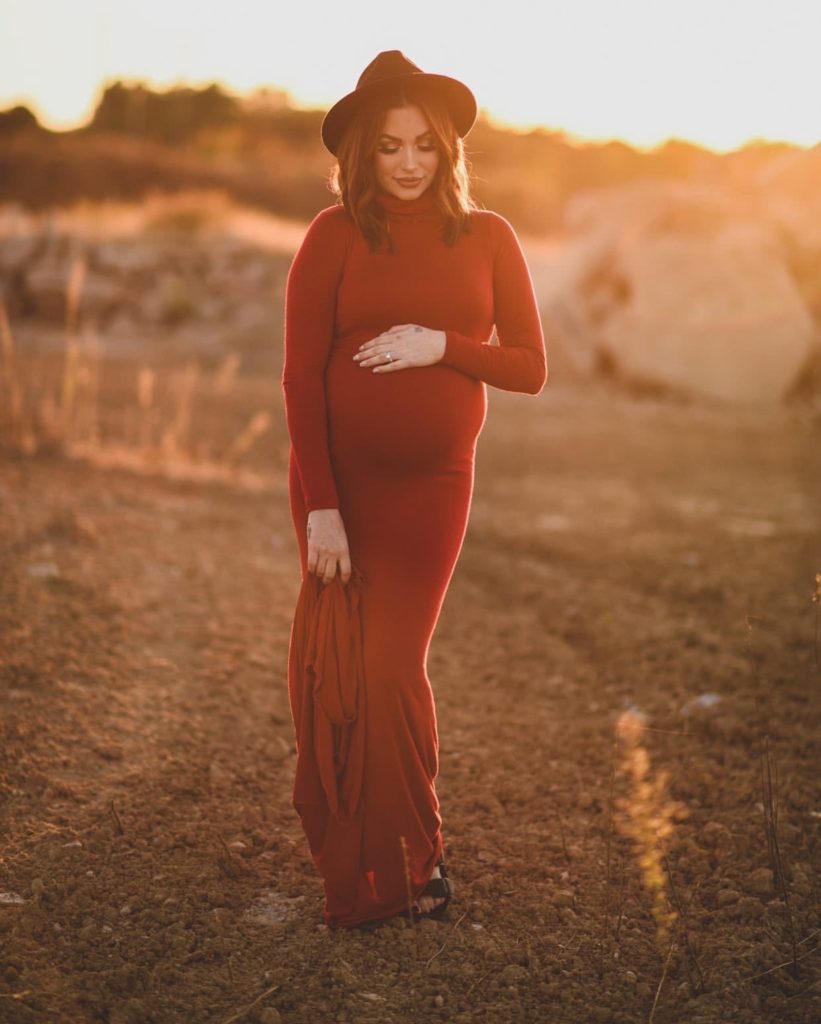 Here we have another show stopping photo of @hopegabriela in her Turtleneck Gown with Extended Train. She styled her gown perfectly for Fall and Winter by pairing it with a stylish small brimmed hat. The turtleneck and long sleeves provide warmth for chilly weather. A win-win!
Need help with sizing and styling on your dream fall photoshoot gown!? Sexy Mama Maternity is always here to help! Reach out on the chat window at the bottom right corner or shoot us an email at orders@sexymamamaternity.com.