Written by Anne Ryan Dempsey
Edited by Chloe Marx
I watch quietly from the back of my camera. He weaves his hand into hers. She weaves her hand into her son's as they walk down the path to the ocean. Her grey maternity gown swirls with wind and mirrors the movement of the gentle waves. For a moment she stands alone at the shoreline, her hands rest on the child she carries. She looks out at the waves tumbling over one another. It's almost as if the waves are a perfect reflection of the changes a woman experiences growing a baby.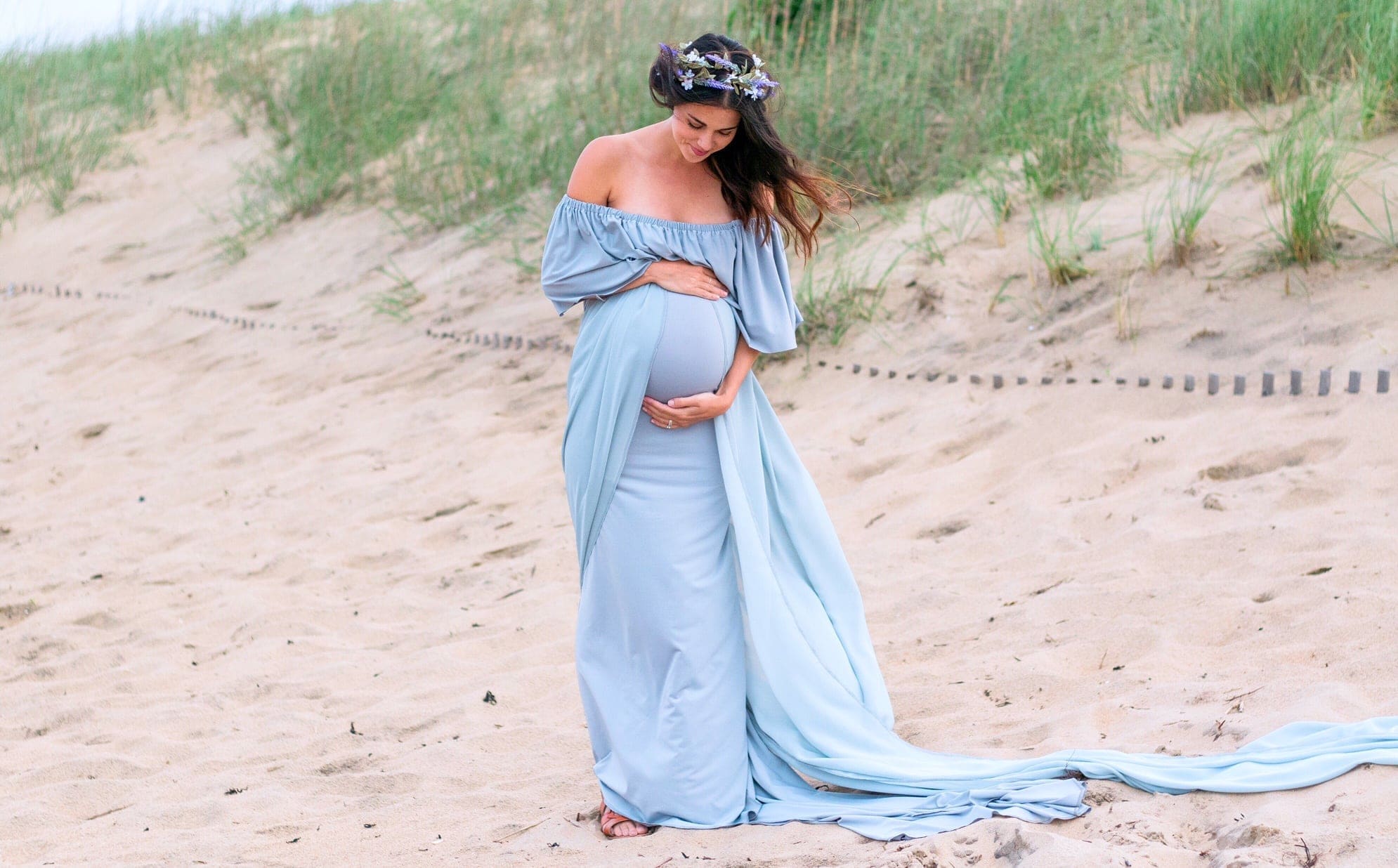 The eyes of her husband and toddler are fixed on her. I snap more photos as her grey maternity gown moves in the ocean wind. From the back of my camera I see as their toddler runs underneath the train of her beautiful gown. I see as he prods his mama's pregnant belly with his finger. I see him slap her cheek with sloppy kisses while her husband laughs. I see the sun cascade gently onto her exposed shoulders in a maternity gown fit for a goddess. Her husband wraps his arms around her. I see so many smiles, so much laughter, so much love.
What else do I see from the back of my camera? Hope. A mother's hope for her unborn child. A family's excitement for a newborn brother. I see new life.  Maternity photography sessions represent pure joy and anticipation and I am always honored to capture them. Many of my friends and acquaintances struggle with the prospect of having their pregnancies captured in a maternity photoshoot or even more casually. I understand. Pregnancy is hard. Sometimes you don't feel that good. You're swollen. You're achy. Your hips hurt. You feel like a penguin… or a whale. But—isn't it breathtaking that your body was made for this process? That you can create and sustain new life? Pregnancy is a miracle, a moment worth capturing and celebrating. I have friends who regret not taking maternity photos. They wish they could remember it all, because that moment, while uncomfortable, while you may not feel beautiful, was fleeting. They can't get it back.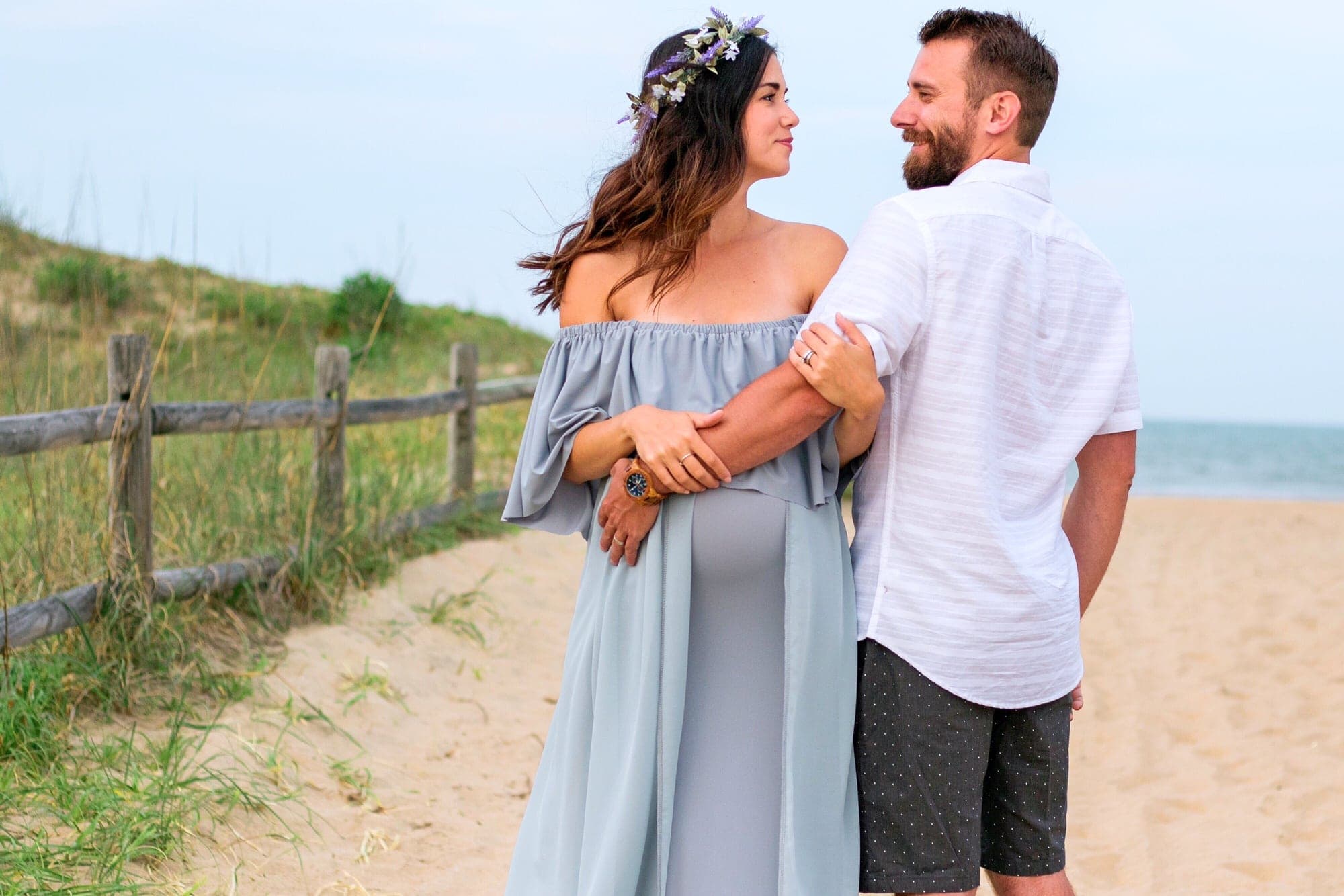 And so, here is my tip for you, if you are debating maternity photos: buy the beautiful gown that makes you feel like a goddess, perhaps an off-the shoulder grey maternity gown, perhaps something completely different. Get your hair and your make up done. Find a beautiful, serene location. Bring your family. Take the pictures. Then, while you may or may not forget the pain of pregnancy, you will always remember the experience of carrying a child. To me, there is nothing more beautiful to capture.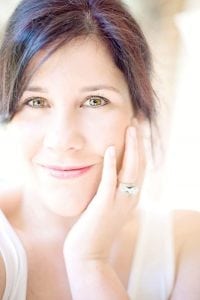 Anne is an English teacher, photographer, artist, and writer. She lives on the coast of Virginia with her husband and cats. You can learn more about her work here: www.anneryandempsey.com. Pictures of Ashley and family, an Instragram blogger out of the East Coast. Learn more about how Ashley is surviving two under two and life with all boys @aharmonmoore 
Thanks to Sexy Mama Maternity for partnering with me on this post and dressing Ashley in such a perfect maternity gown.