Are you counting down the days until your little one arrives? Celebrate this special time with an in-studio maternity photoshoot! An in-studio photoshoot is the perfect option for mamas seeking a comfortable atmosphere that creates intimate and stunning photos. Sexy Mama Maternity has gathered our favorite studio maternity photoshoot pictures and tips, so you can have forever photos to remember this beautiful time.
Bump Silhouette 
Be timeless and trendy with bump silhouette photos! This maternity photoshoot idea generally include an all black, form-fitting gown with a light colored backdrop for the perfect bump shot. Alternatively you can do a light colored gown and a dark backdrop. These photos are ideal for color or black and white photos. Mama @stassischroeder shows off this tip perfectly in her Turtleneck Gown with Train in Black. (Available in 45+)
Choose the Turtleneck Maternity Gown with Slit to show off a little leg while also showing off your bump!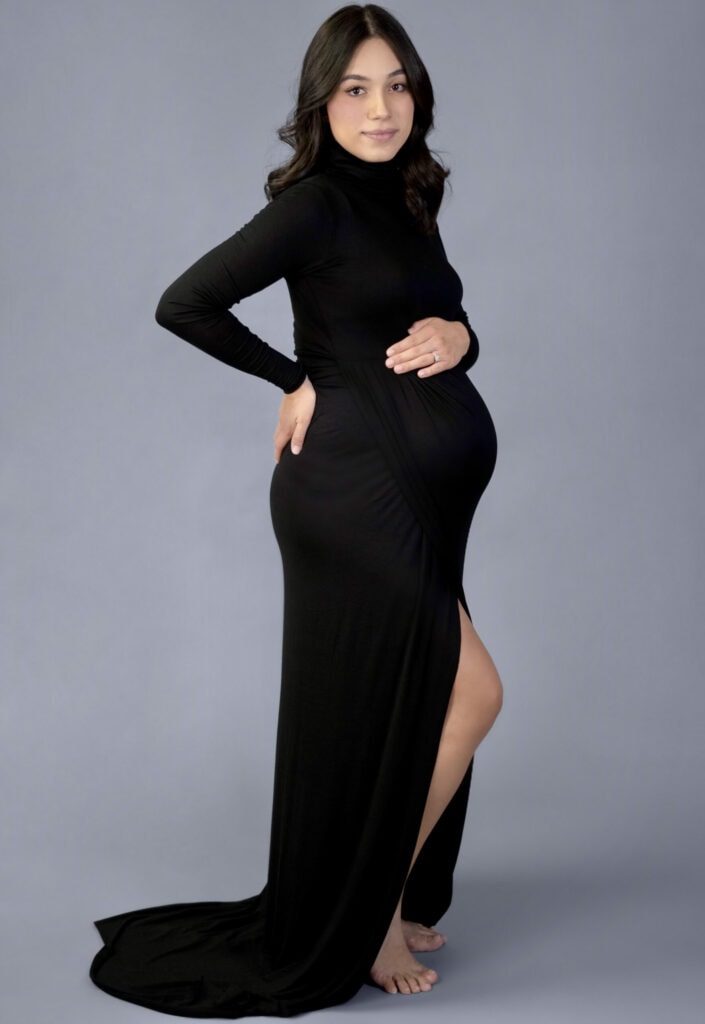 Full Coverage
Take your baby shower gown to the studio! One gown for all of your events is the perfect way to save money and get full use, while still looking fabulous! This is our Long-Sleeve Baby Shower Maternity Gown which as seen below, works as great for your photoshoot!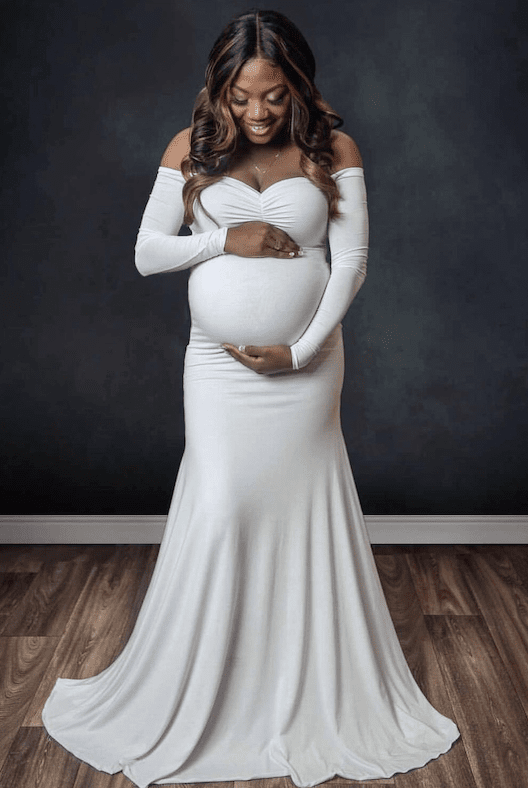 Perfect Lighting
A huge perk of in-studio photoshoots is the perfect lighting! Photographers can adjust the lighting for the best pictures possible. Mama @iambrianadai wearing her Off the Shoulder Sweetheart Flare Gown with Long Sleeves in Succulent, shows us just how great studio lighting can be!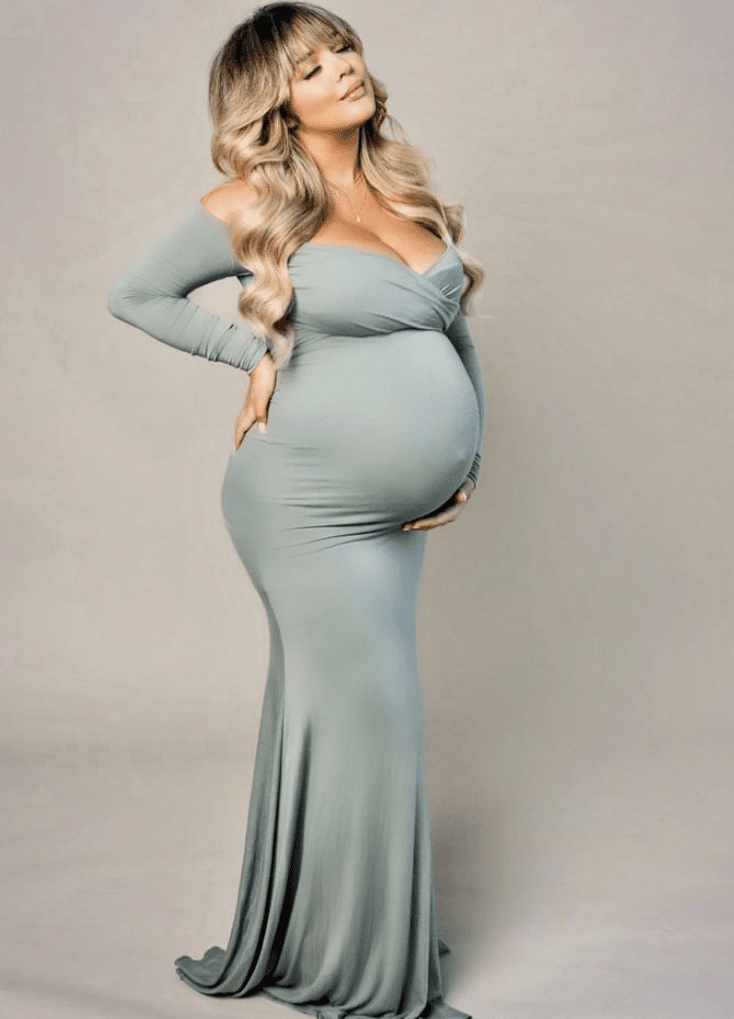 No Weather Worries
Indoor photoshoots eliminate the variable of weather! Not only do you not have to worry about rain or clouds, you also get free reign on what you want to wear. So if you want to wear a strapless gown in Winter, or get your turtleneck gown on in Summer, you totally can! Mama @charissa_littlejohn in her Strapless Sweetheart Gown with Mini Train in Blush Pink.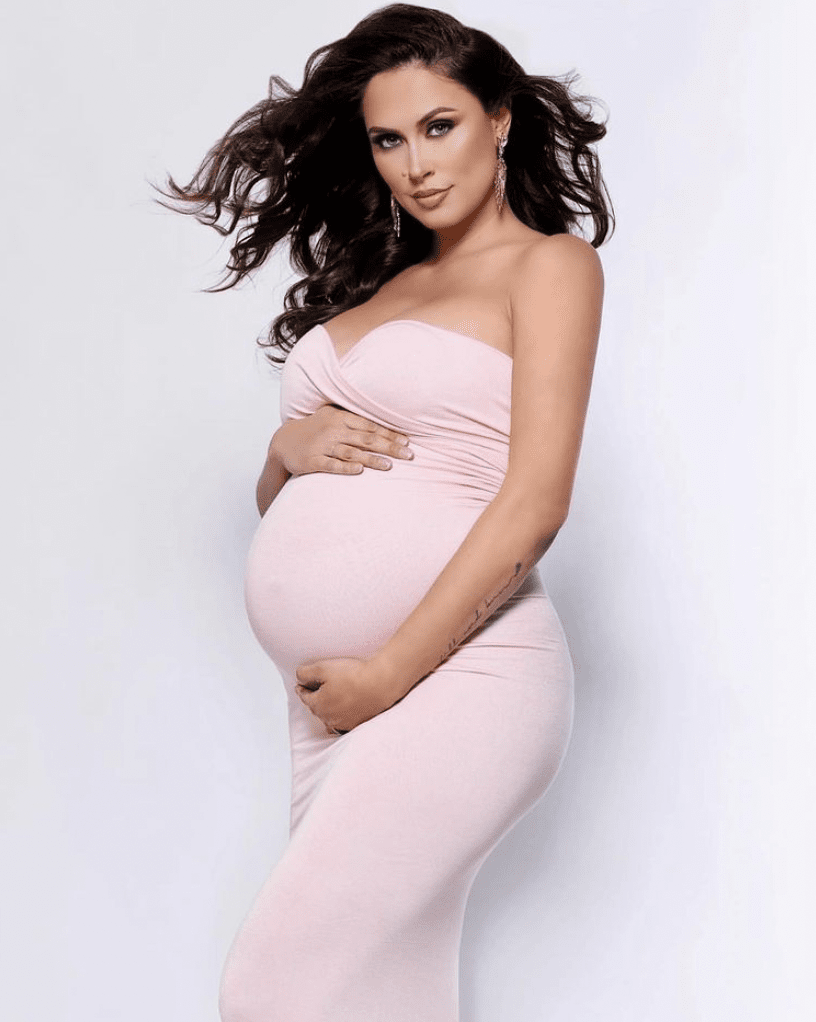 Get Intimate! 
In-studio photography is great for letting go of insecurities and embracing the beauty of pregnancy! As it is just you, your significant other, and your photographer, you may feel comfortable showing a little skin. Studio shoots also create the perfect environment for intimate couple photos too. Mama @kennediraeskyles in her Cross Bust Chiffon Open Gown in Cream.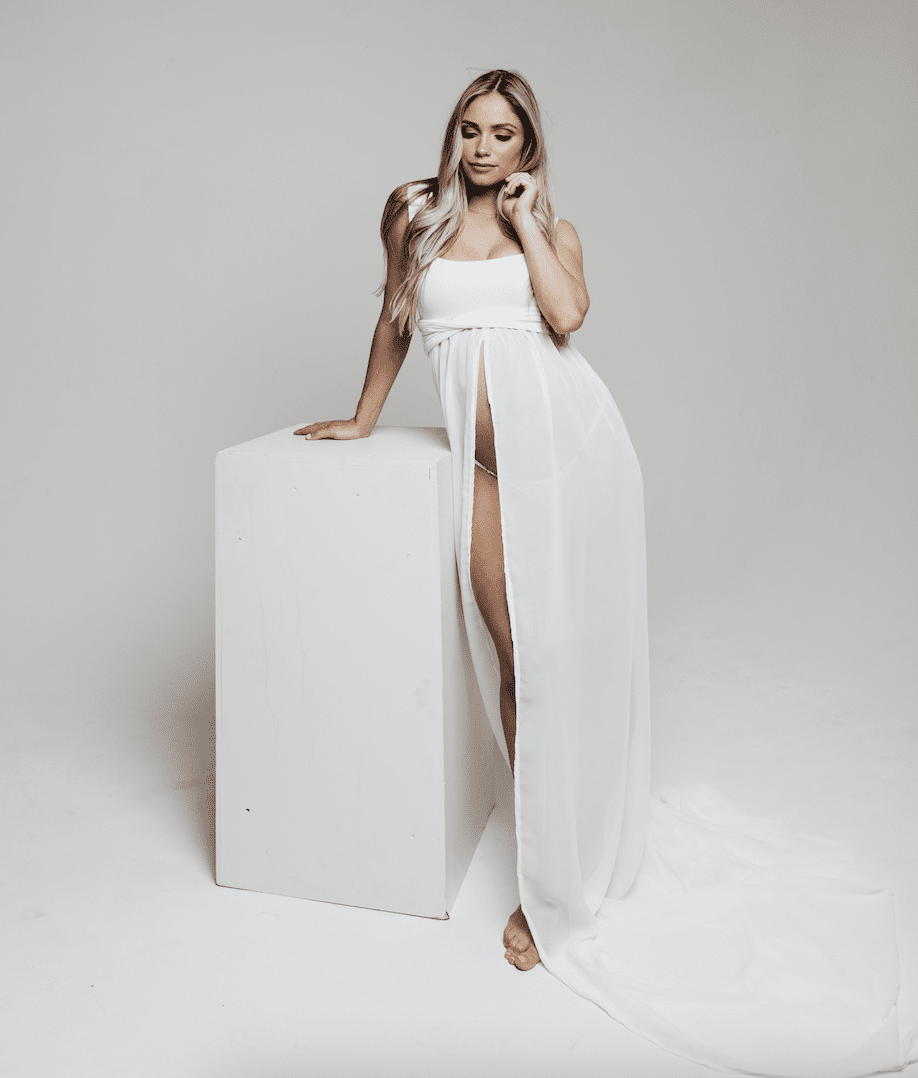 Intimate moments deserve an in-studio maternity photoshoot to remember forever. The delicate chiffon can be posed as you and your photographer want, to ensure a romantic look.

Home Sweet Home
An alternative to a studio photoshoot, with all of the same perks, is an at home photoshoot! These photos are extra special as they commemorate your pregnancy journey, not only with bump photos, but also include the place you are growing and soon-to-be holding your little one! Mama @valerieannsmith in her Sweetheart Lace Gown with Train in Navy Blue.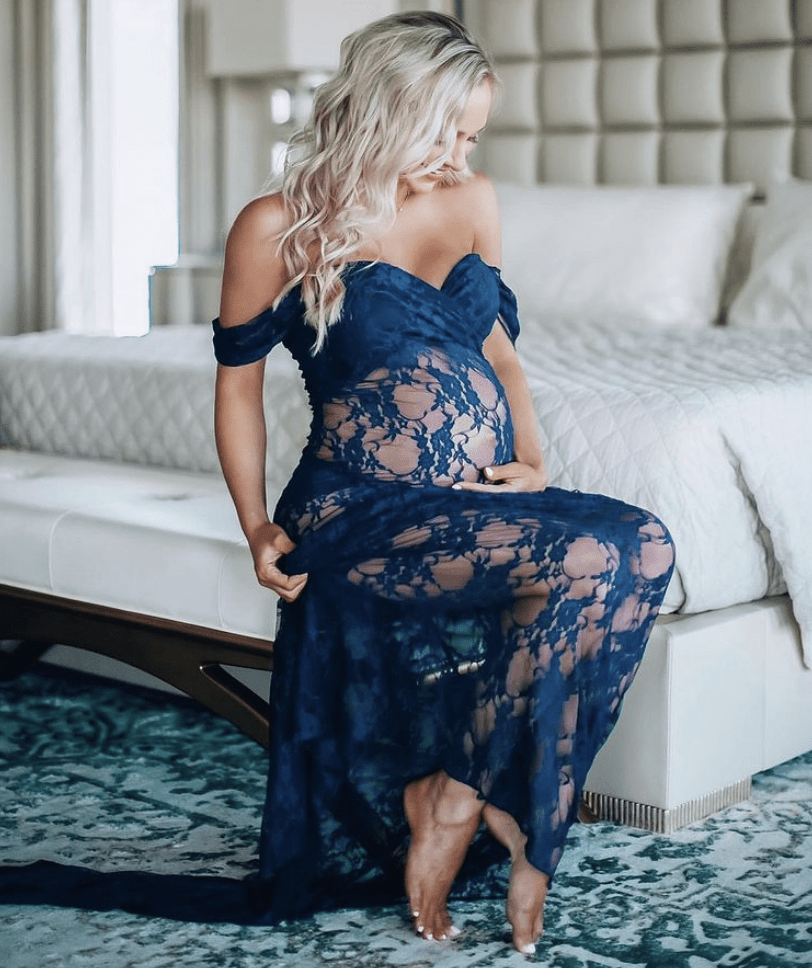 Mama @andreaespada showing off her bump with an at home shoot in her Long-Sleeve Sweetheart Open Maternity Gown in White.

Celebrate Your Journey
A studio maternity photoshoot is the perfect way to cherish your pregnancy journey and your growing family. You will have these photos for a lifetime to remember your baby before you got to hold them. Hang these pictures in your nursery for a sweet reminder of this special time. Mama @Ponyogirl in her Long-Sleeve Sweetheart Open Gown in Cream.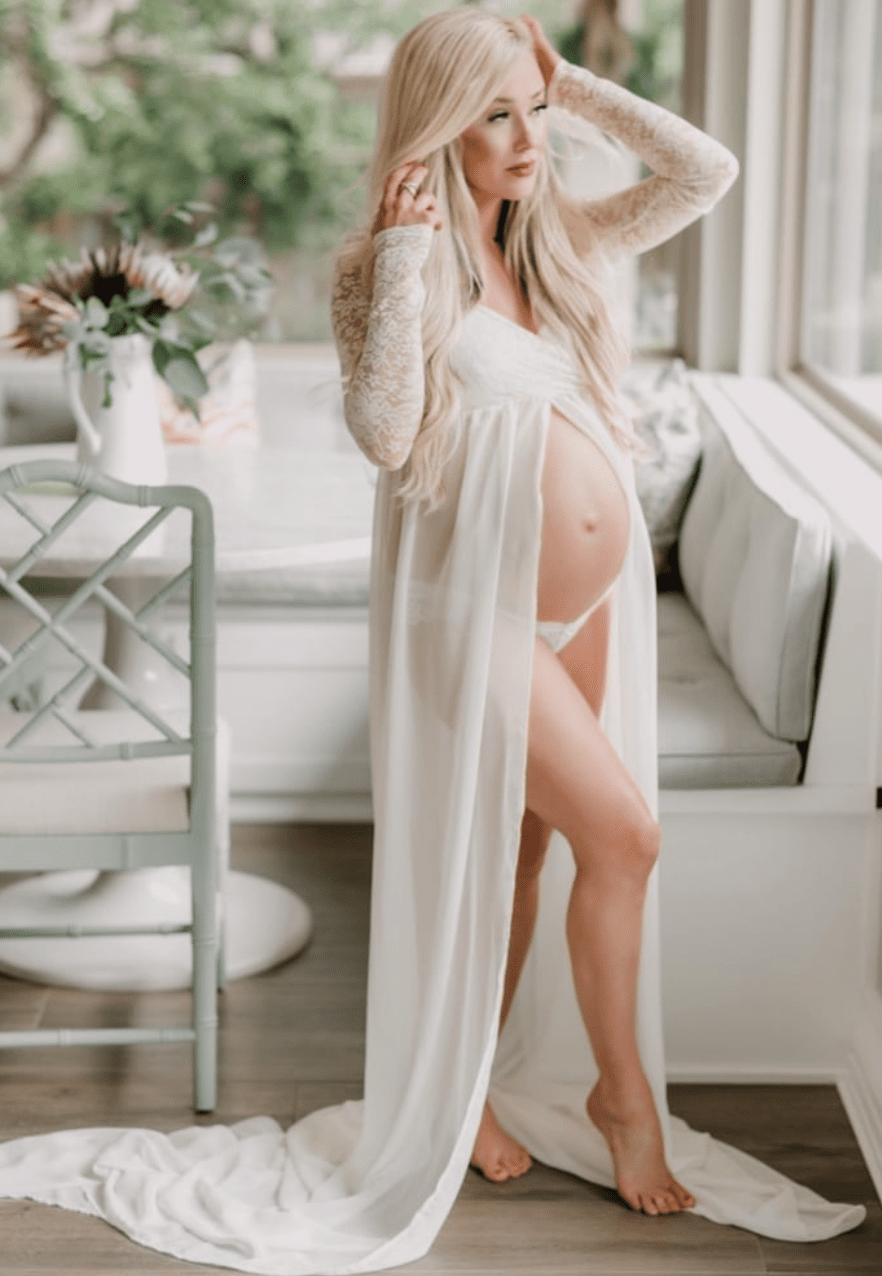 This open, chiffon pregnancy gown is perfect for capturing timeless pregnancy shots.Our  Chiffon Bishop Sleeve Maternity Gown, pictured here in Burgundy, is the perfect gown for capturing intimate pregnancy memories.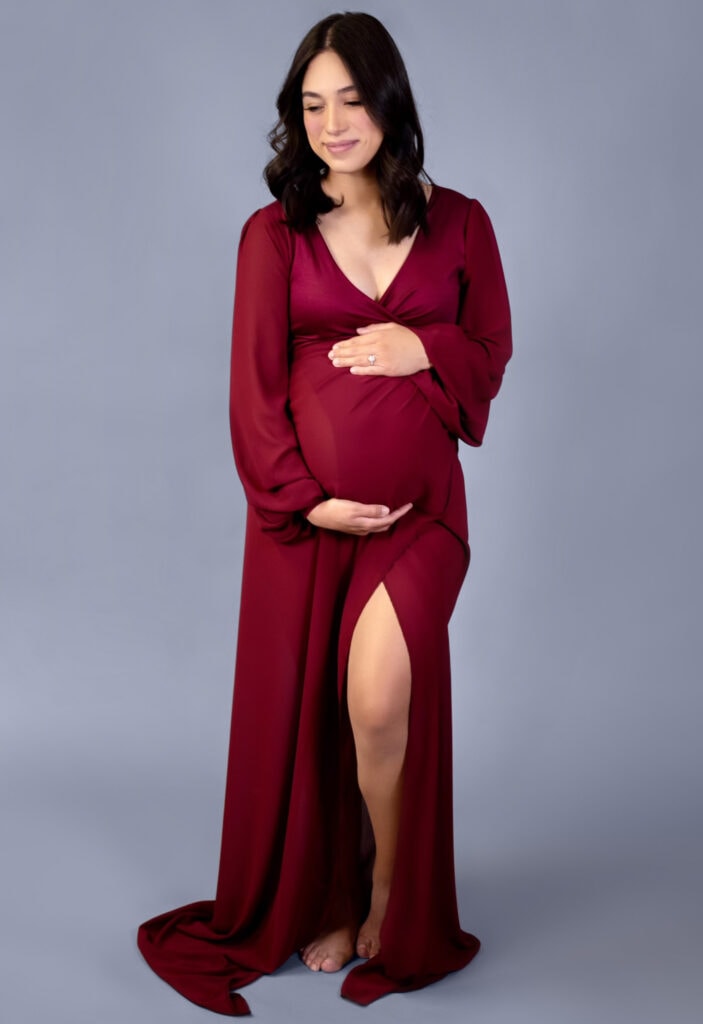 Need help picking out the perfect studio maternity photoshoot gowns? As always, Sexy Mama Maternity is here to help! Chat with a stylist through the website or send us an email for assistance with sizing and styling. And don't forget to send us pictures in your favorite mermaid style gowns! We love seeing our mamas gorgeous and glowing!