In these unprecedented times, baby shower party plans likely require some serious adjustments. We know this can be stressful during a joyful time, but Sexy Mama Maternity is here to help transition your baby shower into the social-distancing extravaganza of the year! The experts at Sexy Mama Maternity sat down to brainstorm all the ins and outs of the perfect long distance baby shower. Read on to get your virtual party started!
Reframe Your Expectations:
It's important to remember, life is all about perspective! You have the opportunity to throw a unique party that will be the topic of conversation for years to come. A positive attitude will create a positive experience for you, your significant other, and your virtual guests. We need joy more than ever and you and your bump have the opportunity to spread the love!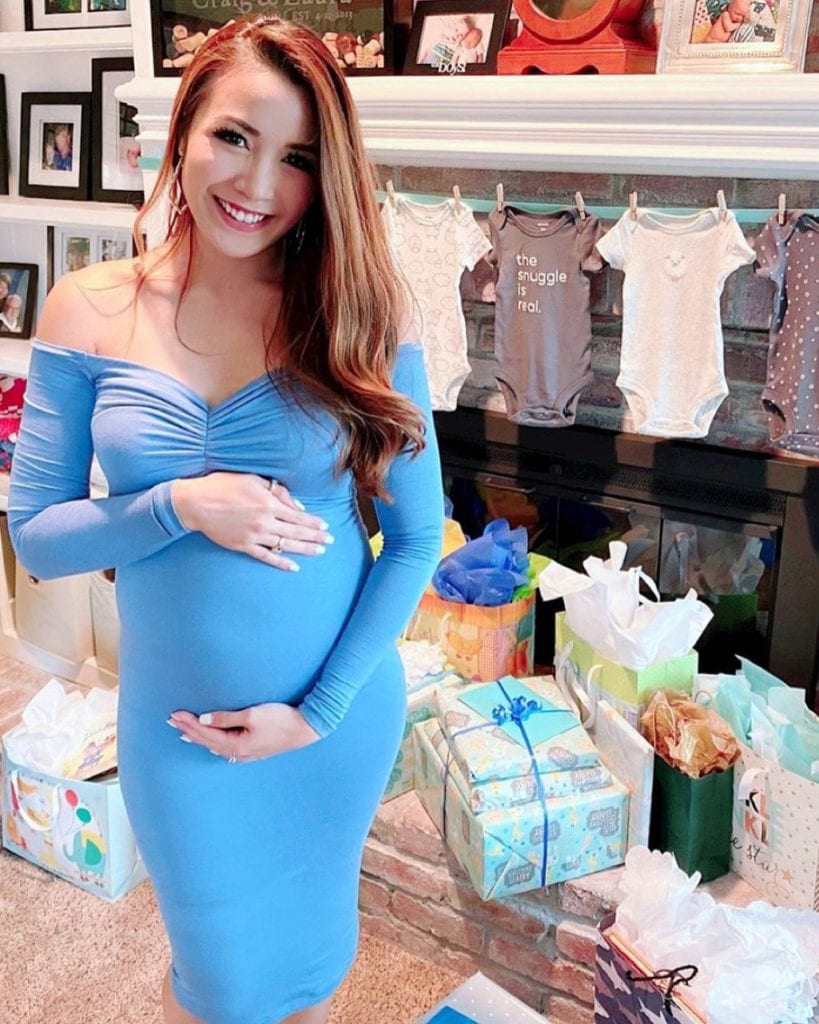 Invitations: Ditch the Paper & Go Online
In the spirit of an e-party, your invites should be online and communal in nature. Create an event on Facebook or go old school and design an Evite! Both platforms have the option for RSVP, comments, conversation between invitees, and for guests to contribute by "bringing" requested items. We know they aren't actually stopping by your venue or home, but there is still plenty to contribute to your shower! Be sure to include your platform selection, a start and end time time, dress code, and other traditional details found on invites. DON'T FORGET to include a supply list. This will keep your party moving smoothly and minimize people stepping out of the frame to find things.
Examples: Pad of paper, pen, game supplies, mailed goodie bag (we will get to this later), champagne glass, etc. On the plus side, with the majority of the country participating in a "stay at home order" your baby shower should have perfect attendance!
Platform Selection:
Consider platforms such as: Zoom, Houseparty, Facebook Live, Skype, FaceTime Group (iPhone only). 
Wardrobe & Decor: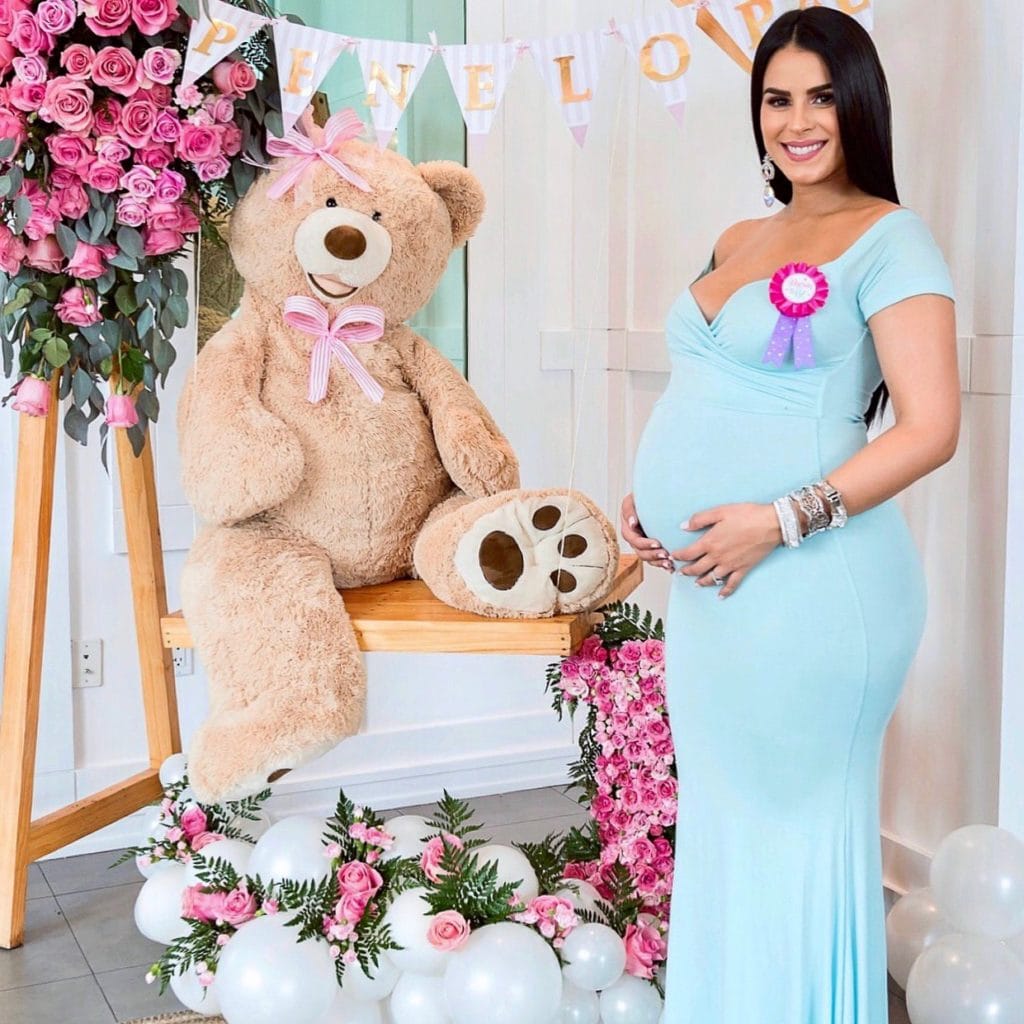 Stick to the theme of your dreams! In some ways, your long distance baby shower will offer more opportunity for photos than a traditional shower. With less distractions, you'll have more time to snap the perfect pictures! You are the centerpiece of your party, which means the perfect baby shower outfit is a MUST! Shop Sexy Mama Maternity dresses and gowns, all available in 40 colors! (Click on any photo in this post to shop your favorite look!) Once your wardrobe is on its way, it's time to decide where you will display decor. Keep in mind, you will want your shower decor to be compact enough for virtual guests to enjoy, but spread out enough for optimal photos.
We recommend a backdrop in keeping with your theme, presents surrounding the area, and a table with all the supplies your guests will use to participate in the fun. Remember, Amazon is still delivering and Target curbside is an option in many locations. If you plan to order online from a local venue or party supply store, be sure to check with them ahead of time regarding delivery options and hours of operation.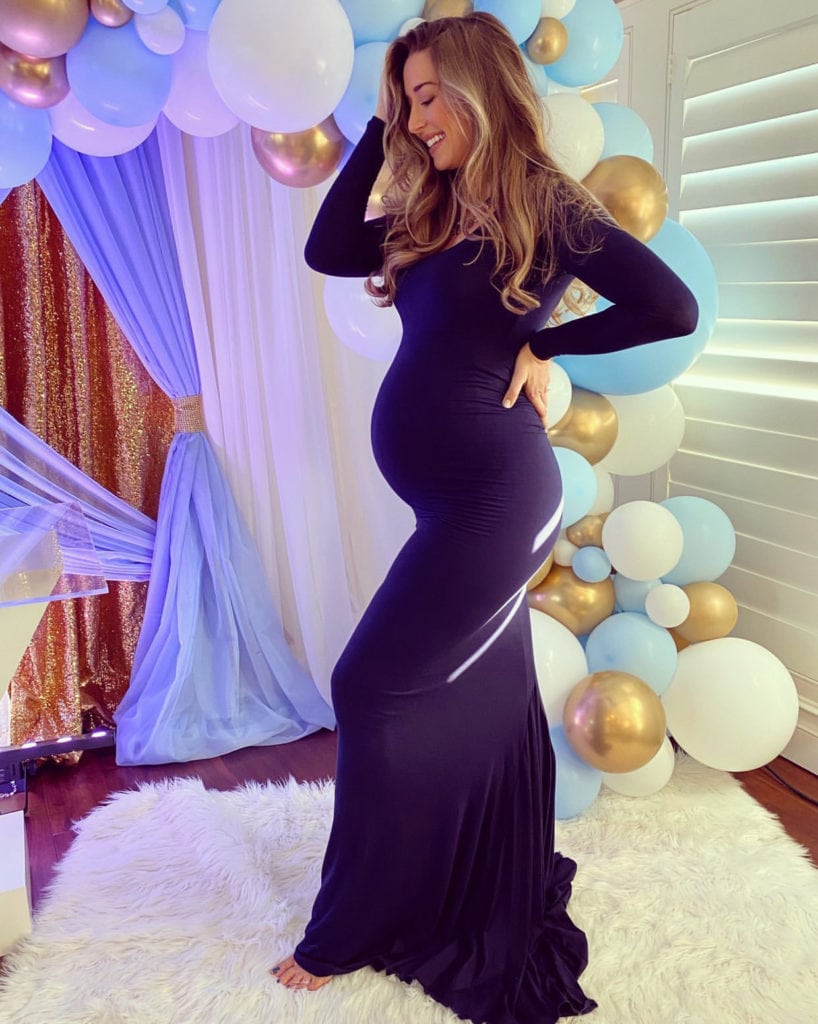 Photos:
Take an hour or so BEFORE your party begins to document your bump! Take photos next to the presents you've perfectly incorporated into your shower theme. Take some candid silly shots as well! If there is an additional person in your household, ask them take photos of you and your significant other together. This is the time to show off your outfit, theme, and most importantly the love you've worked so hard to create. If there isn't a photographer in your inner circle, invest in an affordable tripod. Set the timer on your iPhone or camera and snap away!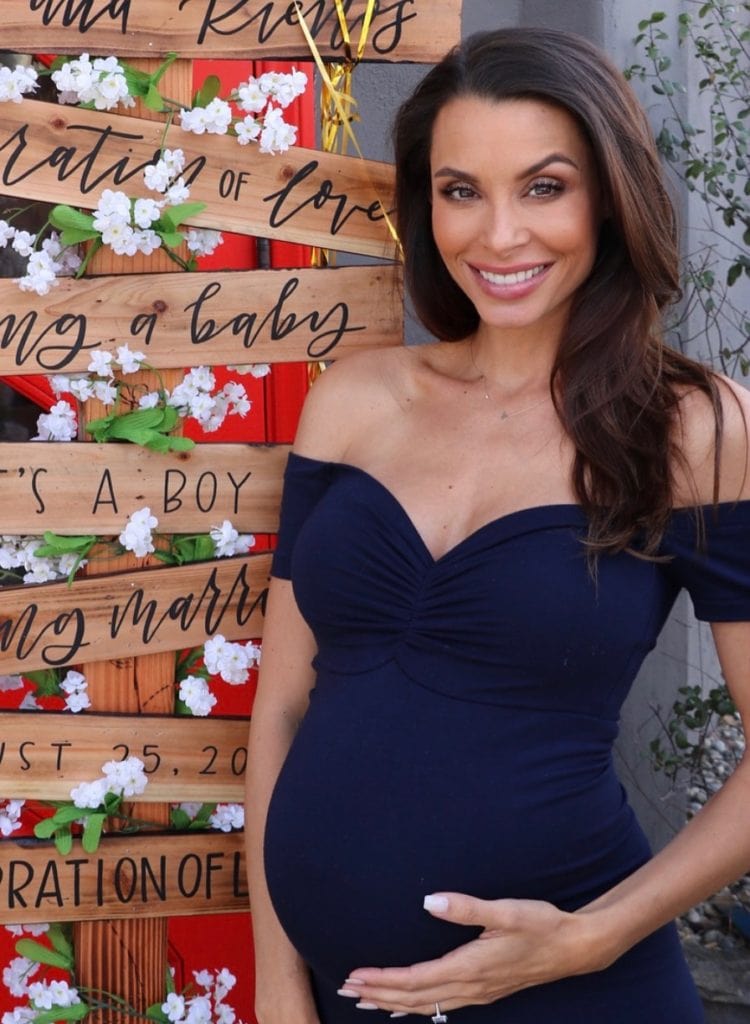 Fun Idea: Find a way to bring your guests together through a collage! Have each guest take a few photos in keeping with your theme and dress code. Take it a step further and have each guest print a letter on colorful printer paper that spells something related to your baby shower! After collaged, you'll have a beautiful keepsake from your special day!
You have an opportunity to capture photos that many forget to take during the hustle and bustle of an in person shower. There is a silver lining to your long distance baby shower after all! Continue to take photos throughout your shower. You'll want to remember this unique and special day and share with your future bundle of joy.
Present Planning:
When it comes to the perfect baby shower gift, we recommend shopping Sexy Mama Maternity Baby and practical postpartum styles. We also strongly recommend that your loved ones come together to ensure you have the maternity gown of your dreams. A Sexy Mama Maternity Gown Gift Card will allow you to select the perfect gown with complimentary alterations. Your maternity photos will be a lifelong keepsake! For your essential items, we recommend creating an Amazon Baby Shower Registry. With free shipping to any address and gift wrap for a minimal fee, an Amazon registry is ideal for a long distance baby shower. Be sure to allow plenty of time for your guests to shop and ship your gifts before the shower.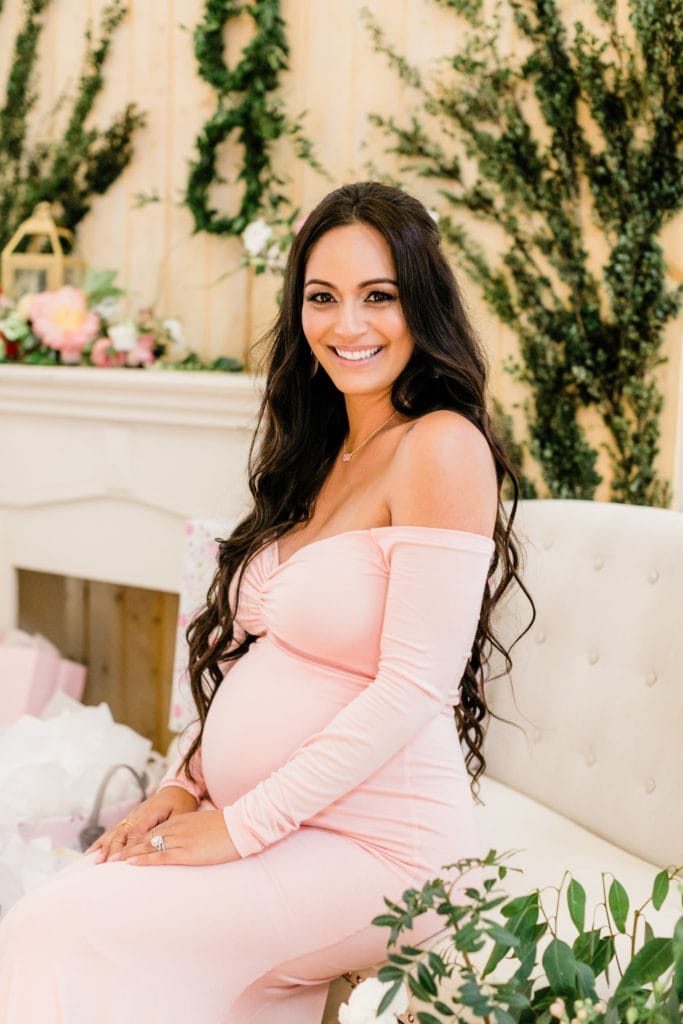 Raffle: Put together a few gift baskets and post photos! For every bag/box of wipes or diapers your guests send, they will be entered into a raffle to win one of your gift baskets. Draw a winner during your long distance baby shower and ship to the lucky guest!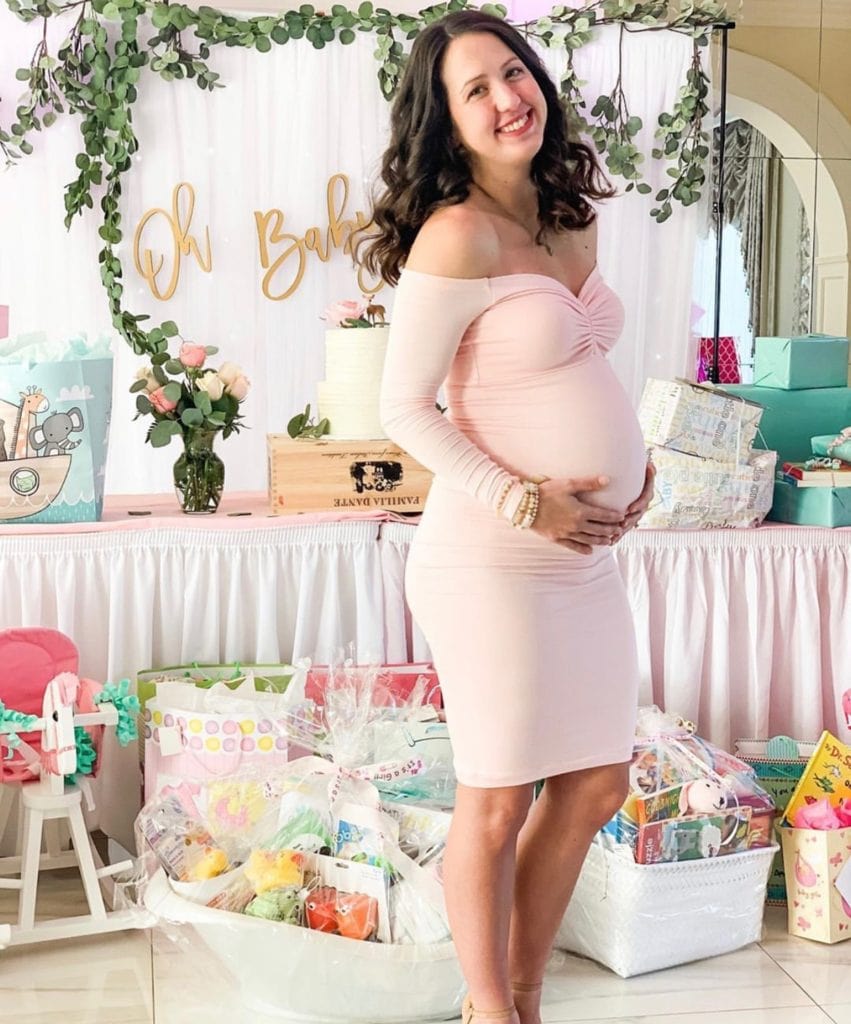 Food:
We admit, food for a long distance baby shower requires a little creativity! It may seem impossible to include your virtual guests in a tasty eating experience, but with some planning it just might be one of the most memorable aspects of your party. First, even if it's only a party of two or three in your immediate family, don't skip the cake! Your long distance partiers will enjoying seeing you and your bump indulge, even if they don't have the exact same treats. Our advice, scale it down and make it picture worthy! Nothing is cuter than capturing a big bump diving into a delicious cake. Next, remember that you had a food budget before your baby shower become a long distance extravaganza. Depending on the amount of guests, we suggest shipping a goodie bag including some fun edibles to share together.
Example: If your shower theme is "Ready to Pop", ship each guest a bag of microwave popcorn with Pop Rocks for dessert! When the time is right, have everyone pause to prepare their snack plates.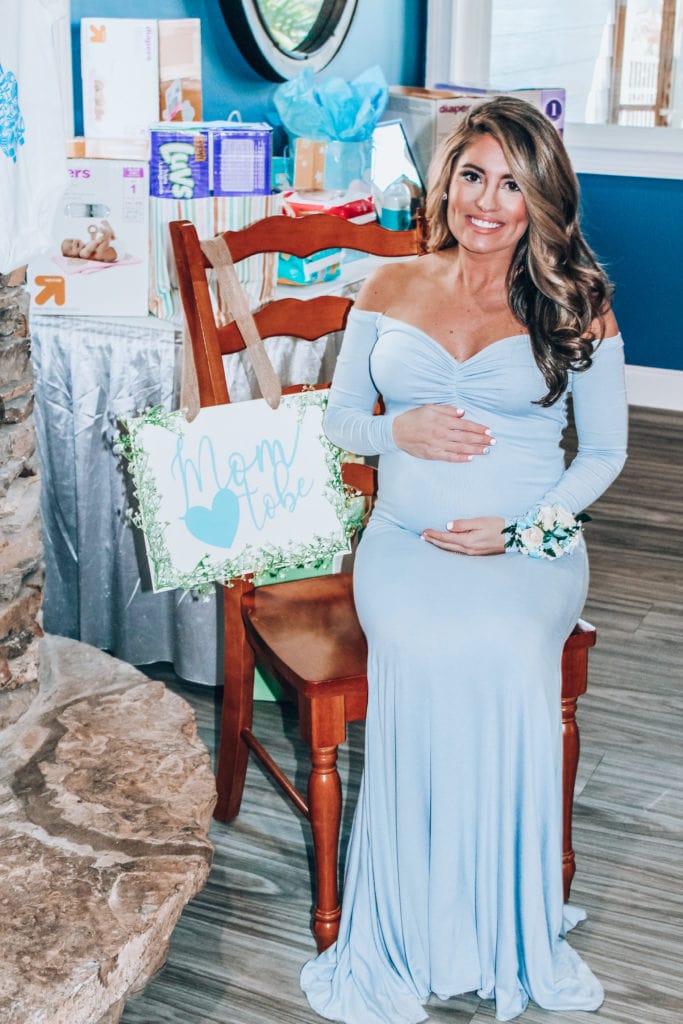 Entertainment:
Luckily, entertainment is easy to accomplish in a remote setting ~ after all, it is 2020! If you're not the party animal of the crew, enlist a friend of family member to facilitate two to three organized games that can be played in a remote fashion. Communicate basic supplies with your guests ahead of time (in the invite). If one of your games requires more specific supplies, include them in the goodie bag that will also have a few fun food items. Example:  The game "Baby Sketch Artist" requires a specific type of paper plate. This may be something you include in your shipment to guests. A few other great virtual shower games include "Guess the Mother's Measurements" and "Mommy and Daddy's Secret". 
Budget:
Stay true to the budget you put forth for your baby shower. Although shipping items to guests was probably not in your initial plans, you will save in other areas. Spend responsibly, but also allow yourself the shower you deserve. If you are receiving a refund from a shower venue, put aside some of those funds for a "Meet the Baby" at a later date. 
Final Words: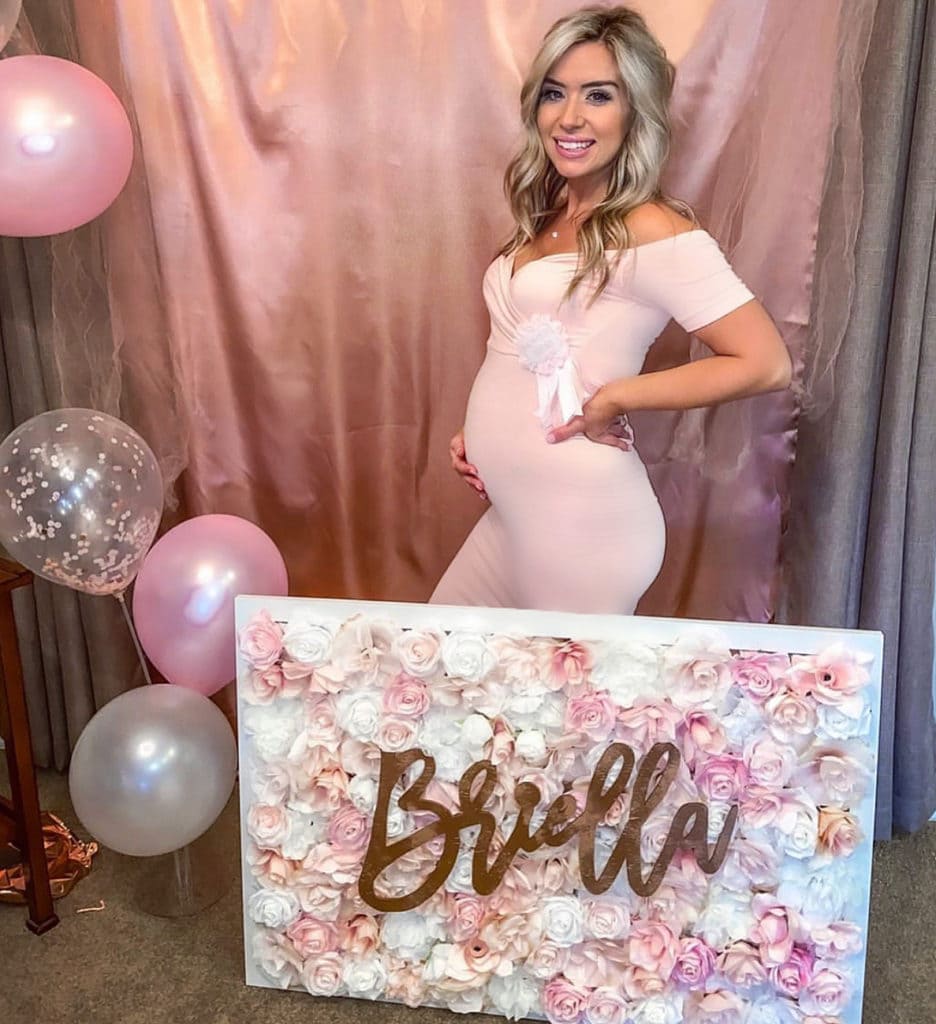 With the proper planning and a little flexibility, we promise you will have the baby shower of your dreams! Okay, maybe not of your dreams, but sometimes that which we cannot dream up is the most magical. With less activity, and frankly less to get excited about, your baby shower has the ability to bring your friends and family together in a unique way.
Please reach out to the experts at Sexy Mama Maternity for assistance with your long distance baby shower. For help with sizing and styling, use the chat feature at the bottom right of your browser or email us! We can't wait to see your photos!