The summer is in full swing, and the sunny days are upon us. What better way to celebrate than stocking up on new maternity styles for the warm weather?! But we haven't forgotten that fall is just around the corner, and with that, these styles will easily transition into the coming season! At SMM, we're all about creating clothes that make you feel good while looking great! Check out our new summer maternity dress styles, guaranteed to make you look and feel sexier than ever!
Our Smocked Floral Maternity Dress is the perfect sexy summer staple. Colored in black with pops of red, it makes a great addition to a summer party with friends, or a magical date night! With an off the shoulder design, and a smocked neckline, you are sure to look and feel your best in this dress!
Our Basic Ruched Maternity Dress with Short Sleeves is the perfect fun and sexy summer staple. Ruched sides will flatter any Mama figure, and the leopard print is both bold and fierce, while the short sleeves keep you cool and comfy even when the weather is warm. Perfect for lunch with friends, a summer evening out, date, or when you just feel like showing off!
This Off the Shoulder Striped Maternity Dress, is the sexy and fun addition to your wardrobe you have been looking for! It features off the shoulder puff sleeves, strapless design, and a looser fit to flatter every body style. It's the perfect dress for a quick and cute outfit. Pair this dress with your favorite white sneakers, or a pair of sandals for a warm summer look!
This cute and cozy dress, is great when the days are still nice, but you need a little extra comfort and coziness! Featuring a stylish hood, short sleeves, and a fit that hugs your mama curves, this is the perfect dress for a quick and cute outfit. Pair this dress with your favorite white sneakers for a fashionable look!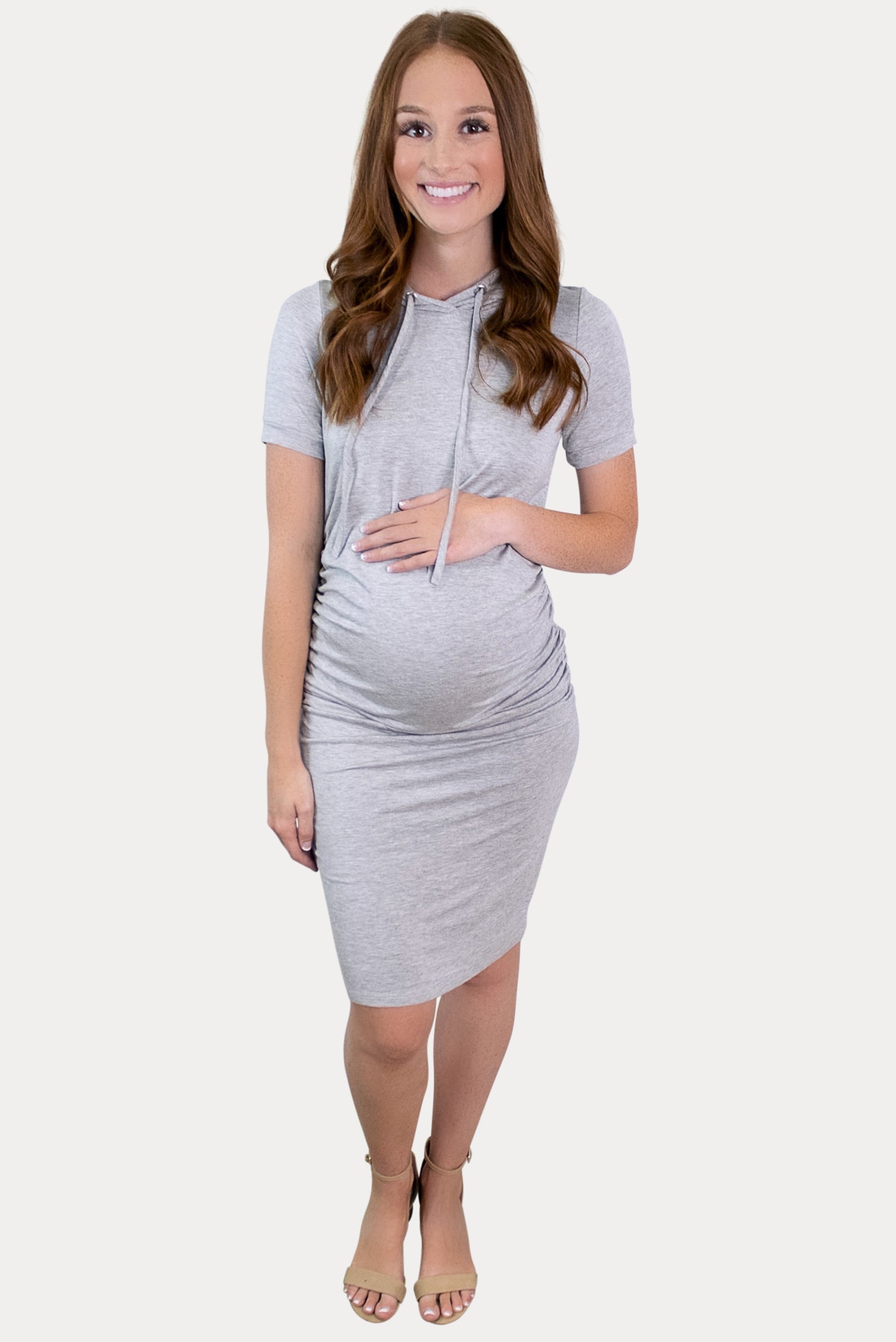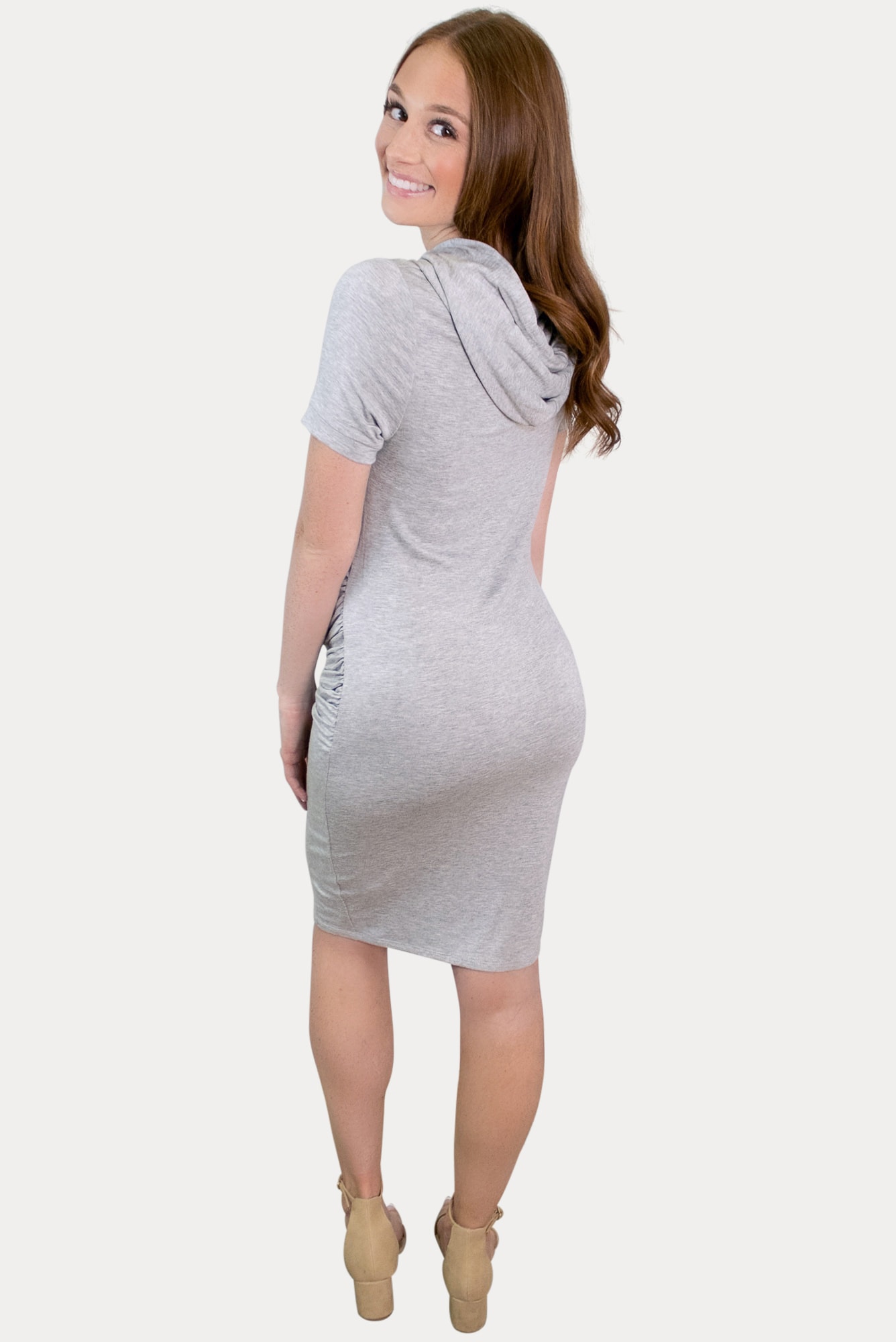 This maternity dress is perfect for a quick, comfy, and stylish summertime outfit! Classic, cute, and stylish, it is guaranteed to go right along with the summer days. What more could a mama want!? Featuring a button up front, sleeveless fitted top, and bump-hugging ruched sides, this dress olive green dress is sure to make you look and feel your best. And it is also available in red or grey! Wear for going out with friends, brunch, the beach, or pretty much anything else if you're looking to be stylish and comfy!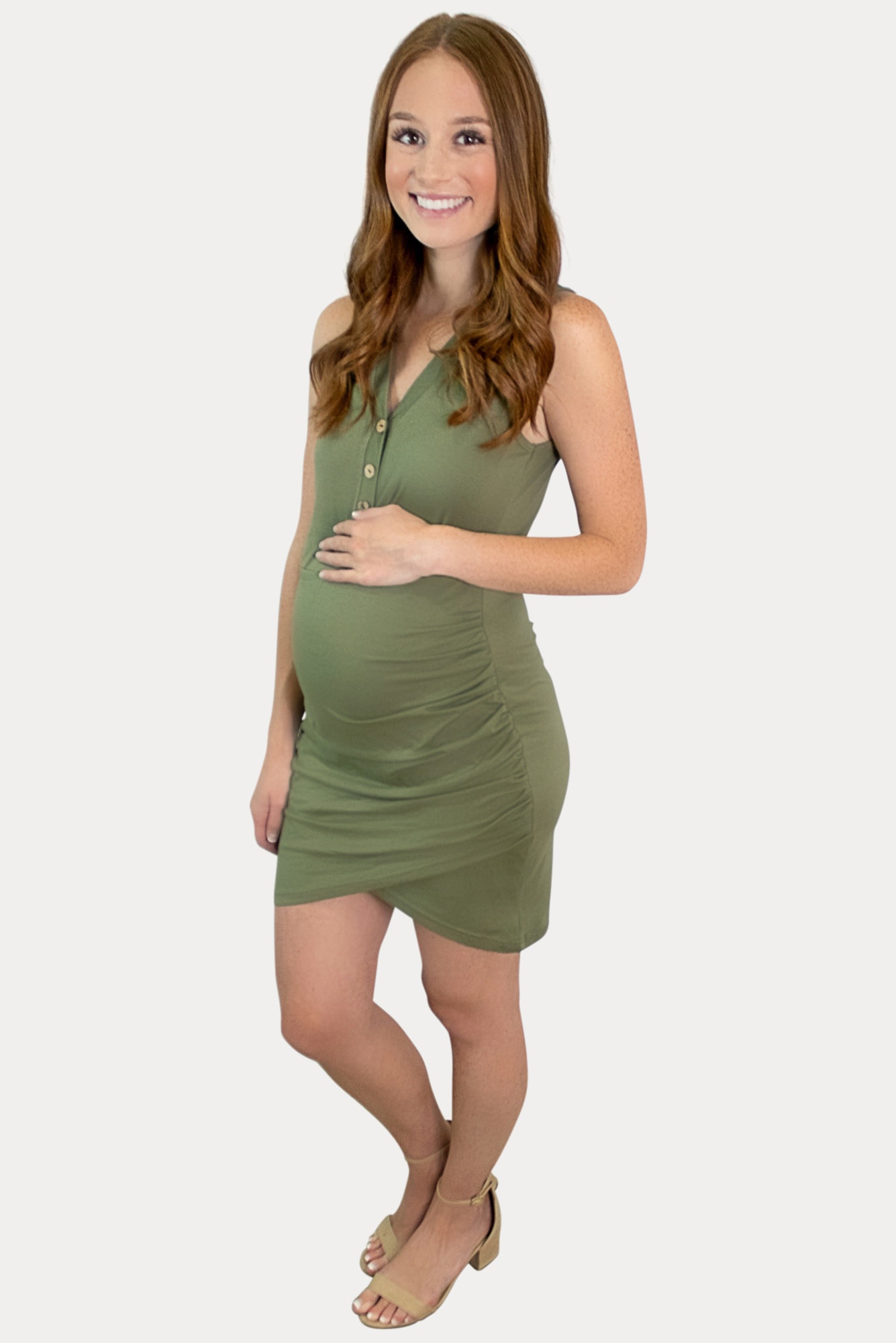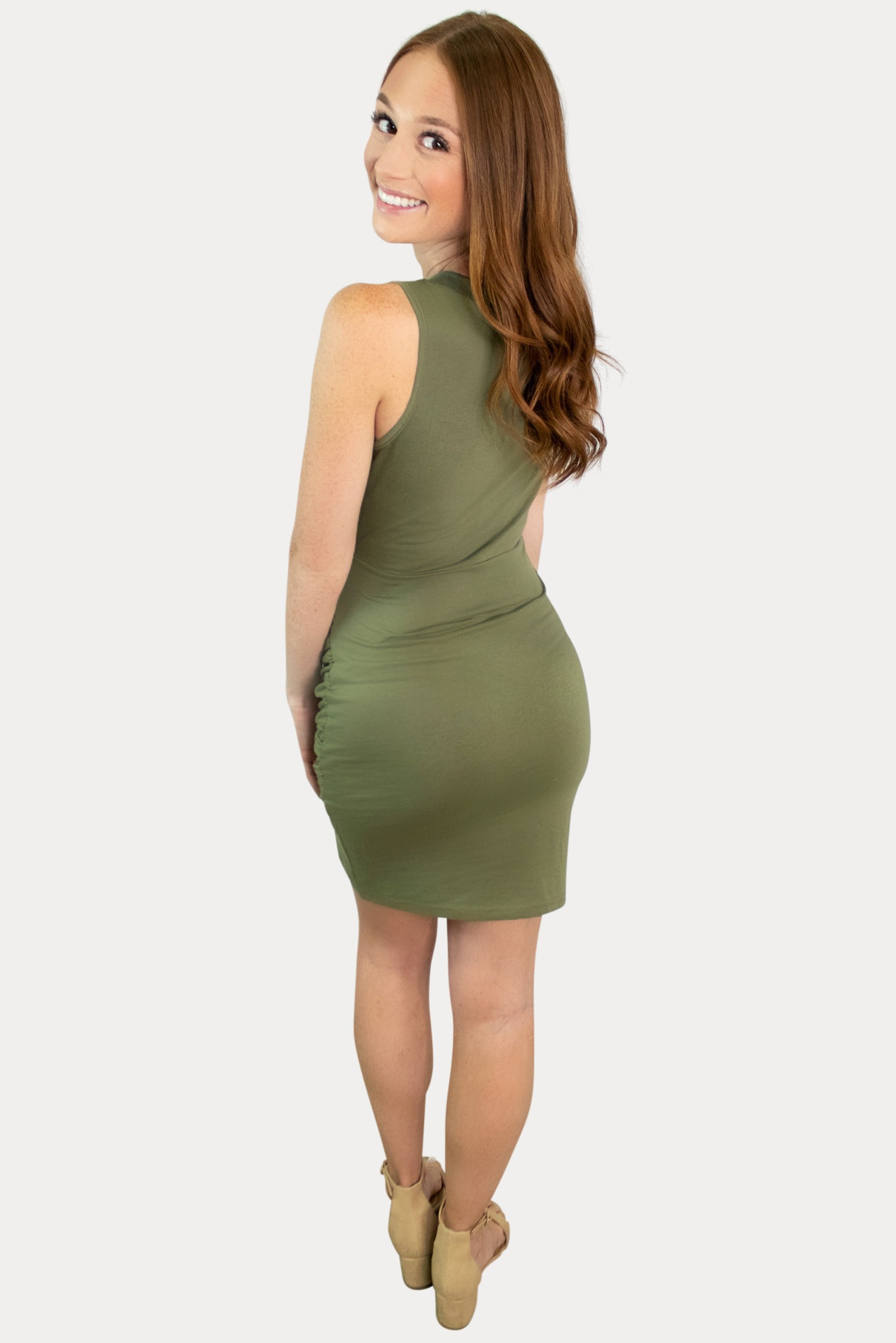 This tie trap dress is a wonderful blend of fun summery style and comfort. Featuring a light orange color (also available in blue, and red), a fitted top with a looser fitting bottom, tiered detailing on the way down, and adorable tie straps. You won't have to sacrifice an ounce of comfort for style in this dress! Dress up or down for a variety of looks. Perfect for daily wear, lunch date, or a photoshoot.
This strapless dress is so cute! Featuring a strapless fitted top, and layered flowy midi bottom, you will definitely not be sacrificing style for comfort. Perfect for daily wear, baby shower, or a photoshoot. Whats not to love? Pair with sandals for a casual Summer style, but also dress it up with a pair of heels!
This off the shoulder floral midi is the quintessential summer look! Featuring a fitted off the shoulder top and loose, relaxed midi length, this dress screams fun. Dress up or down for a variety of looks. Perfect for daily wear, dinner date, or a photoshoot.
This thin strap ruffle maternity dress is perfect if you want a little extra something for your look! It features ruffle detailing throughout, and a sleeveless top, with a flowy fitting bottom and thin straps. Making it the perfect warm weather look!
Say hello to the floral sleeveless maternity dress of your dreams! This sleeveless maxi features the perfect floral neckline and ruffle waist, with a gorgeous pink and green floral pattern. the dark maxi dress is a perfect look to dress up for a semi formal night out!
With dozens of new styles, and more arriving soon, from skirts to dresses, overalls and rompers, leisure wear and PJ's, visit our New Styles page to see them all!
Need help picking out your favorite New Summer Maternity Dress Styles? As always, Sexy Mama Maternity is here to help! Chat with a stylist through the website or send us an email for assistance with sizing and styling. And don't forget to send us your pictures! We love seeing our mamas gorgeous and glowing!