Are you struggling to select the perfect gown for your baby shower? You're not alone. Selecting your baby shower gown is a big decision and Sexy Mama Maternity is here to help! Read this article for some easy tips that will help you select the perfect gown. It's time to steal the show on your bump's special day!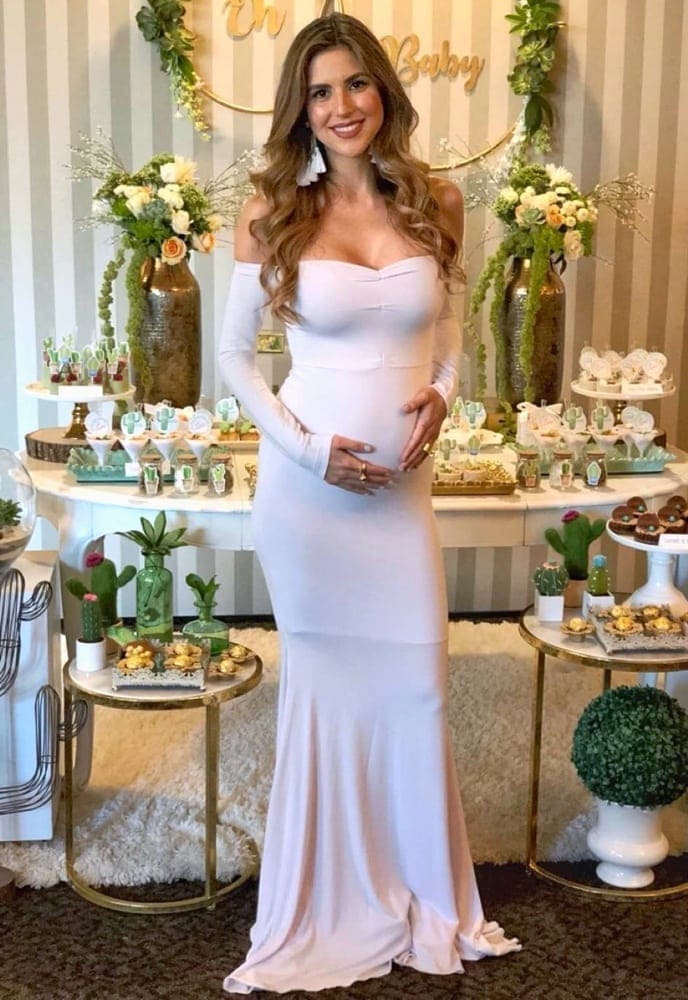 Sleeves or No Sleeves?
When it comes to sleeves the first things to think about are venue and season. Are you inside in a controlled temperature climate or outside in the Texas heat? If your baby shower is in the heat of summer, an Off the Shoulder Flare Gown could be perfect! If your venue is inside or you've grown self-conscious of your arms during pregnancy (nope, you're not the only one!), the Long-Sleeve Baby Shower Gown is a great option, even in the warmer months. And for those of you doing way more sweating than you once did (nope, not alone on this either) our Simple Baby Shower Gown is great for indoor or outdoor baby showers because it can easily be layered up if you end up getting cold, but still leaves those armpits free to breathe. And don't forget, at Sexy Mama Maternity you can always request to customize sleeve length on any gown! (Photo of the beautiful Jenna cross, dreaming of those cute little baby toes in her Sexy Mama Maternity, Simple Baby Shower Gown.)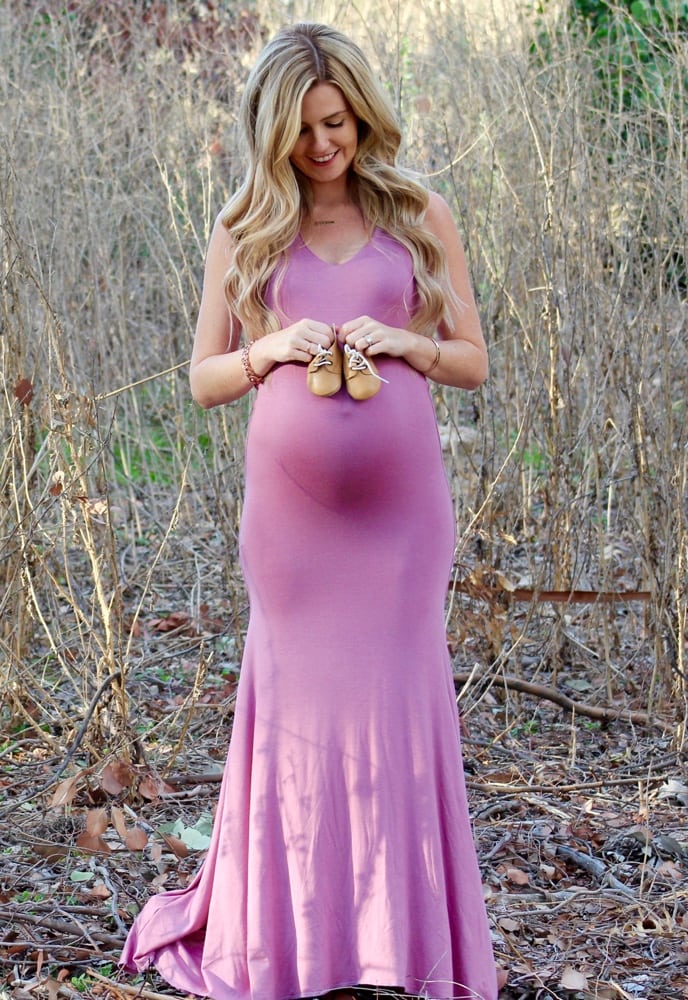 Neckline
When picking a baby shower gown it is important to consider your bust size and the type of neckline you are most comfortable with, along with the idea of wearing or not wearing a bra. Remember, this is NOT a photoshoot. Your Baby Shower will come with lots of hugs, getting up and down, eating cake, and opening lots of presents! The sweetheart neckline on the Off the Shoulder Sweetheart Flare Gown is great for providing a little more coverage while still portraying a sexier, more elegant cut. For those of you who love the sweetheart gown but aren't fond of the off-the-shoulder feel, the Short-Sleeve Sweetheart Flare Gown was made for you! Another popular option for mamas with varying bust sizes is the ruched front, like that pictured on the Floor Length Short-Sleeve Jersey Gown. If none of these fancy fronts appeal to you, do not fear Sexy Mama Maternity offers elegant, but more conservative options as well. Check out the Simple Long-Sleeve Flare Gown. It might be the one for you! (First photo of the on-the-shoulder Sweetheart Flare Gown. Second photo of the off-the-shoulder option.)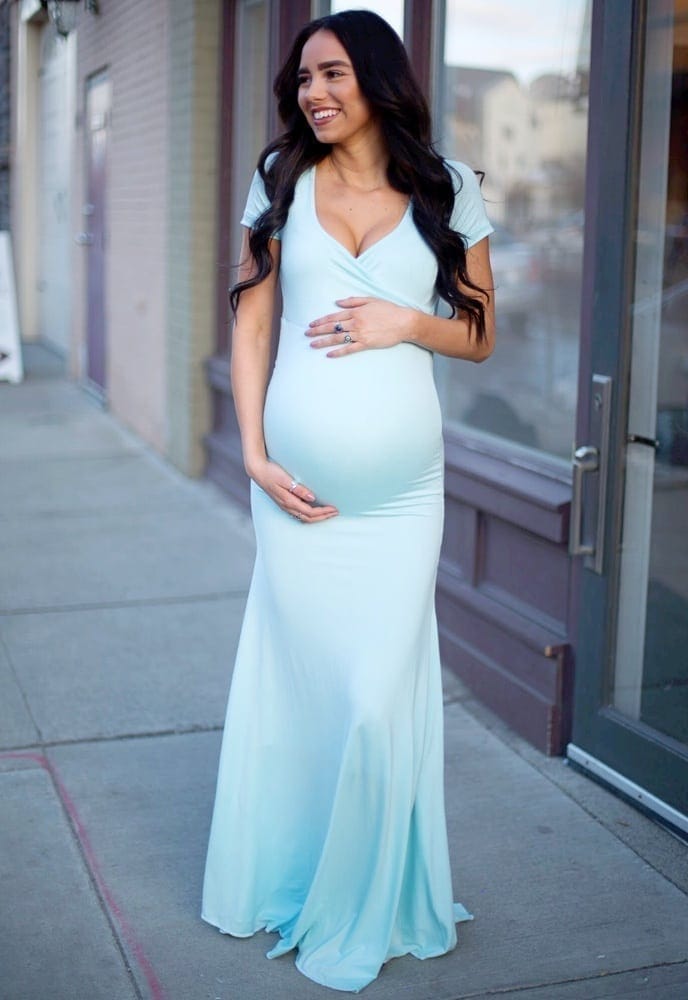 Photo of the always perfect Shannon Hill. Photography by May Carson.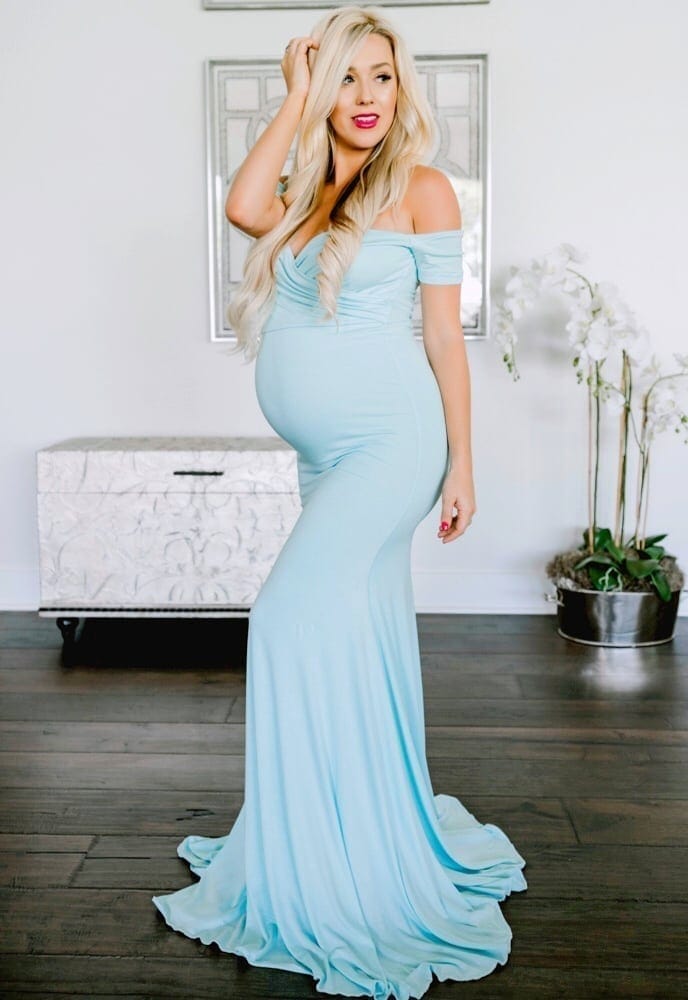 Fit
Comfort is a MUST when it comes to selecting the perfect baby shower gown! A loose flowing gown, like the Long-Sleeve off the Shoulder Jersey Gown, is great for all our Sexy Mamas. It can also be used again for your maternity photo shoot. This style will allow you to feel both comfortable and sexy throughout your whole baby shower! Another great option is the Strapless Slim-Fit Gown, a more tight fitted style that has a serious wow factor and is perfect for mamas wanting to go sans bra or wear a strapless. Keep in mind that ALL of our  baby shower gowns allow a snug fit without feeling like you can't move so you don't have to decide between comfort and style. Take a look at this gorgeous mama below (Vanessa Balli) in our Long Sleeve Baby Shower Gown, getting ready to open presents!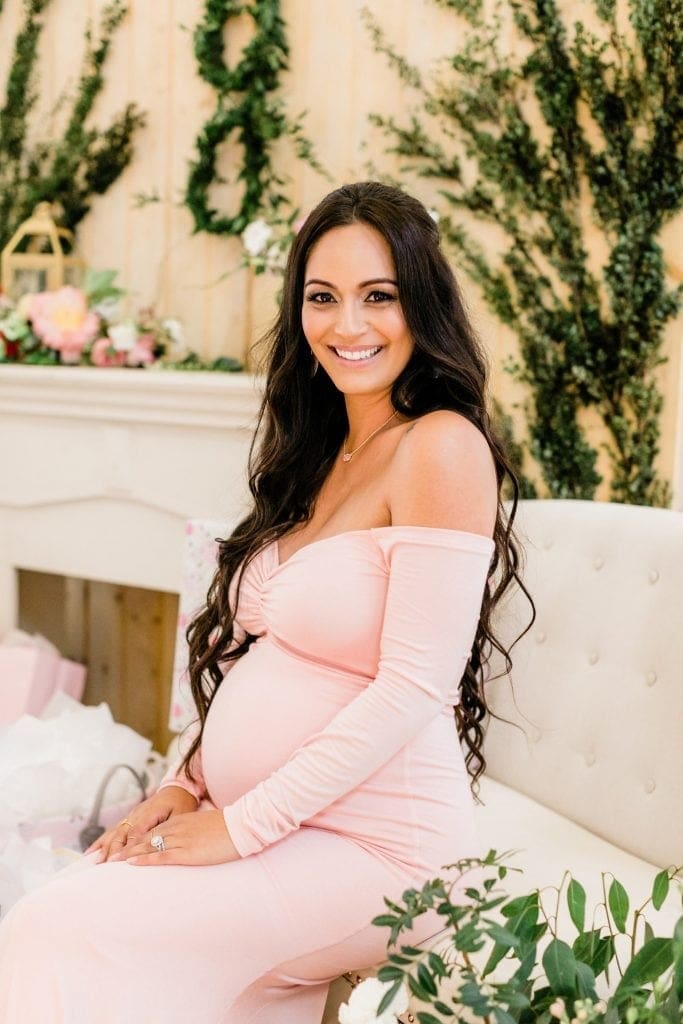 The stunning Lorena Farias in her Sexy Mama Maternity gown on her shower day.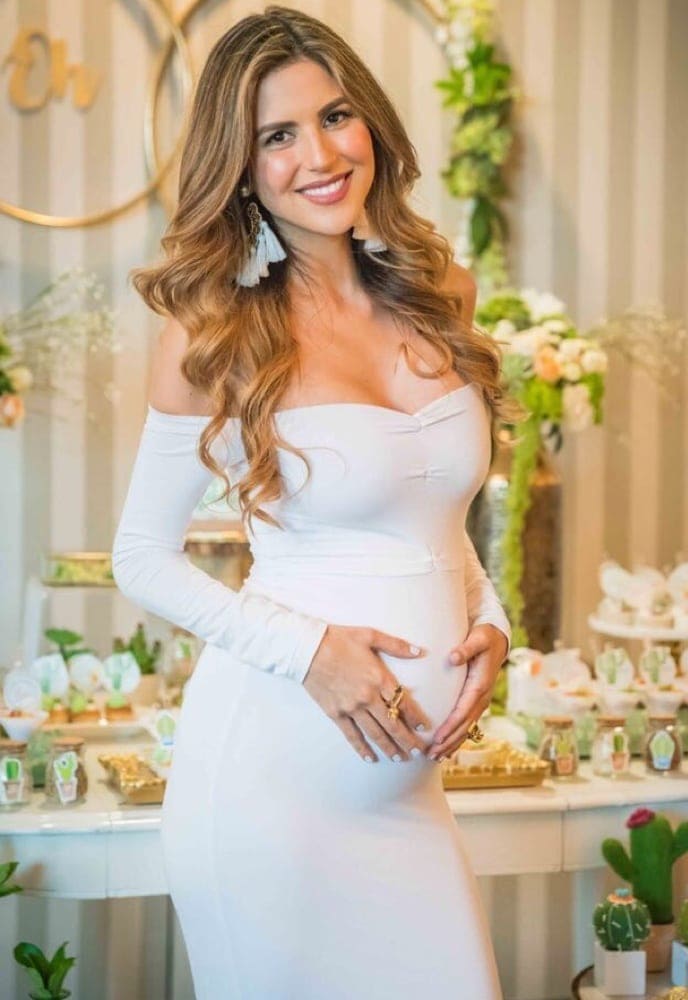 Gown Length
We highly recommend selecting a baby shower gown without a train. We say save the train for your maternity shoot! Even though gowns with trains are extremely elegant and great for maternity shoots, floor length gowns or flare gowns are fantastic choices for baby showers because they are elegant, comfort, and safe. If your baby shower is more simple, dresses like the Long Sleeve Sweetheart Mama Midi and Two-Tone Halter Dress are also great options! (Photo of the incredible mama Karla Marquez in her Sexy Mama Maternity, Two-Tone Halter.)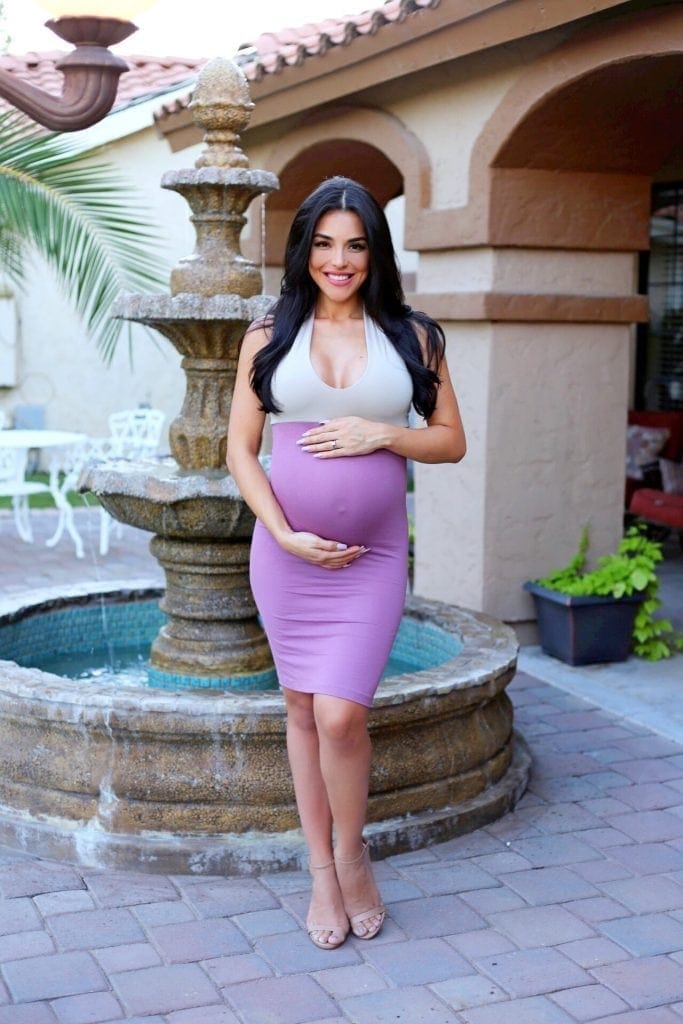 So, now it is time to make your final decision on the perfect baby shower gown. Remember, Sexy Mama Maternity is 100% mom-run and located in the U.S.A. This means they are available to chat through the website or answer any questions you may have via email before selecting your gown. And lastly, remember that free alterations are included with every gown purchase so be on the look out for an email that will come shortly after you make your purchase. See our next blog post "Baby Shower Looks" for more casual options and more baby shower ideas! Love you Sexy Mamas!