Don't worry, you don't have to be under the sea to rock these mermaid styles! The mermaid style trend is a timeless classic and one of our favorite looks out there! The unique skirt coupled with the fitted bodice is flattering for any figure and creates a sophisticated and elegant feel. One of the most distinct silhouettes out there while still providing a versatile look. It pairs perfectly with any photoshoot theme! These Mermaid Style Gowns are designed for any Mama who loves to make a bold statement while maintaining an elegant and sophisticated look. 
Strapless Sweetheart Mermaid Gown
The definition of simple elegance. This Strapless Sweetheart Mermaid Gown has your favorite sweetheart neckline with a bit of flare! It is constructed of a premium stretch material that is guaranteed to provide maximum comfort throughout your photoshoot or any special occasion. The fitted bodice hugs curves beautifully while the mermaid style bottom hits right above the knee to create a gorgeous flare effect. This gown is perfect for your indoor or outdoor shoots! Not to mention, it is available in 37 colors!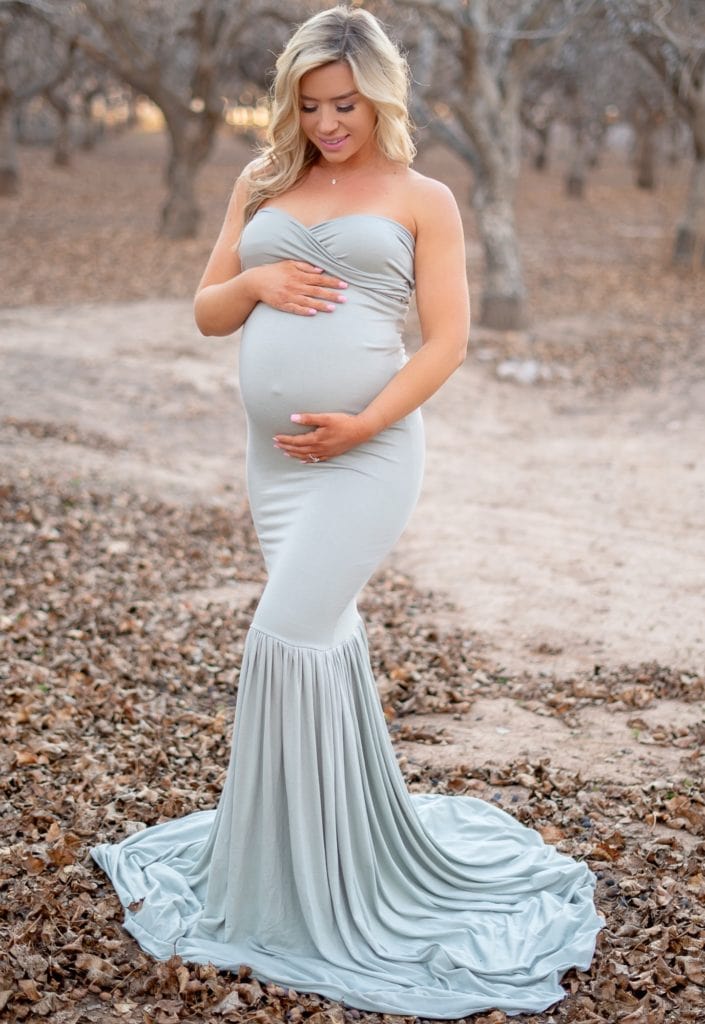 Long Sleeve Sweetheart Mermaid Gown
This Long Sleeve Sweetheart Mermaid Gown is ideal for any Mama who likes a little more coverage. The sister style to our Strapless Sweetheart Mermaid Gown, it features the same sweetheart neckline and gorgeous mermaid bottom with added long sleeves. The slim fit bodice will showcase your bump while the mermaid bottom drapes perfectly from the knee down. The sleek, chic look of this gown is perfect for an outdoor shoot. The smooth design paired with the right color will make you stand out elegantly in a forest back drop or beach setting!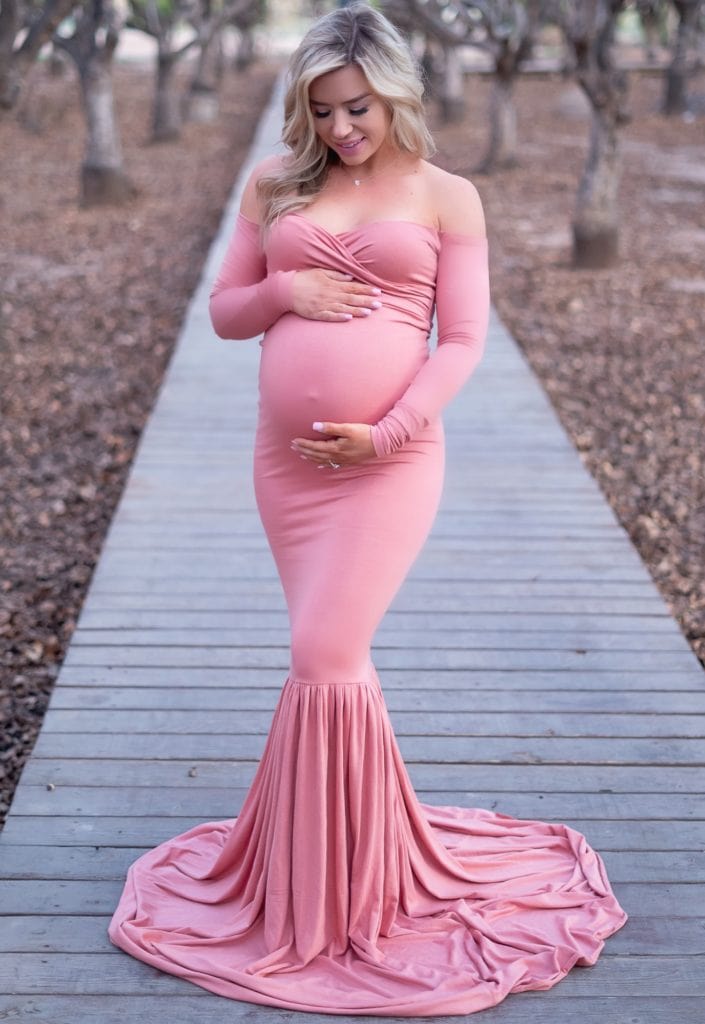 Off the Shoulder Sweetheart Tulle Gown with Long Sleeves
This gown is nothing short of a fairytale! Our Off the Shoulder Sweetheart Tulle Gown with Long Sleeves features a beautiful sweetheart neckline with a dramatic tulle bottom. Designed for Mamas who are not afraid to make a statement! A must have for a Spring maternity shoot or an elegant baby shower. The tulle bottom adds a bold twist on the classic mermaid style, guaranteed to create breathtaking photos that will last you a lifetime!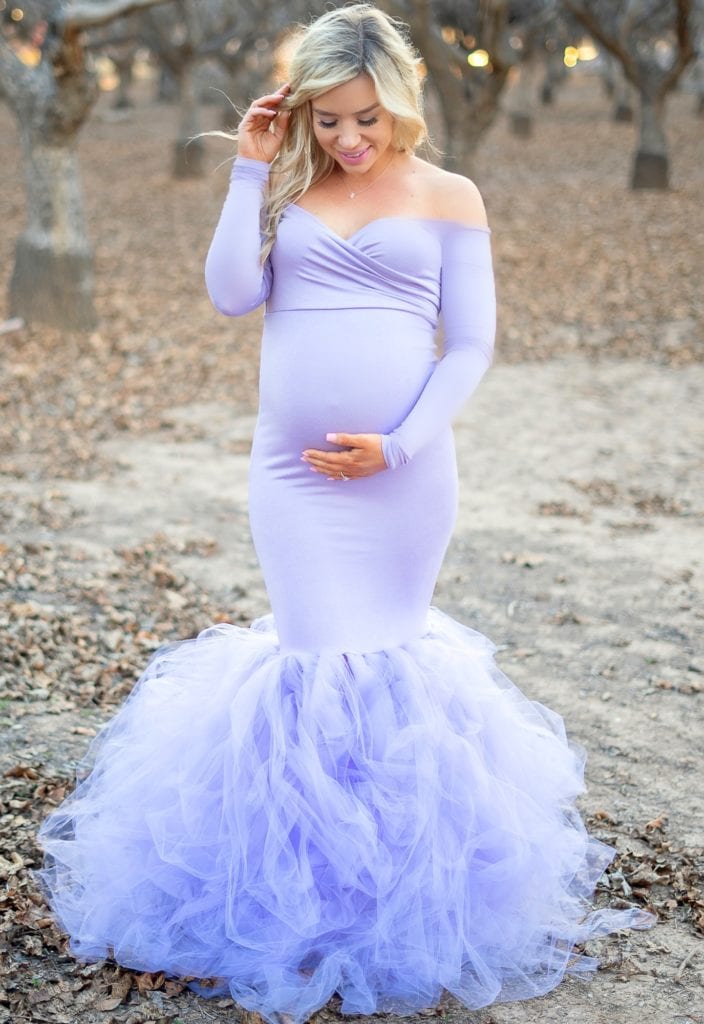 Off the Shoulder Ruched Tulle Gown
Sleek, chic and comfortable! Our Off the Shoulder Ruched Tulle Gown is nothing short of perfection when it comes to a photoshoot ready gown. The ruched front provides a flattering neckline while the fitted bodice flaunts your curves in all the right places. This gown is ideal for indoor or outdoor shoots, whether you are shooting in a modern studio or outside with a natural backdrop. Take it a step further and shoot your maternity photos on a beach to let your inner chic mermaid shine!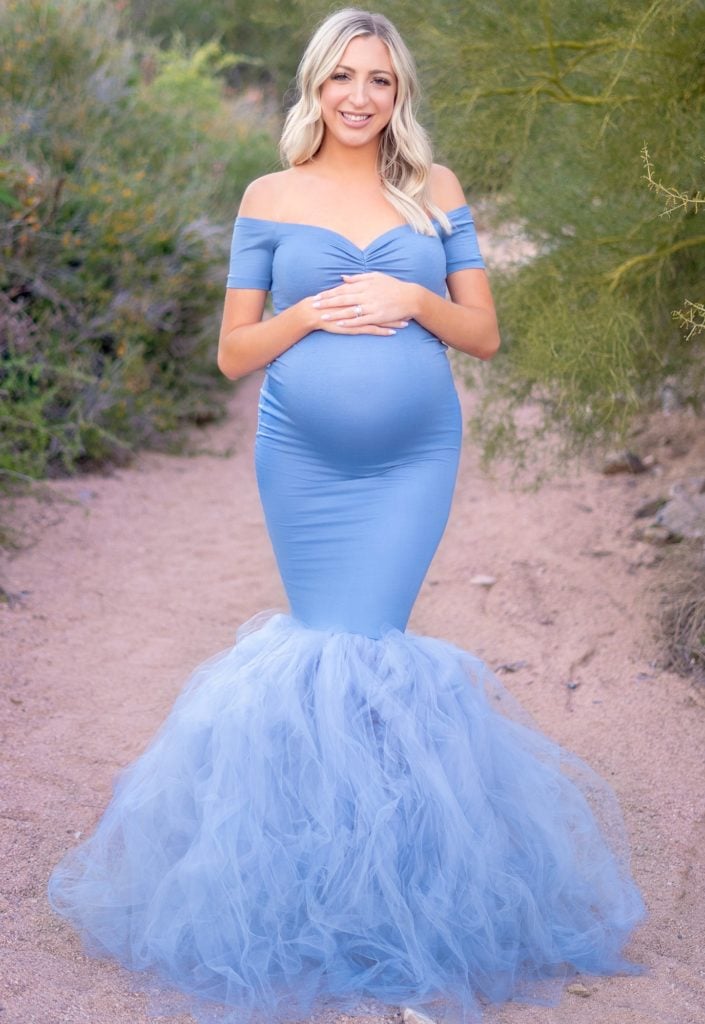 This Lace Drop Sleeve Mermaid gown is pure elegance! A versatile look that can be worn throughout any season. It features a bold lace pattern layered on top of our premium stretch lining to provide maximum comfort without sacrificing an ounce of your style. This classic mermaid silhouette creates a romantic feel while still providing a modern look. The lace pattern is continued throughout the bodice into an unlined lace flare bottom. We just can't get enough!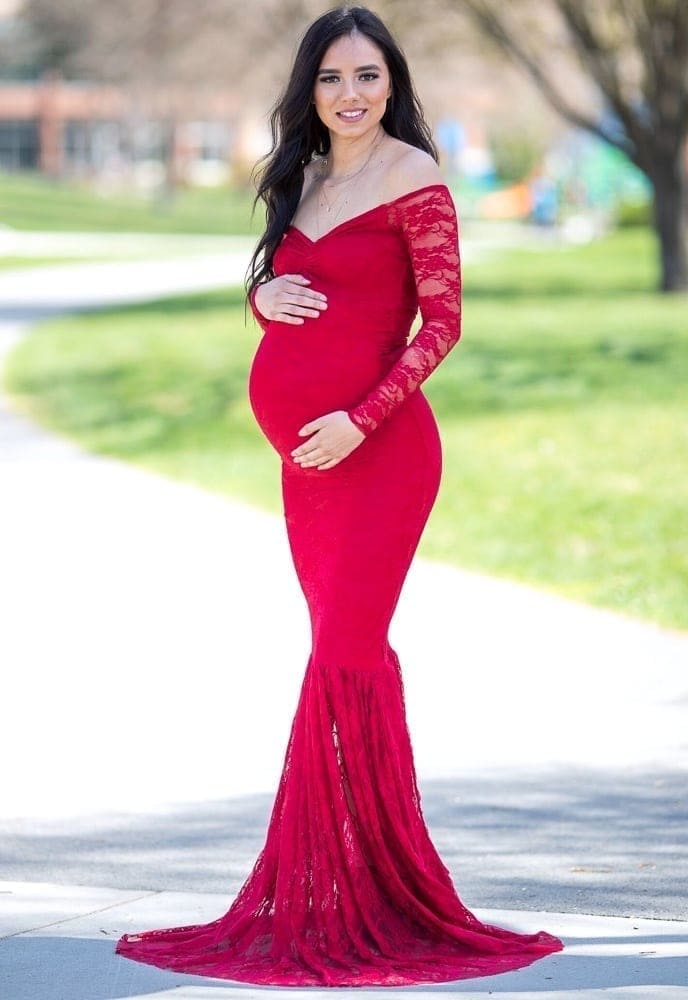 Your bump is a beautiful thing, so why not showcase it in your photos!? No matter your preference, we have all your mermaid styles covered! These gowns are sexy but subtle and truly makes for stunning pictures. Let the beauty of your body shine while still being elegant and classy.
Still need help picking out the perfect maternity photoshoot gowns? As always, Sexy Mama Maternity is here to help! Chat with a stylist through the website or send us an email for assistance with sizing and styling. And don't forget to send us pictures in your favorite mermaid style gowns! We love seeing our mamas gorgeous and glowing!