There is nothing cuter than adorable side-by-side weeks in, weeks out photos. Sexy Mama Maternity clothing is designed to grow with you throughout Motherhood and beyond. Naturally our mamas come up with the best before and after baby photos showing off their Sexy Mama styles. Scroll down for some serious inspo from the best before and after baby photos!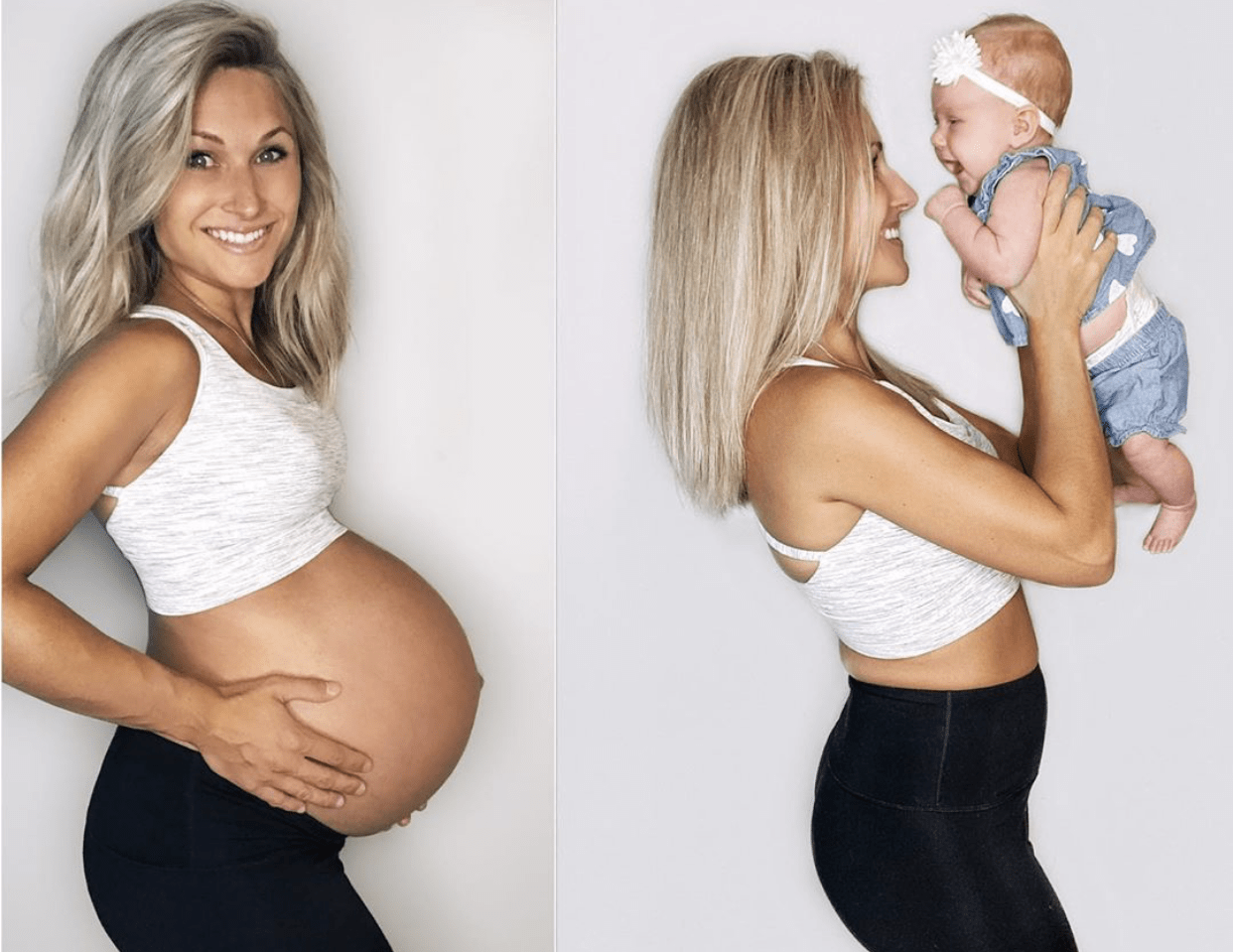 Rockin' our High Waisted Black Pant and our Strap Back Ultra-Support Bra in Grey, mama @thegingypants is showing the versatility of our activewear! Perfect for nursing, our sports bras come in 10 other colors and prints too! We adore this sweet before and after featuring her new little one!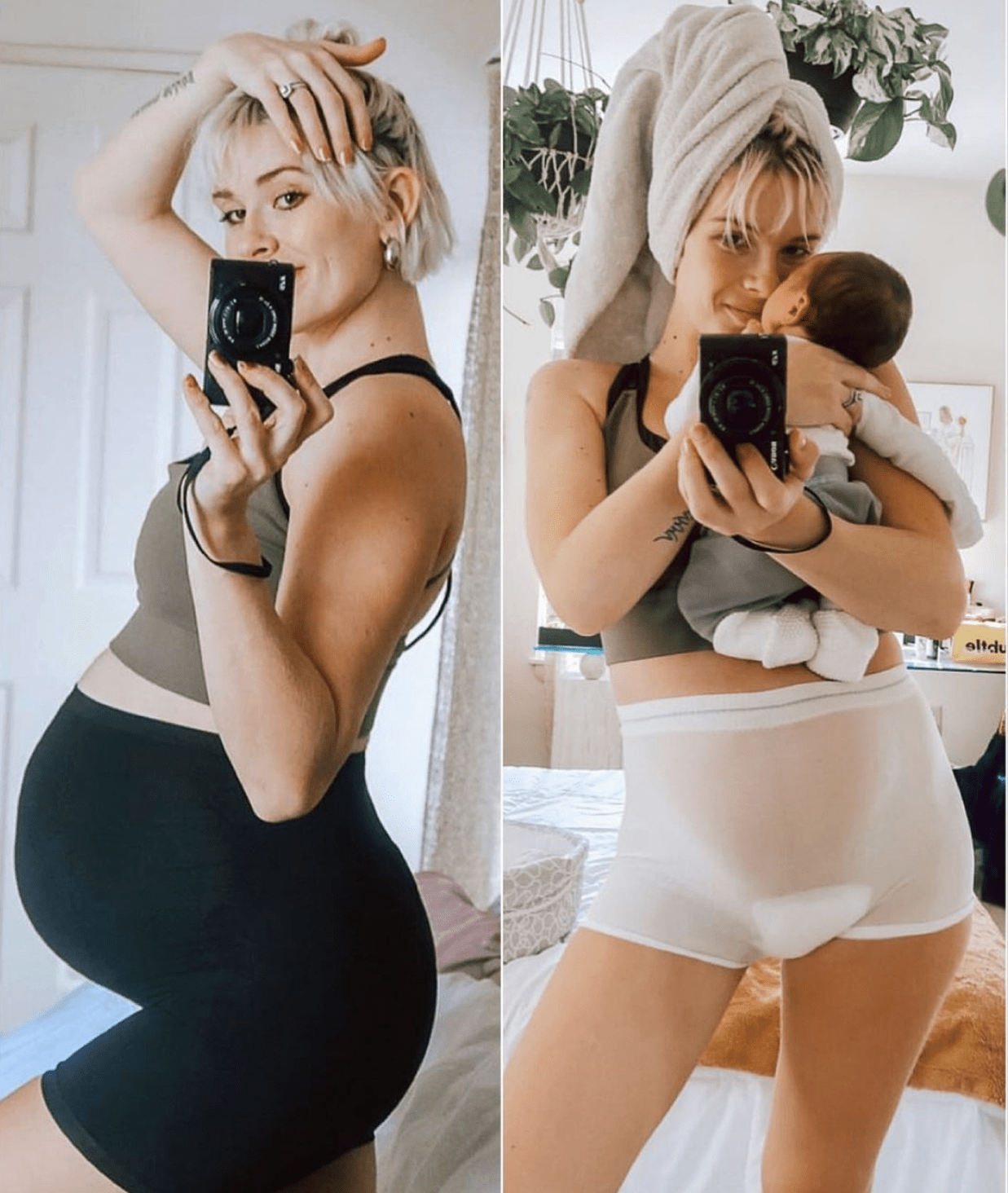 Perfect for maternity athleisure and postpartum nursing, our sports bras make the best before and after pregnancy item. Mama @kashafierceeee is rocking our Strap Back Ultra-Support Bra in Olive! This bra is also available in 10 colors and prints!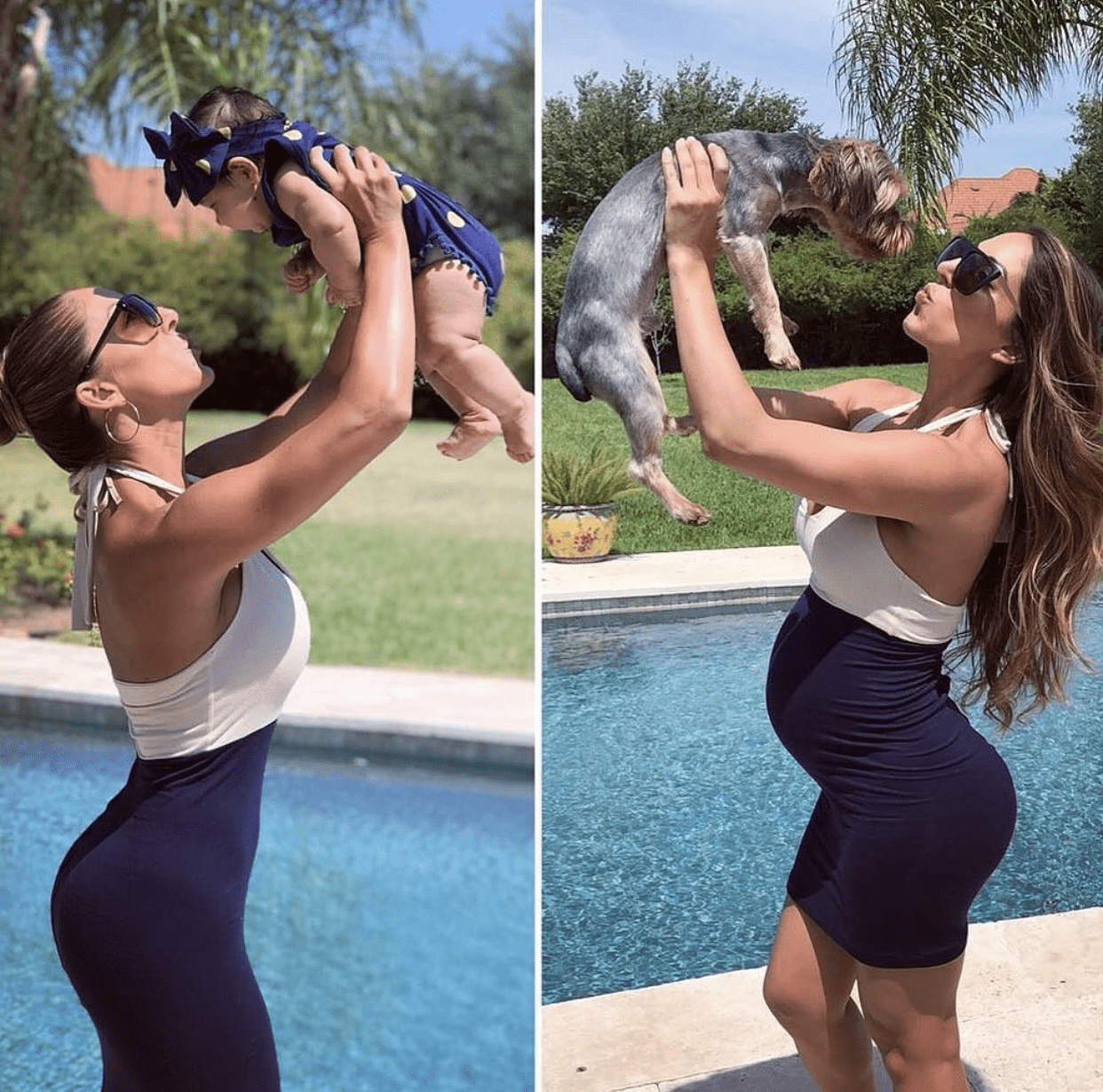 Ow ow! Sexy mama @jenni_gonzalez_atx is killing it poolside in her Two-Tone Halter Maternity Dress in Navy. What a great summer dress for pregnancy bumps, but also postpartum curves!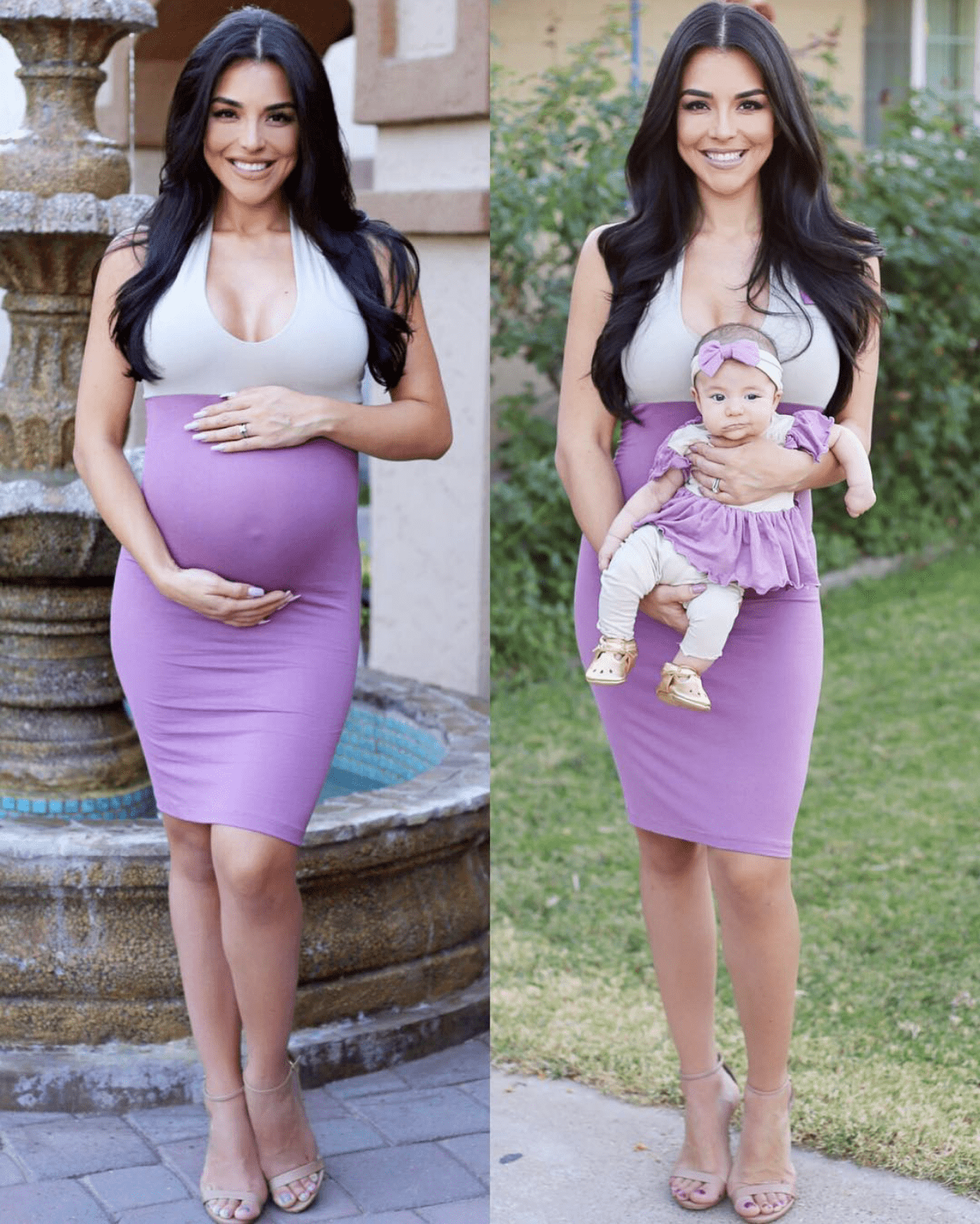 We absolutely adore mama @karlamarquez_ and her mini-me in matching Sexy Mama dresses! Mama is wearing our Two-Tone Halter Maternity Dress in Mauve, and her baby girl is wearing our Mama and Me Outfit in Mauve. These baby outfits are made to match your Sexy Mama dress for the cutest pictures!

Mama @aharmonmoore captured the cutest before and after selfies in her Classic Shorts Bumperalls! Our Sexy Mama Maternity Bumperalls are a great choice for maternity and postpartum wear, because they flatter all body types and your toddler can slip right in while your snapping the perfect shot. Cuteness overload!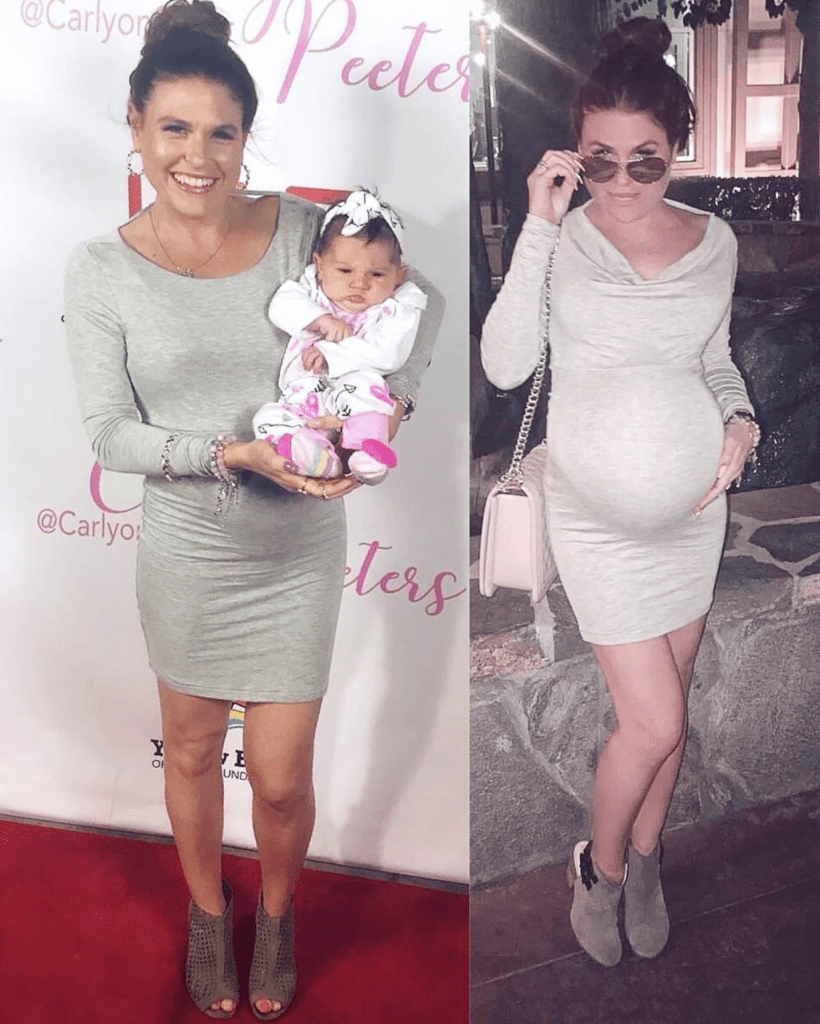 Wearing our Reversible Cowl Maternity Dress in Heather Grey on and off the red carpet , @alilevindesign has that new-mama-glow! This dress is especially versatile, as it can be worn with the cowl facing the front, or the back. Perfect to wear both ways, with baby in or out.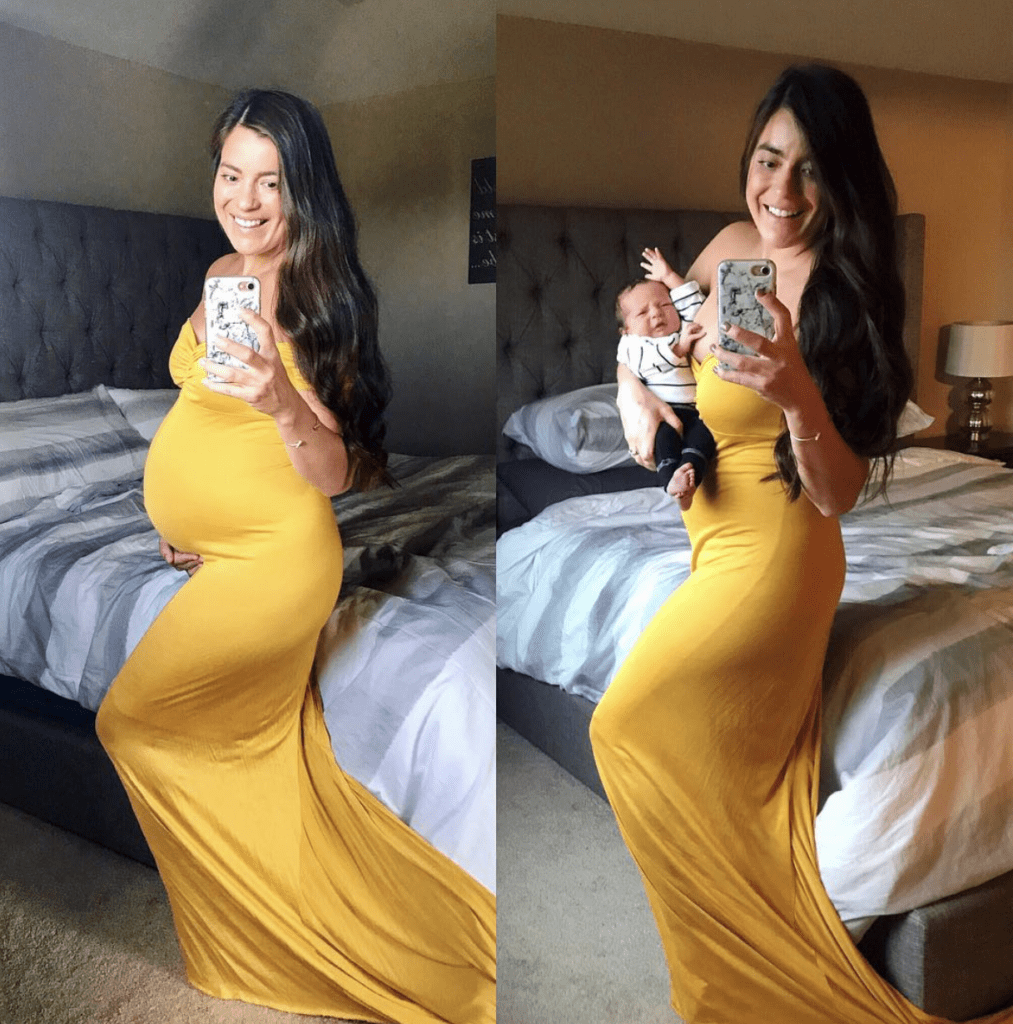 Can we just take a moment for this before and after?! Mama @ameskiefer is killing it in our Short-Sleeve Baby Shower Gown with Mini Train in Gold! She later uses the same gown for a little dress up as Belle from Beauty and the Beast.
We absolutely adore these pictures from @ambernicolefashion. Perfectly styled Bumperalls with leopard boots, coordinated with baby's onesie. These Tie Side Bumperalls make for perfect before and after photos and an adorable errand outfit.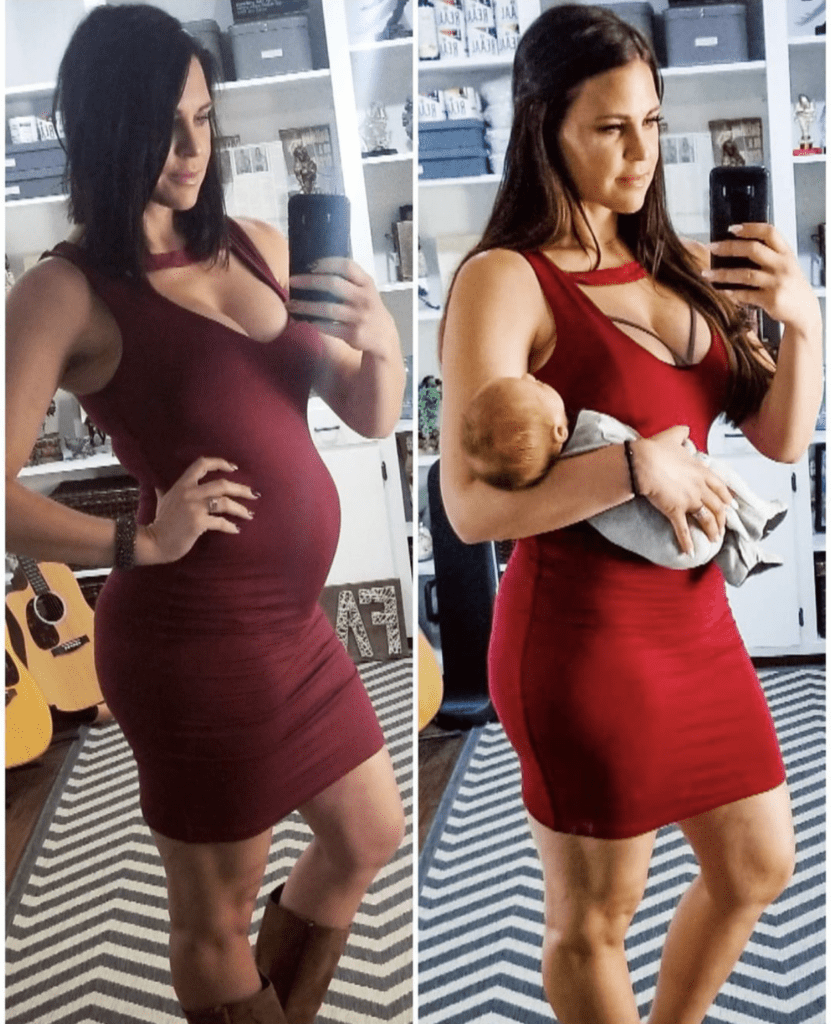 Mama @aprilfitmom looks absolutely gorgeous in the V-Neck Choker Maternity Dress in Burgundy. She shows off how Sexy this dress looks at every stage of motherhood! Truly rocking' it!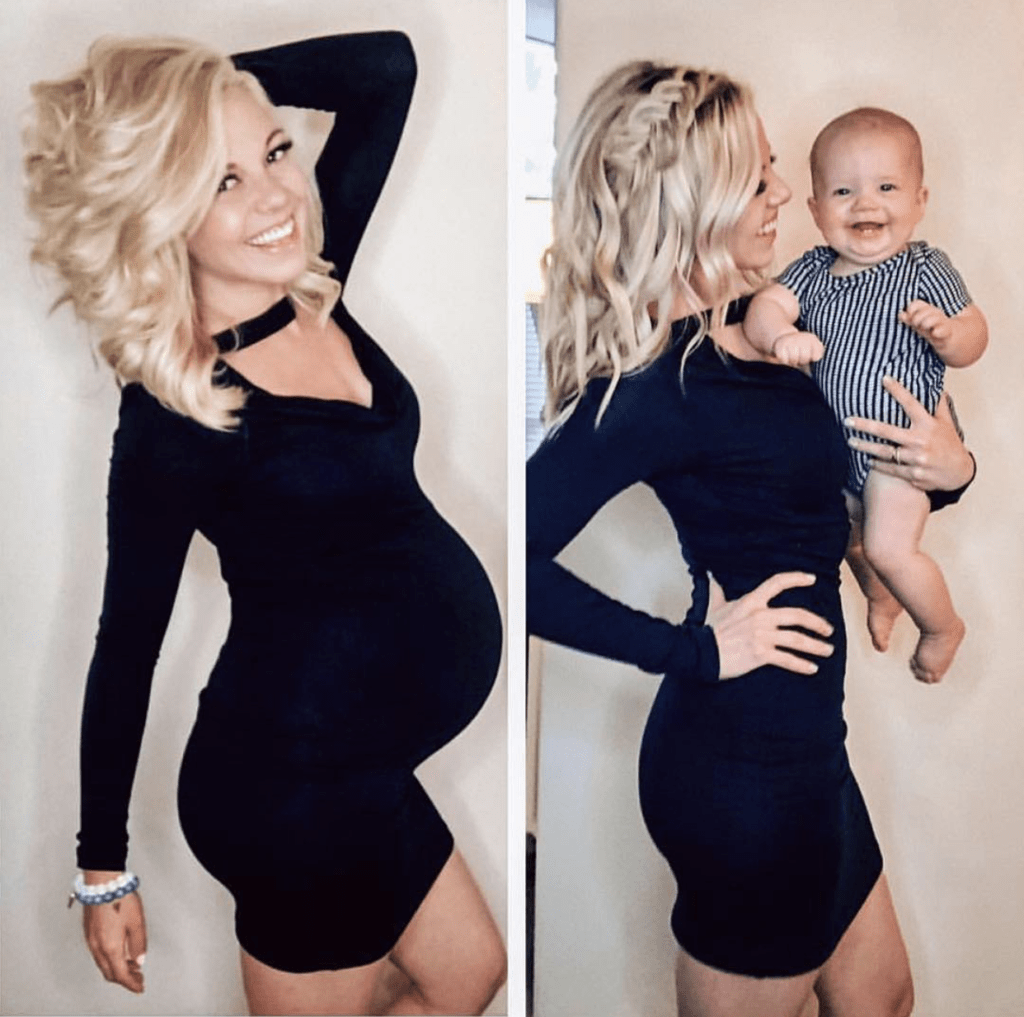 The perfect LBD for pregnancy and beyond, we have the Reversible Cowl Maternity Dress in Black. Mama @bonnie_engle shows off her mama curves before and after birth! Talk about some serious postpartum goals…Glowing with and without belly!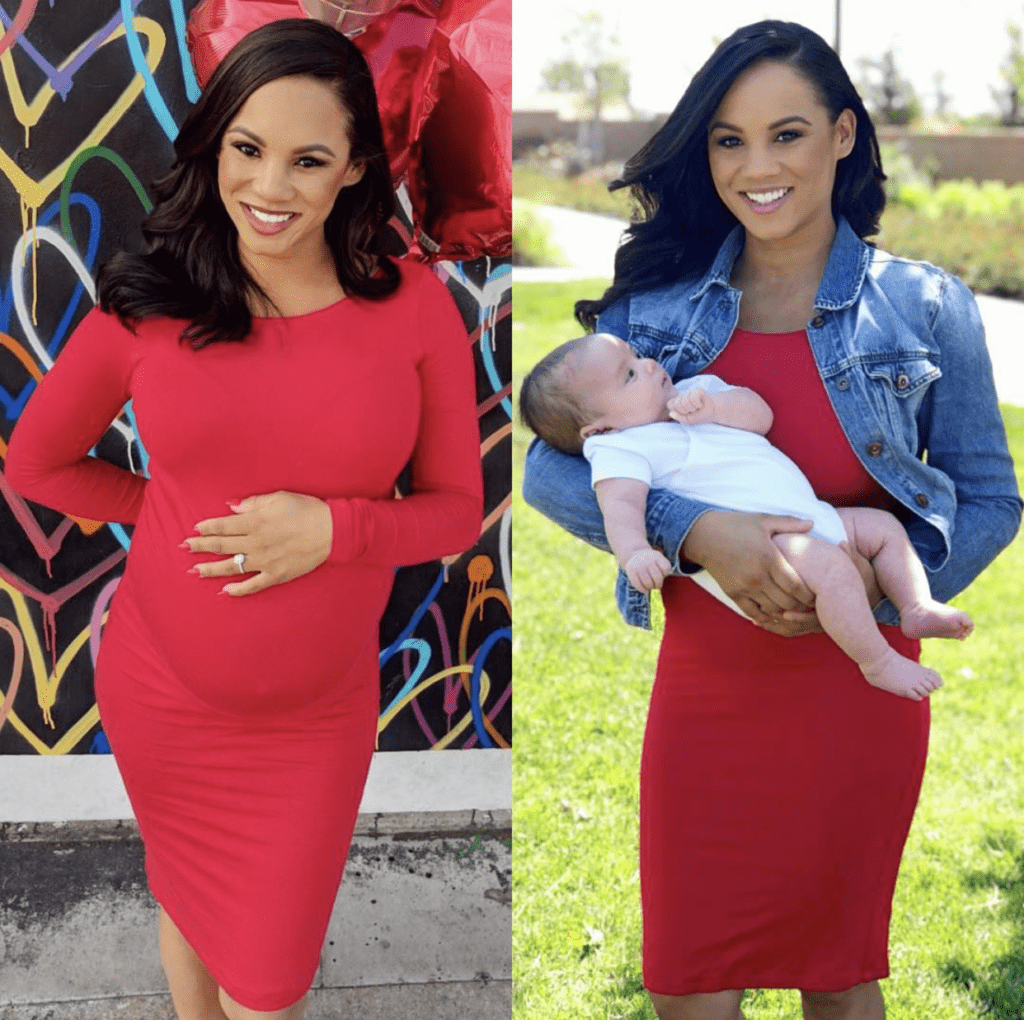 This mama is Red hot! Mama @brooklynbizzle looks fiery in our Boat Neck Long Sleeve Maternity Dress! Perfect for dressing up or down, bump or baby in your arms!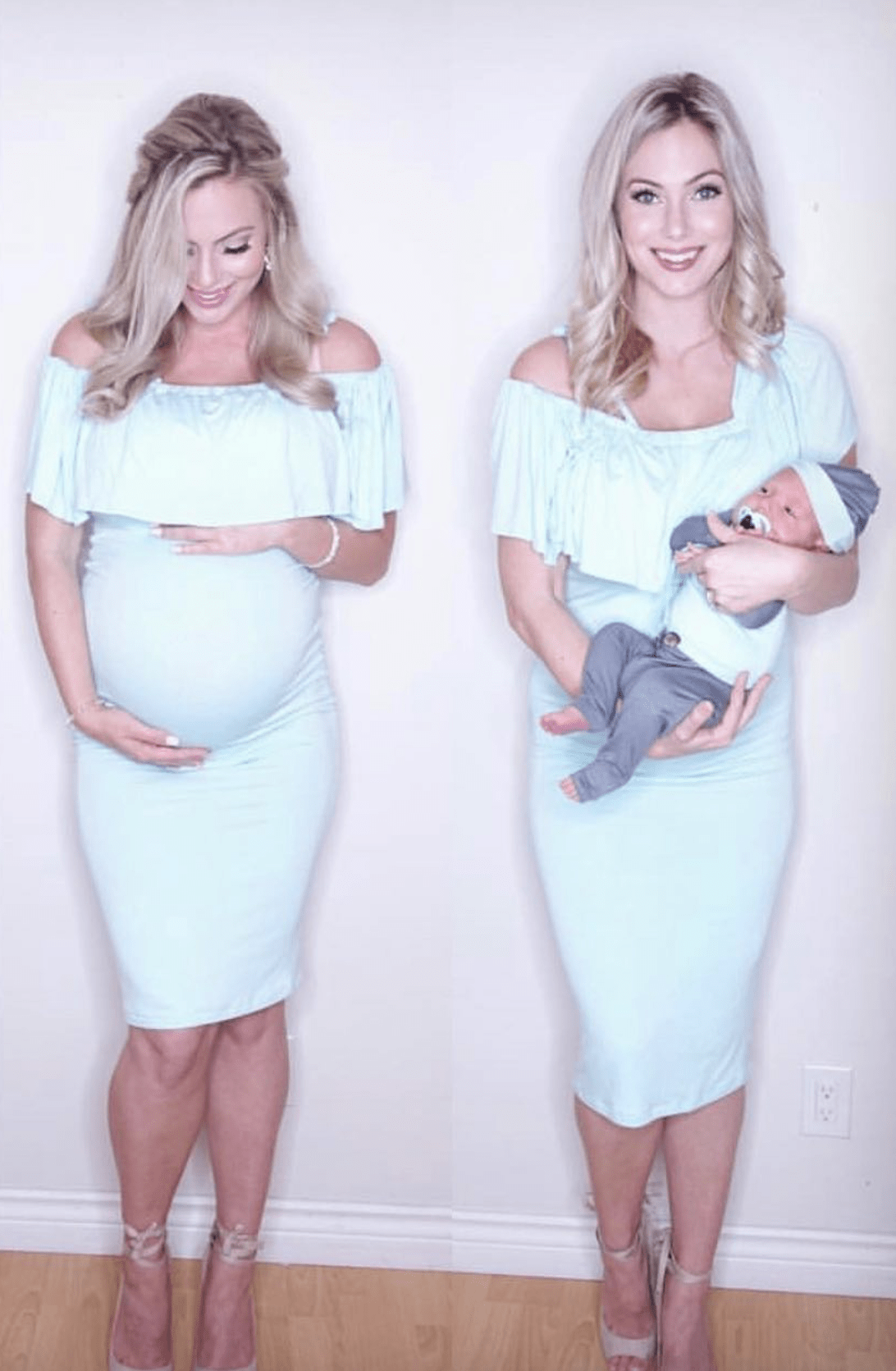 Mama @carlypinchin shows just how easy it is to rock your favorite Sexy Mama dress while pregnant, and after while holding your sweet newborn. She is wearing our Off the Shoulder Ruffle Maternity Dress in Robin's Egg.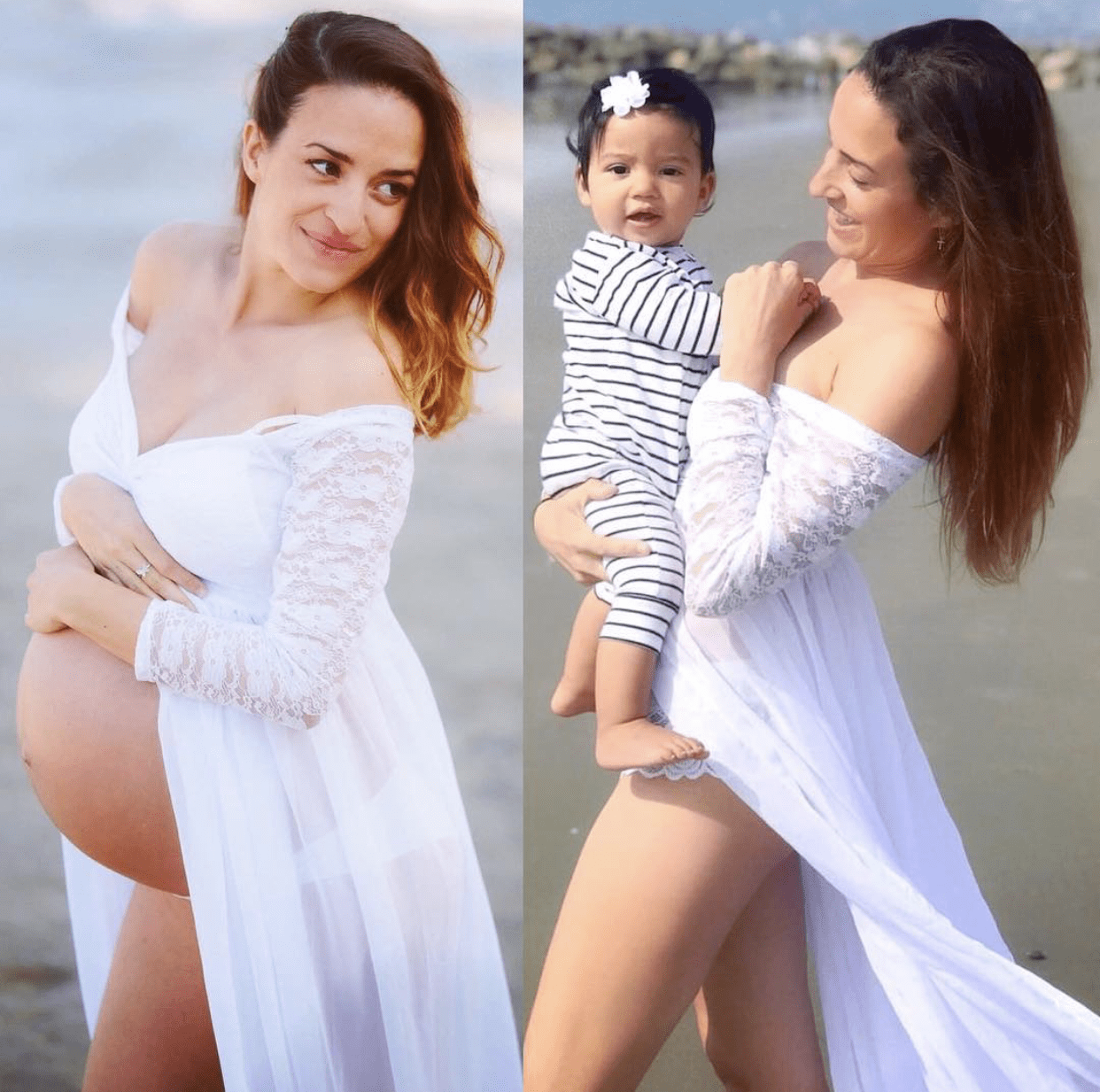 So elegant and gorgeous, Mama @gemma_marin is glowing in her Long-Sleeve Open Chiffon Lace Gown in White. Perfect for your maternity shoot, and also your newborn beach shoot!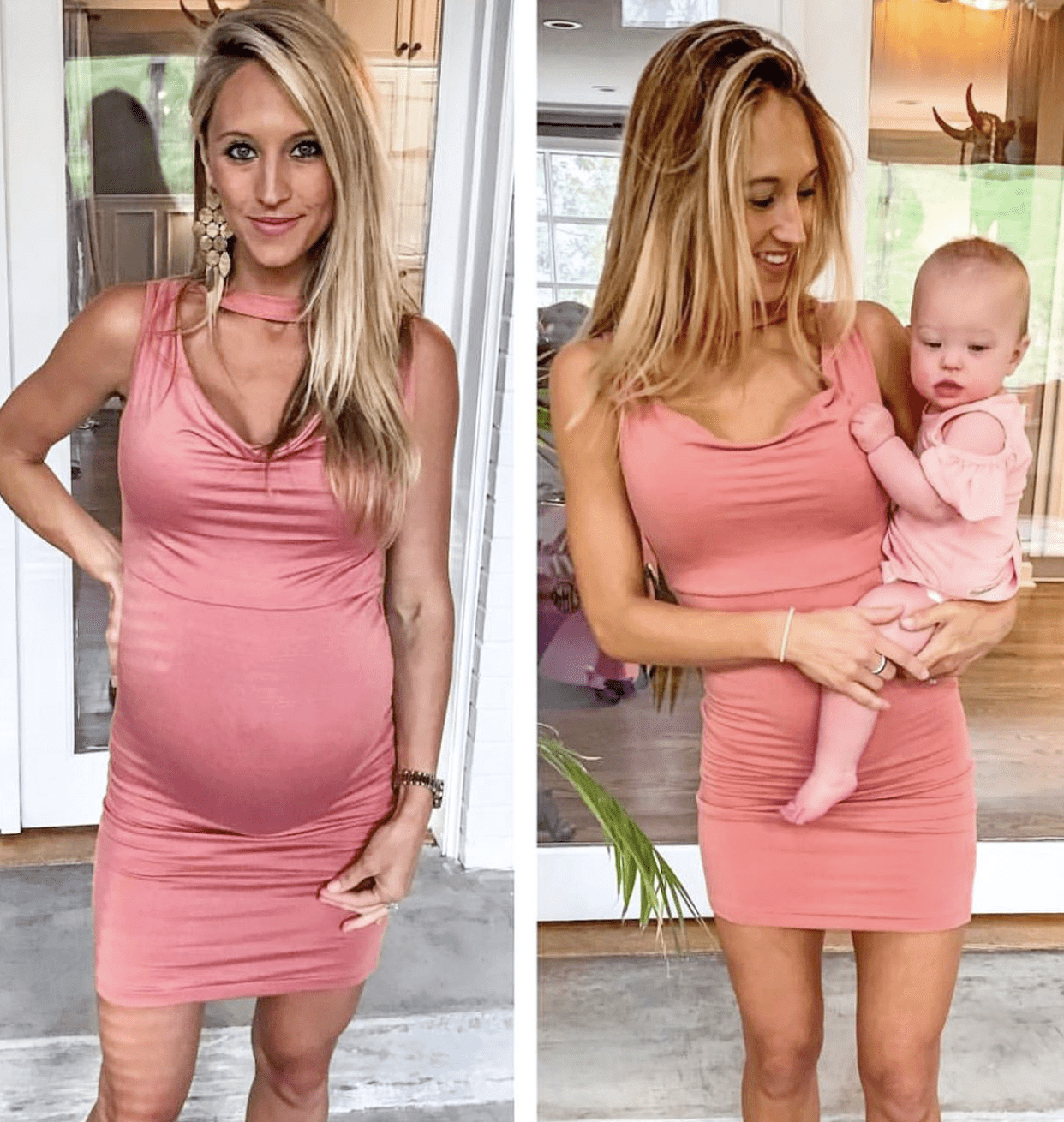 Matching mom-and-me pink dresses? Yes, yes, yes! Mama @haleybrandstarter shows the versatility of the Sleeveless Reversible Cowl Maternity Dress in Dusty Pink! It can be dressed up, or more casual, worn pregnant or not!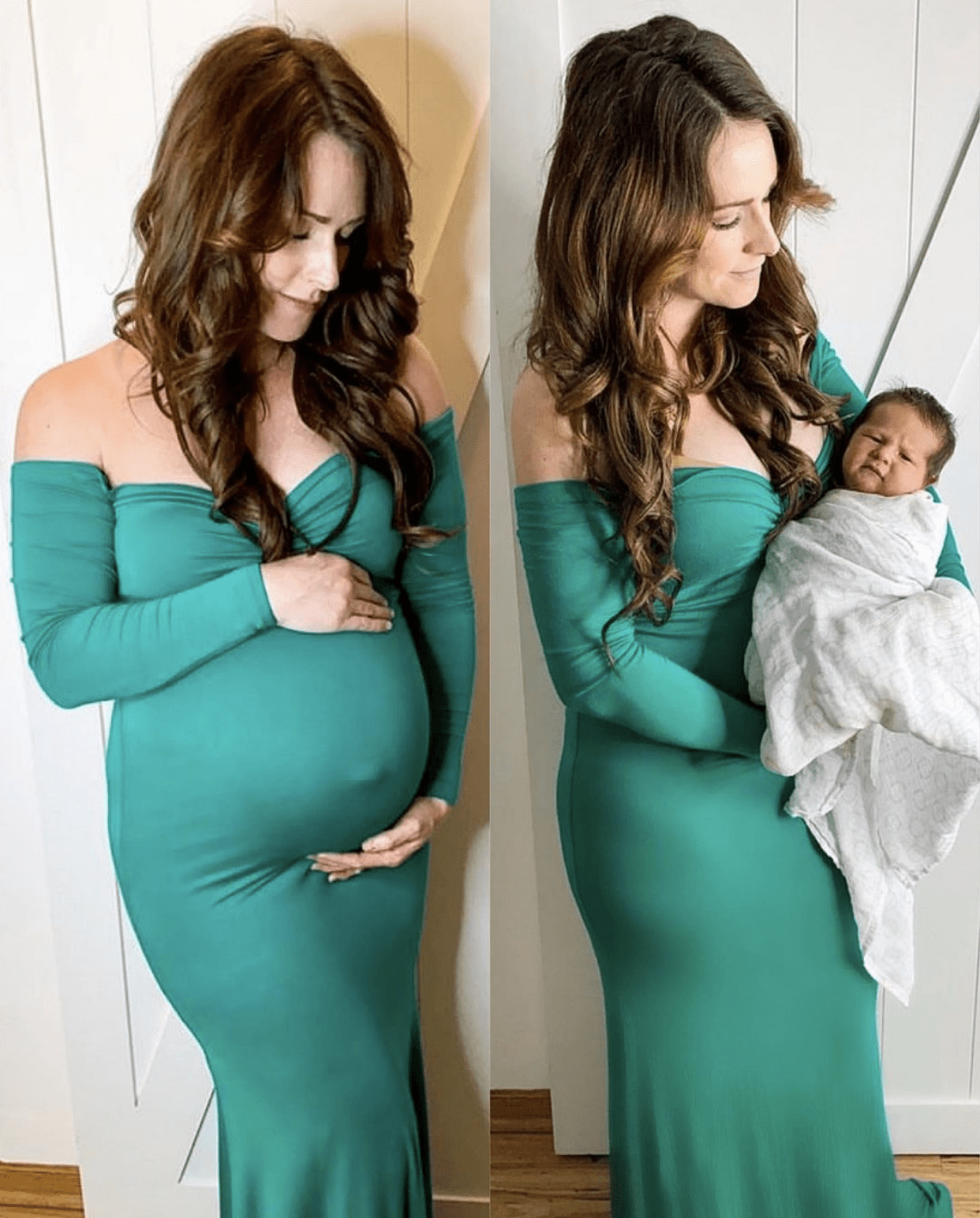 Mama @honestlymommy shows another perfect example of how your maternity shoot gown can also be worn as a newborn shoot, to create beautiful before and after pictures. She is wearing the Long-Sleeve Baby Shower Gown in Kelly Green, and we are in love!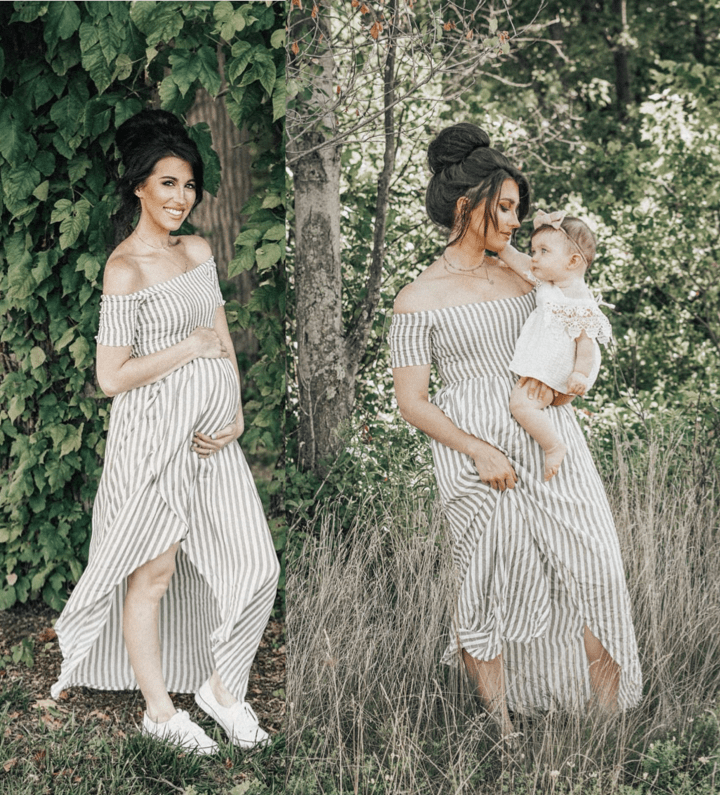 How cute is this?! We are obsessed with @hugsandmesses and these adorable mama and me pictures! She looks so effortlessly stunning in the Striped Off the Shoulder Wrap Front Maternity Dress.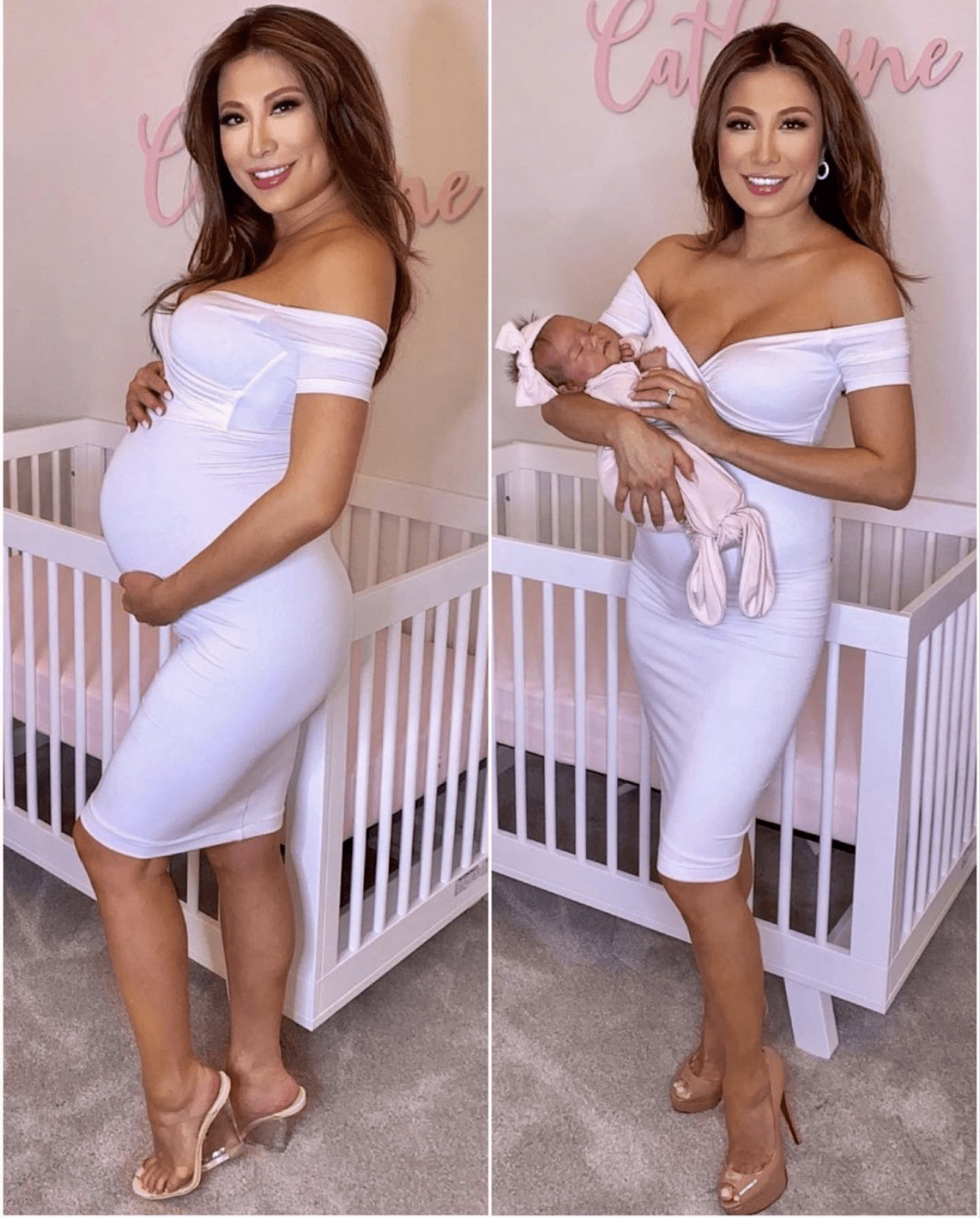 Mama @leacaprice is absolutely glowing before with her bump, and after with her baby girl. She is killing it in the Off the Shoulder Sweetheart Maternity Dress with Short Sleeves in White!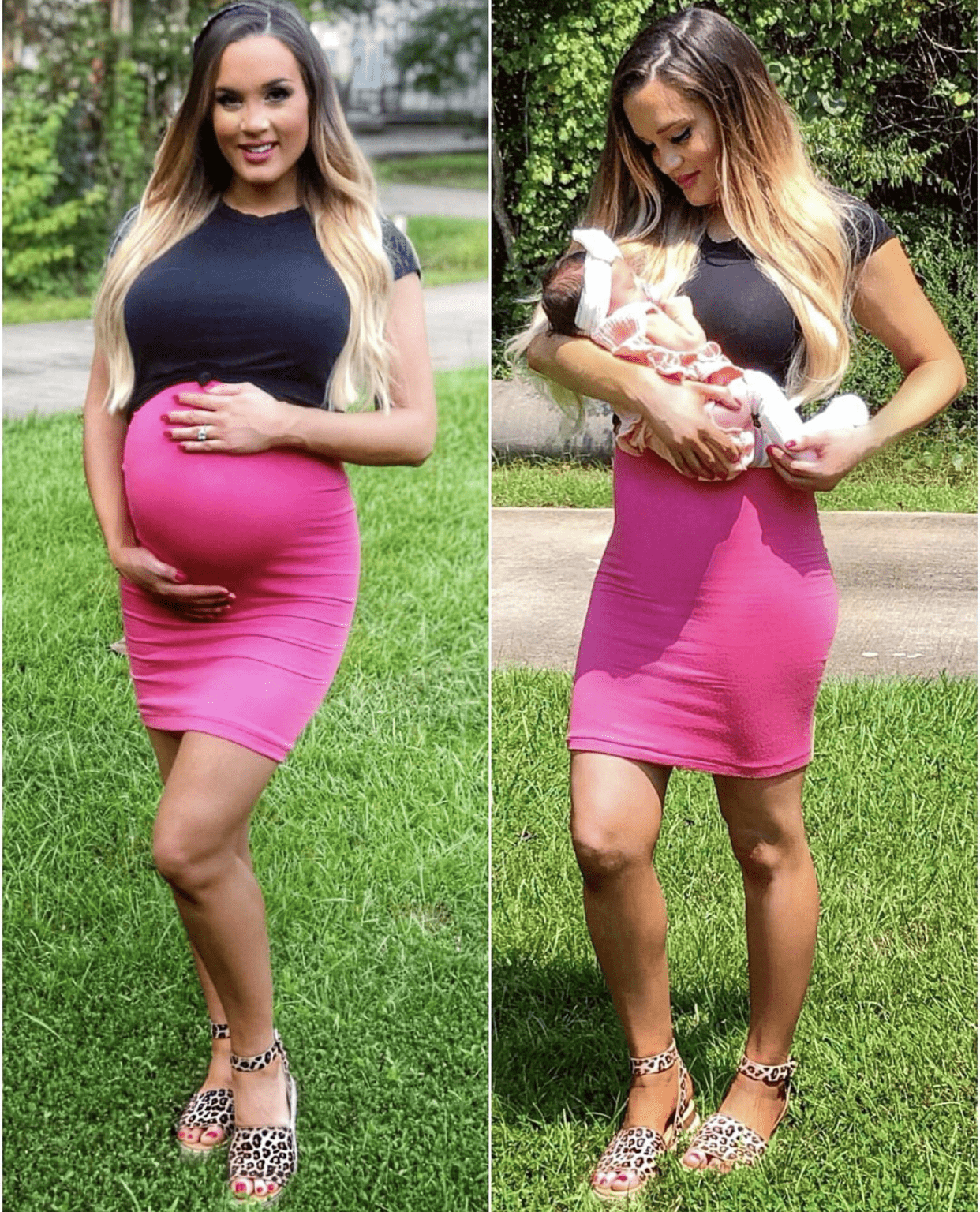 How cute is Mama @lockhartjm1 in her Short Sleeve Skirt-Crop Combo in Fuchsia?! Our skirt and crop combos are a great choice for maternity and postpartum wear, because not only can they can be mixed and matched, they fit through all stages of motherhood!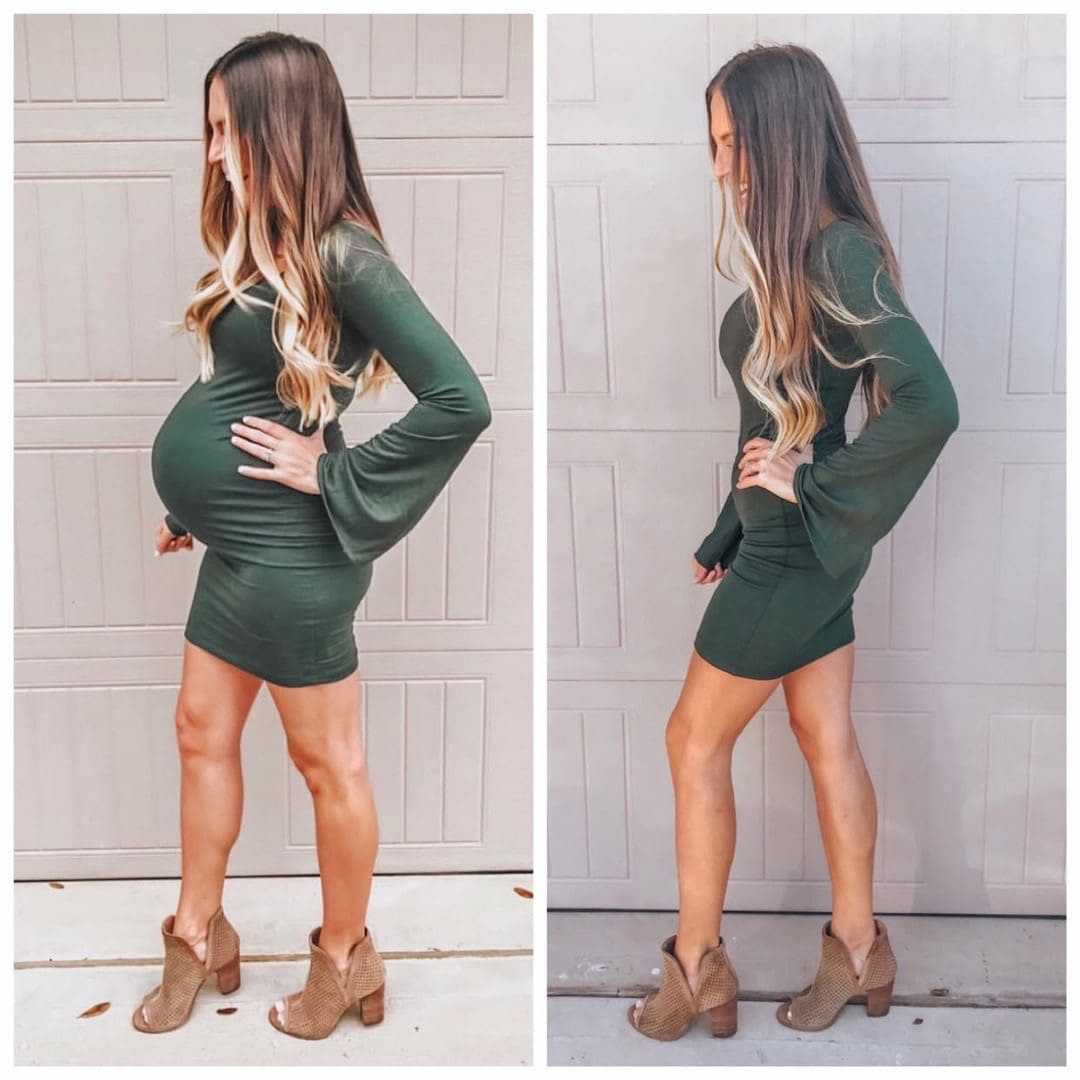 Mama @monicakaase gives us some serious before and after inspo in our Mini Bell Sleeve Maternity Dress in Olive! She paired the dress with cute brown booties for a perfect maternity outfit or a cute new mama look!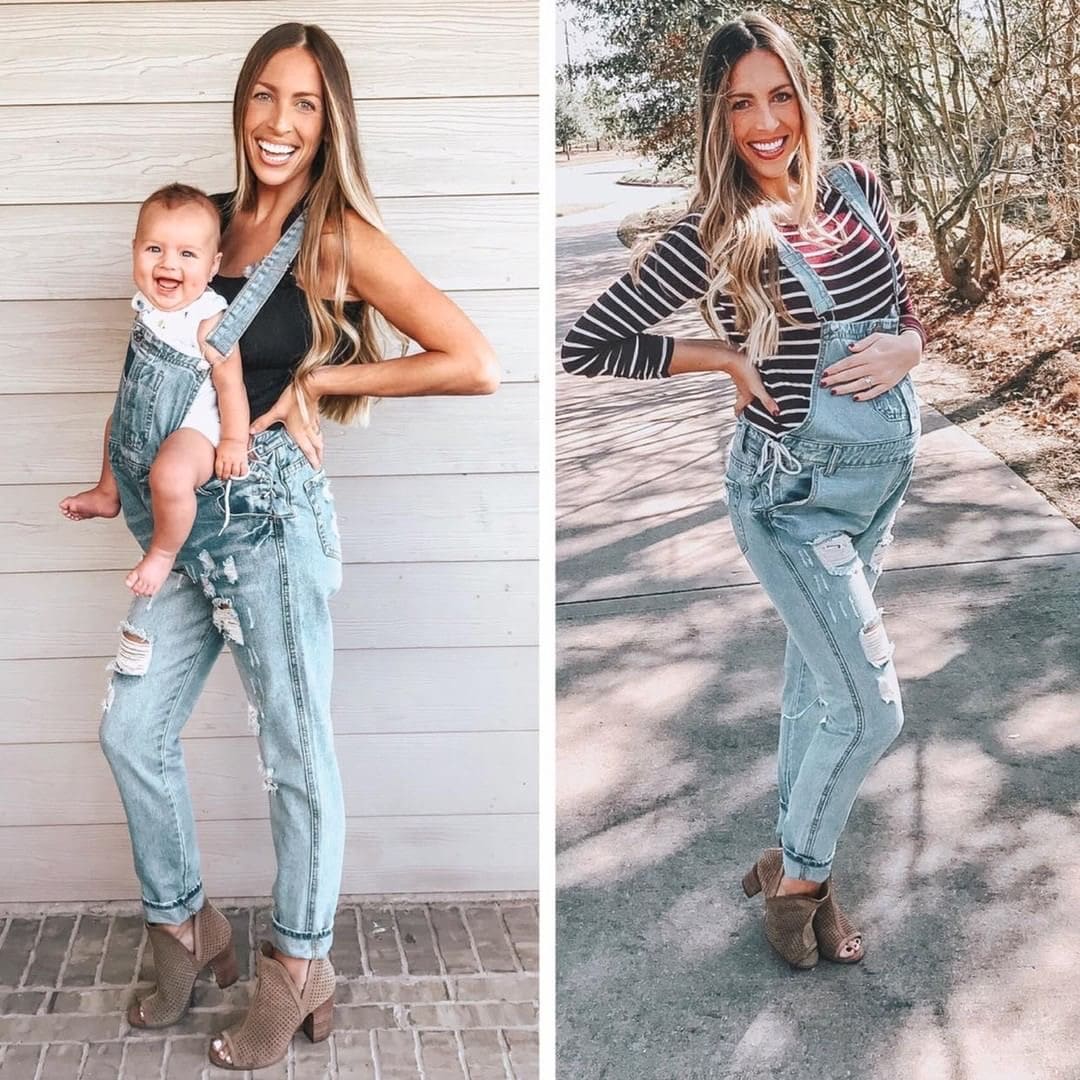 The Tie Side Bumperalls are perfect for before and after photos, just like Mama @monicakaase shows us here! With matching grins, her and her baby look so stinkin' cute!
The perfect maternity to beyond the bump style, is our Mini Maternity Dress with Long Sleeves! Mama @nicole.villarreal is wearing this dress in the color Mauve, and her little one is wearing our matching Mama and Me Outfit in Mauve. Coordinating outfits that are not only cute, but comfy too? Yes please!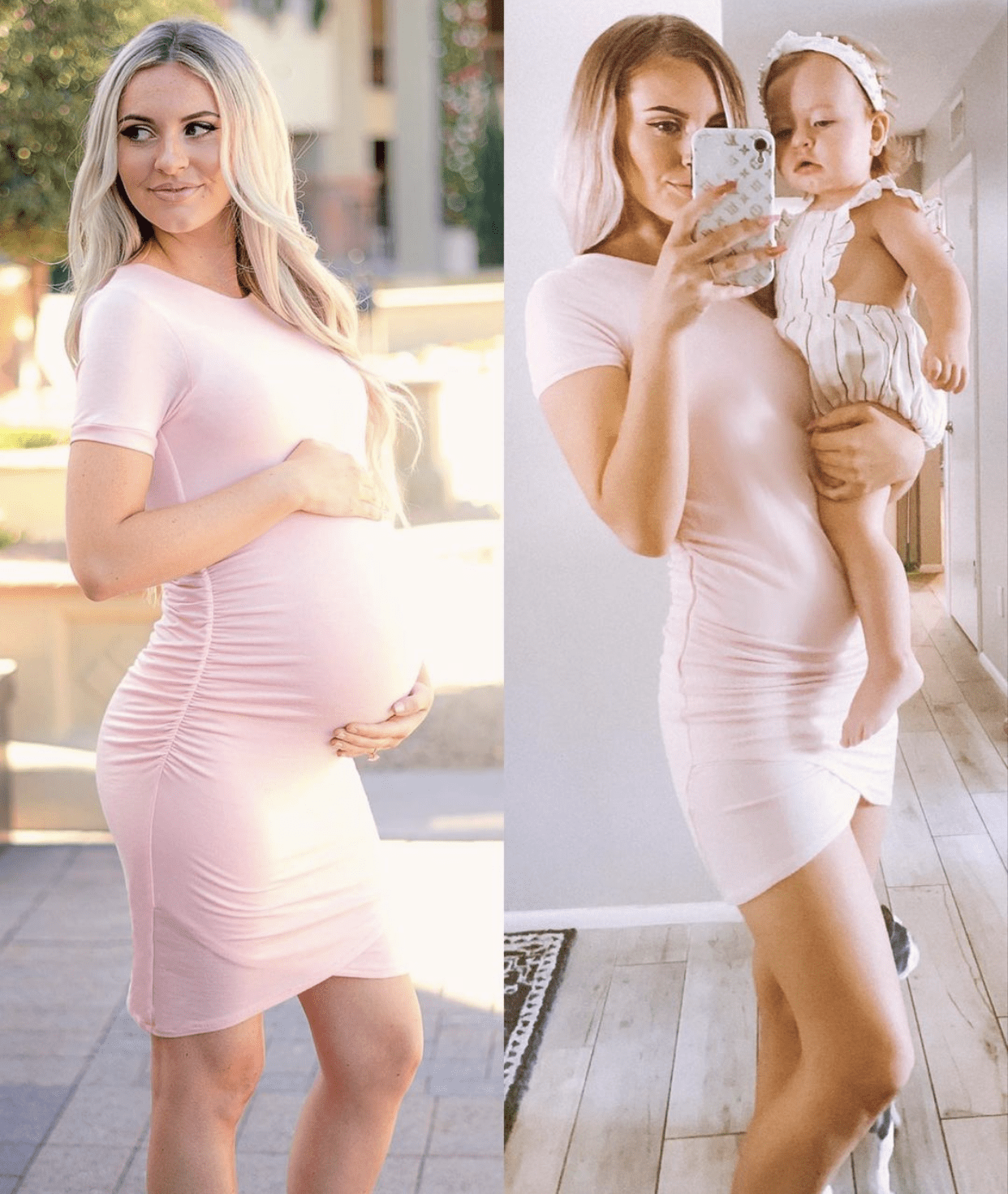 What a transformation for mama @noelanne! She is wearing our Basic Ruched Maternity Dress with Short Sleeves in Blush Pink, the perfect outfit for mamas on the go, bump optional!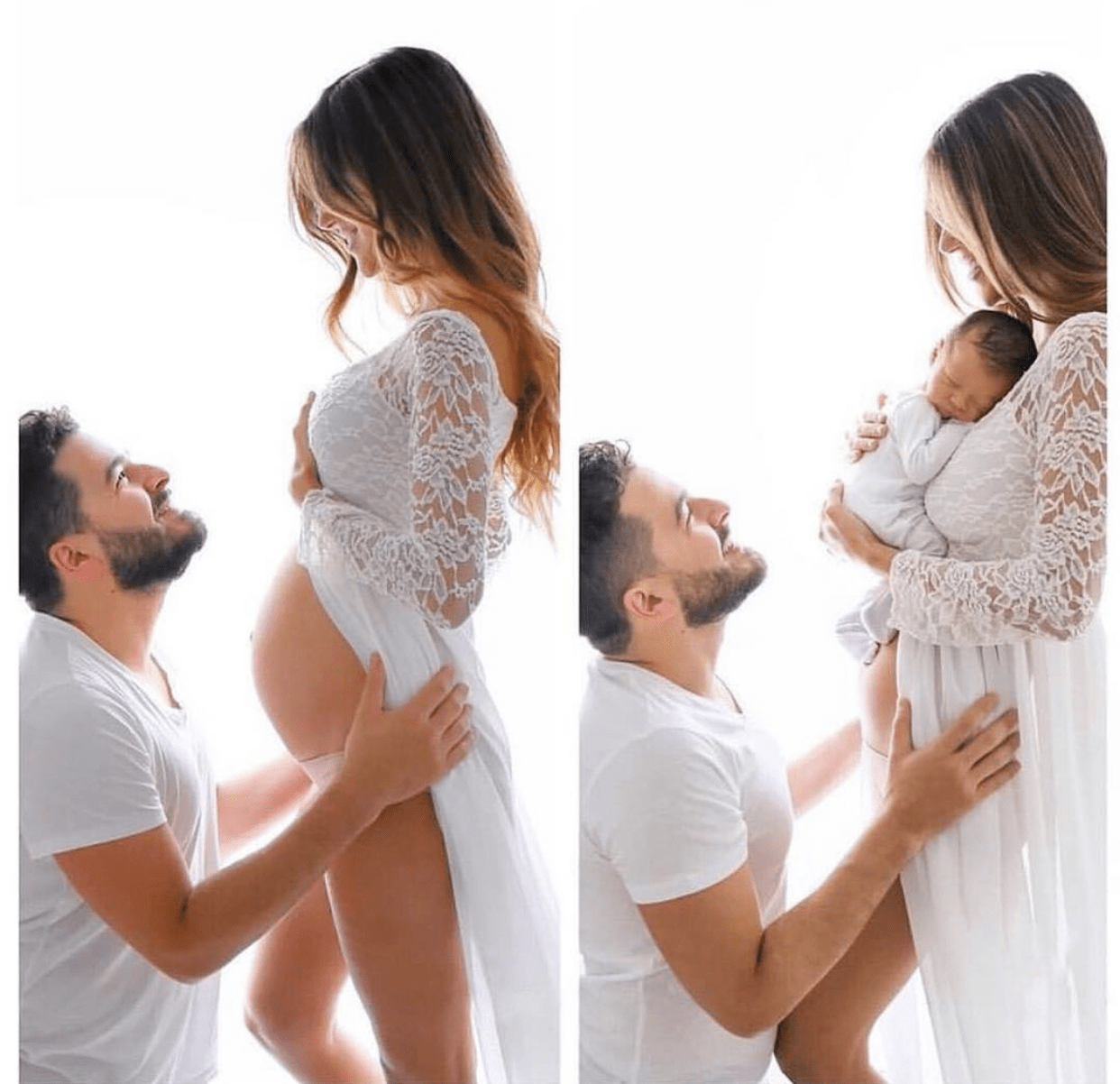 Mama @noesdieta gave us the most gorgeous before and after photos featuring dad and baby! She is wearing our Long-Sleeve Sweetheart Open Gown in White. These pictures are great inspiration for your own transformation pictures!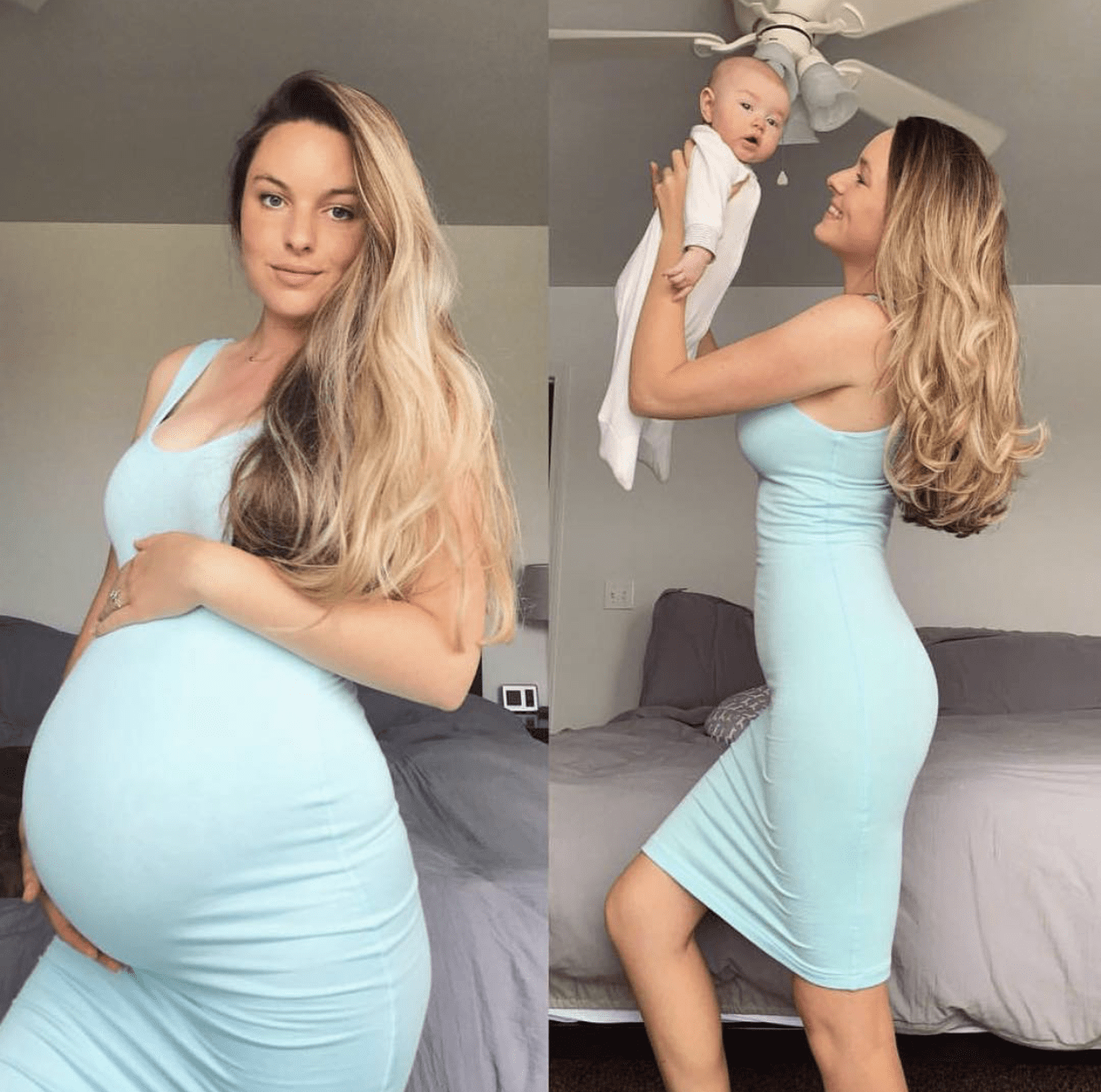 We are just speechless from these stunning transformation photos! Here is mama @sydney.rosee looking sooo good in her Midi Tank Maternity Dress in Robin's Egg. She is showing just how perfect this dress is for pregnancy and beyond, and she is giving us some motivation too!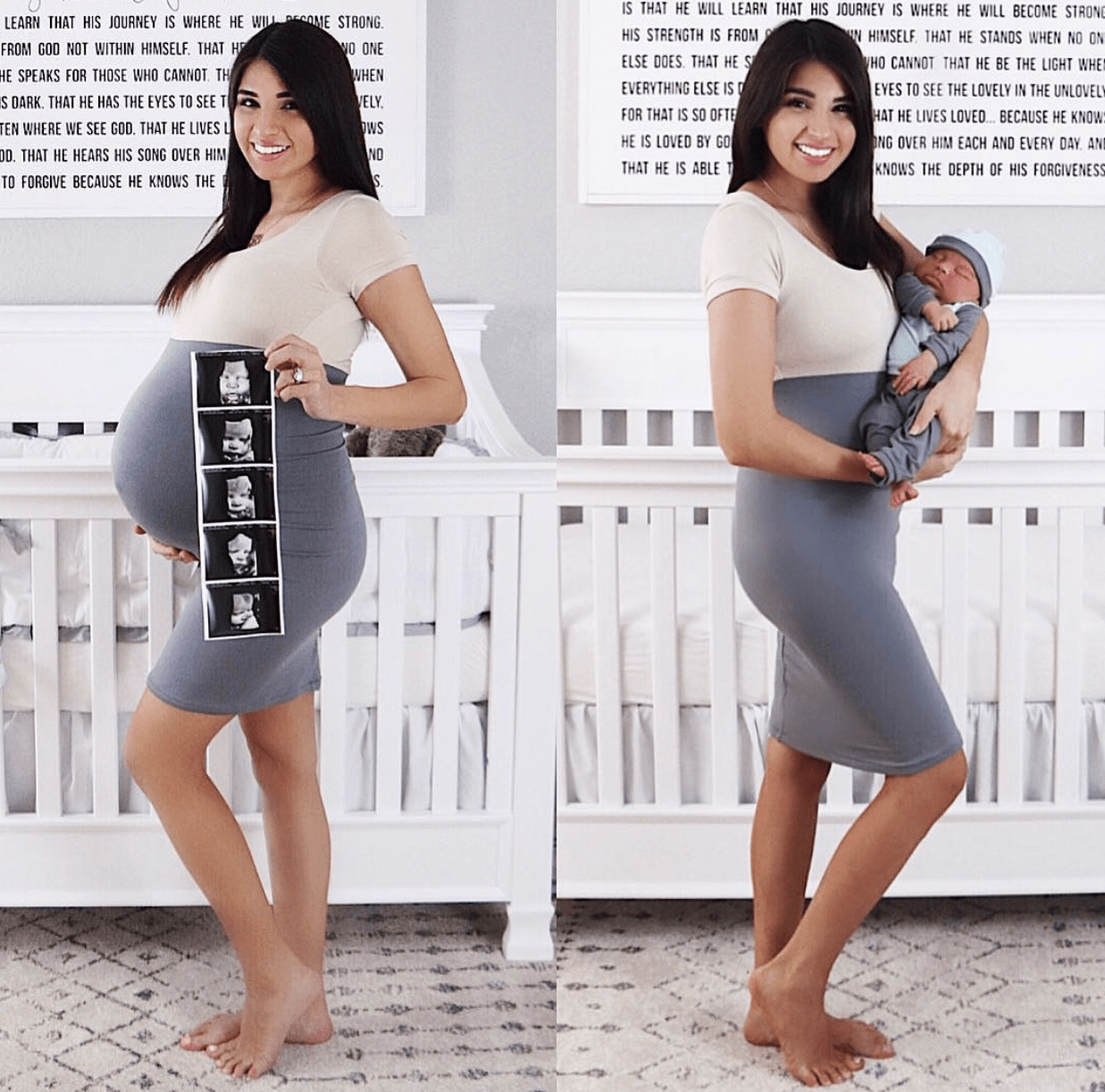 How adorable is this before and after shoot from @taylorkrabill?! The neutral tones of the nursery work so well with the Two-Tone Maternity Dress with Cuff Sleeves in Steel. How sweet!
Our bumperalls are perfect for maternity and postpartum, and with some added comfy stretch, our Ultra-Stretch Classic Bumperalls make for the best before and after baby photos! Mama @teraperez is showing us just how cute these pictures can be!
Need help with sizing and styling your favorite styles from The Best Before and After Baby Photos!? Sexy Mama Maternity is always here to help! Reach out on the chat window at the bottom right corner or shoot us an email at orders@sexymamamaternity.com.