Pat yourselves on the back mamas, you deserve all the love + appreciation this Mother's Day. Whether you're chasing after toddlers, dealing with late night feedings, or expecting your first (or fifth!) kiddo. We can all agree that motherhood is one of the most beautiful, yet exhausting, jobs ever. So we here at Sexy Mama Maternity want to celebrate YOU this Mother's Day with our roundup of maternity Mother's Day outfits. Because if anyone deserves a little pampering, it's you, mama!
Consider us to be your personal Mother's Day stylists. What mama doesn't need that?! Whether you're heading outside, lounging in bed, going out on a hot date, whatever your Mother's Day plans are, keep scrolling because these outfits are designed to make you look and feel fantastic!
Breakfast in Bed
Breakfast in bed is the ultimate way to kick off Mother's Day, so we're kicking off our maternity Mother's Day outfits with some adorable lounge wear! Imagine yourself sitting in bed in your cute new pajamas, enjoying your coffee + omelet, or maybe even pancakes…no matter what's for breakfast, you need a new set of pajamas to celebrate motherhood.
The Leopard Leisure Short Set will leave you feeling pampered on Mother's Day. These pajamas are as comfy as they look, and would be oh so cute for breakfast in bed with its fun leopard print.
Wake up, eat, and lounge in style mamas. The star leisure short set is so cute for just lounging around and we are obsessed with this easy going style.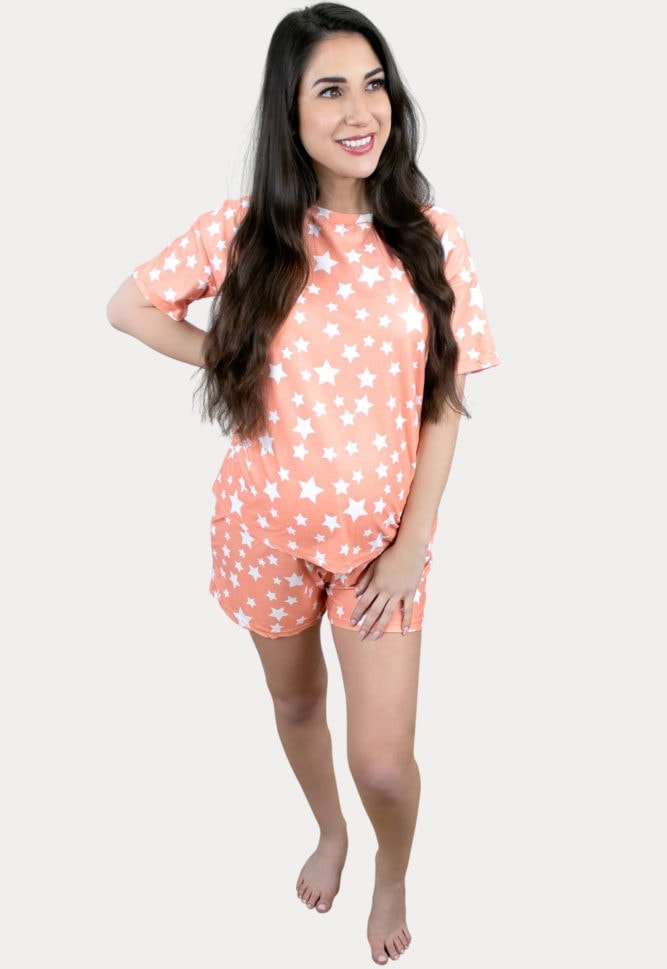 The tie dye maternity lounge set stylish, comfortable, and flattering! What more could a mama want? With cozy long sleeves and fitted shorts, this set makes us want to curl up on the couch for a Mother's Day movie night with our kiddos.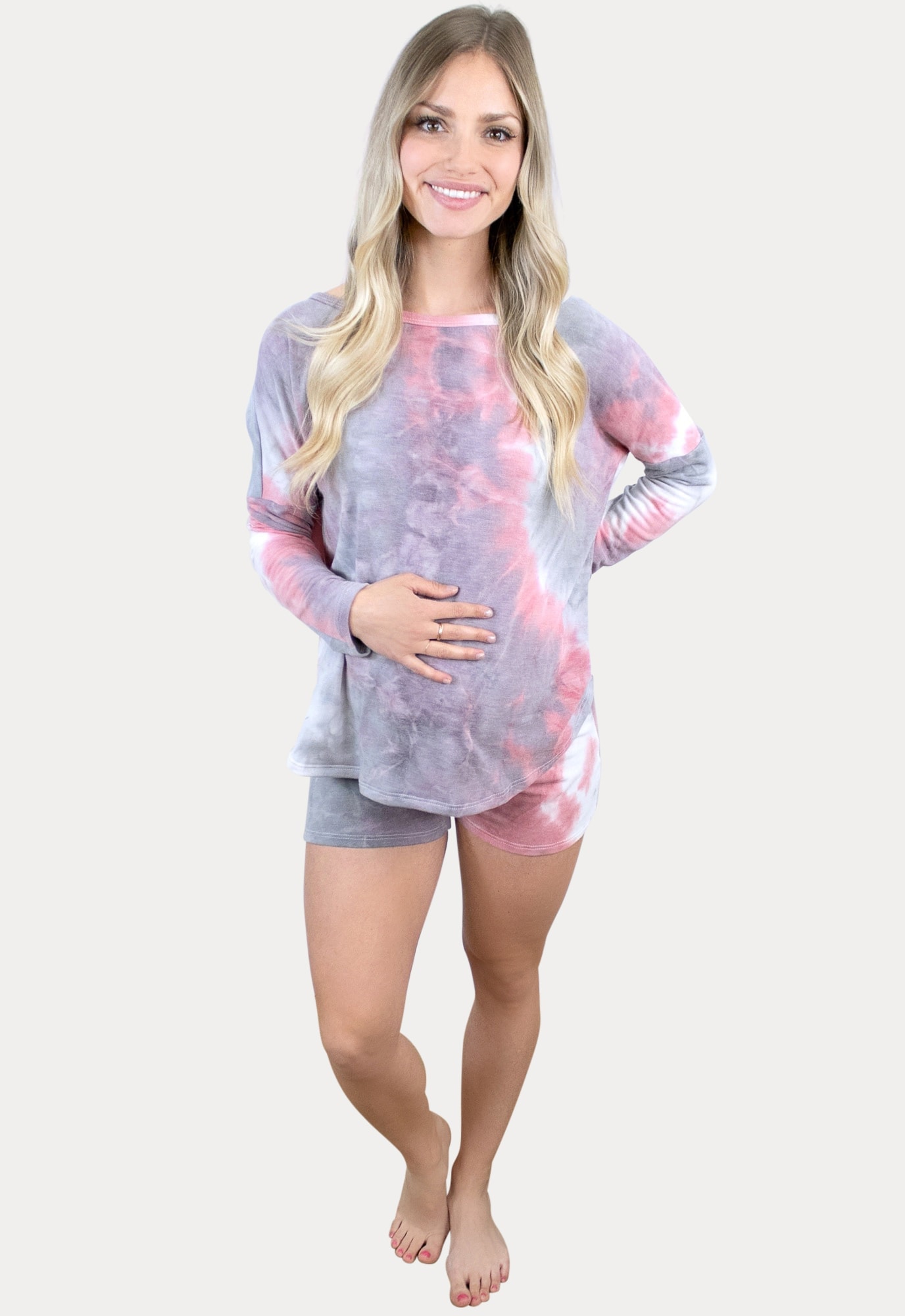 Brunch
For all you mamas planning on sleeping in, no one blames you for that! So consider having a brunch date for Mother's Day instead. These stylish looks are all brunch ready and mama approved. From chic florals to trendy tie dye, we have just the look to make you shine.
This flirty off the shoulder dress was meant to be in your maternity wardrobe and it's so perfect for brunch! Style this dress with a cute pair of sandals, a few accessories and you're brunch date ready for Mother's Day.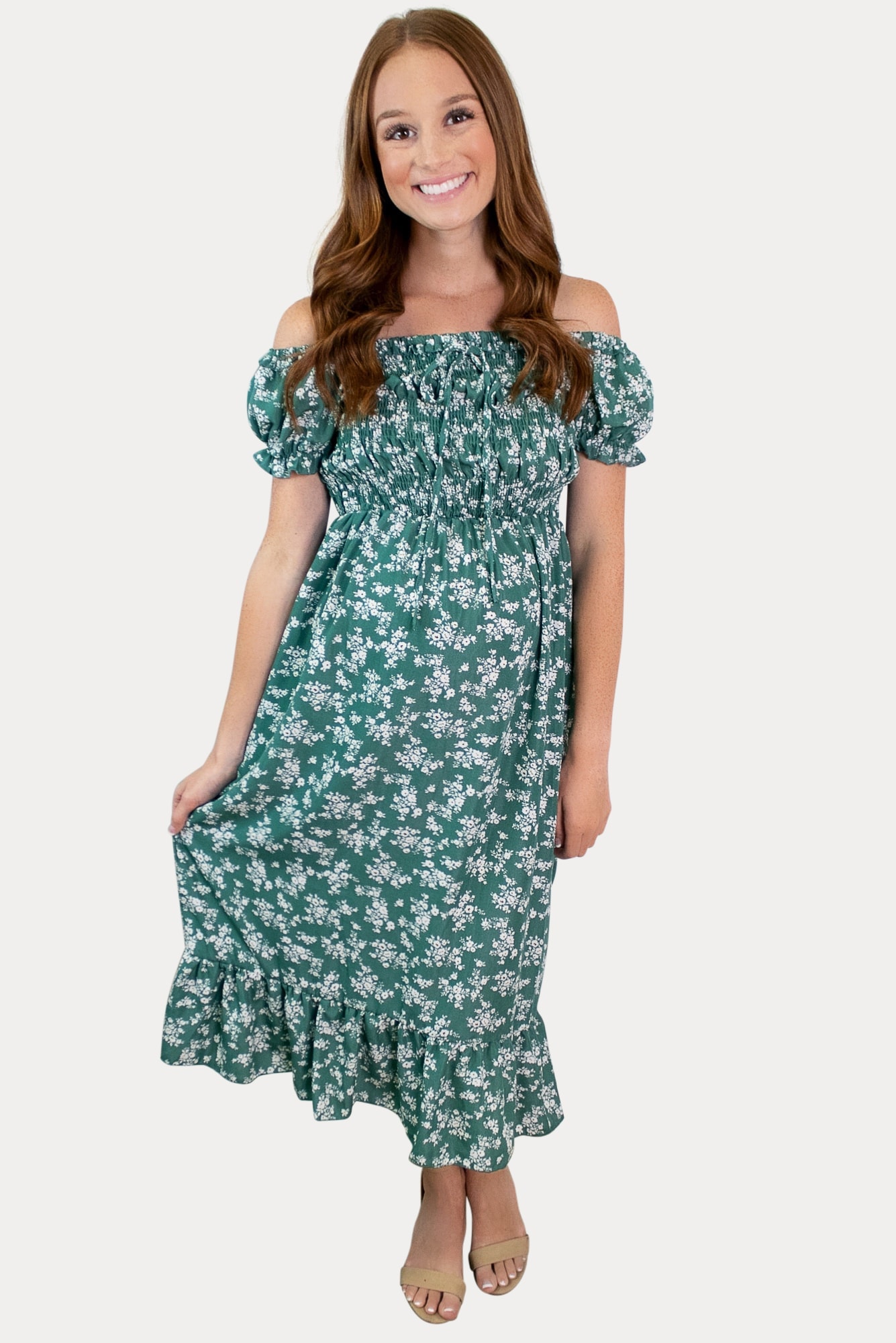 This next dress is all about comfort and style! The short sleeve floral babydoll maternity dress can be easily dressed up or kept casual making it a perfect go-to for Mother's Day! With this pretty floral pattern, you'll look stylish and put together on your brunch date.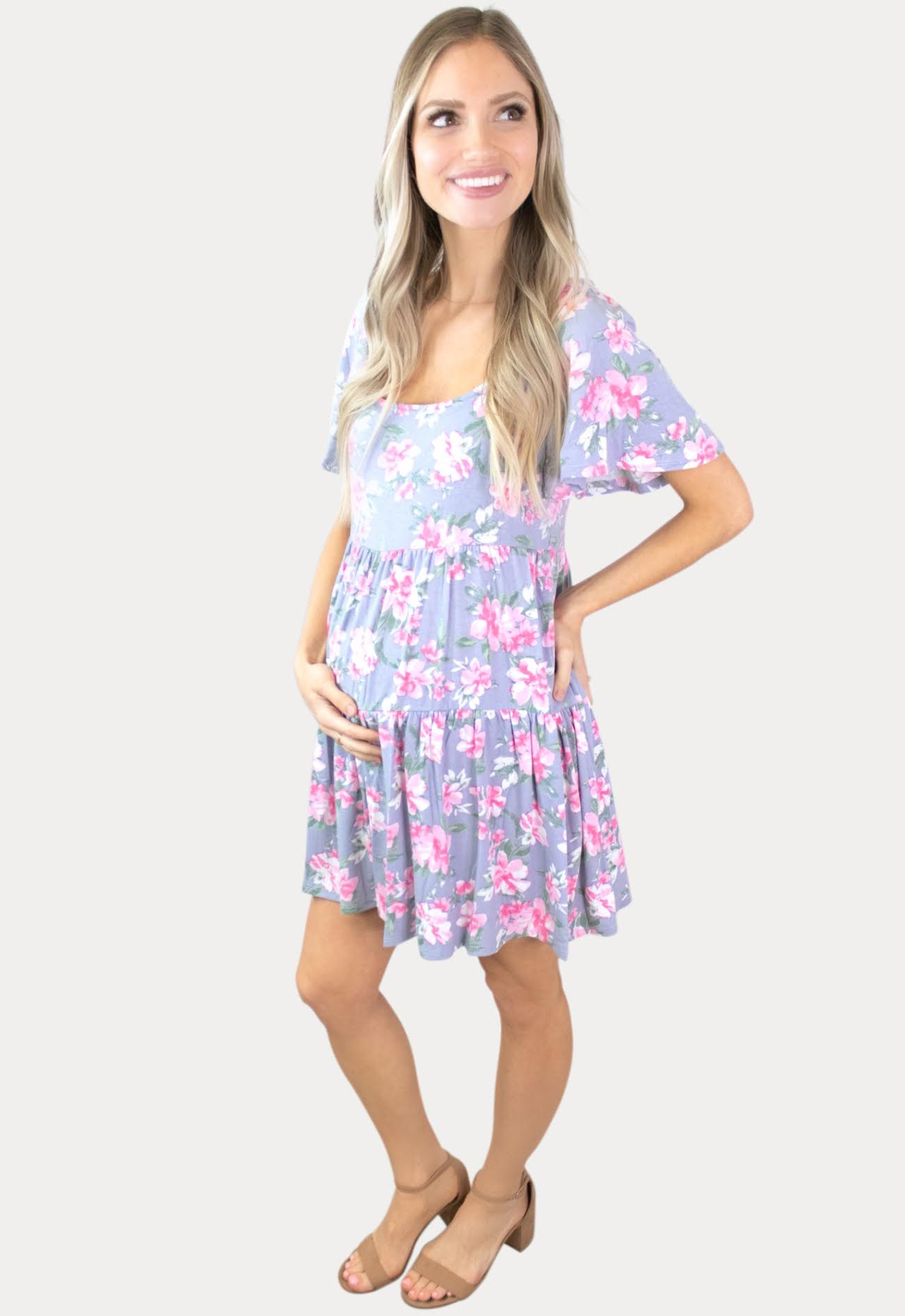 Looking for something a little more trendy for Mother's Day? We are in love with this halter tie dye maternity dress. Perfect for a fun-loving mama, this dress would be fabulous for a Mother's Day brunch! Easily style this piece with a cute pair of sandals or if you're opting for a more casual outing, a cute pair of sneakers.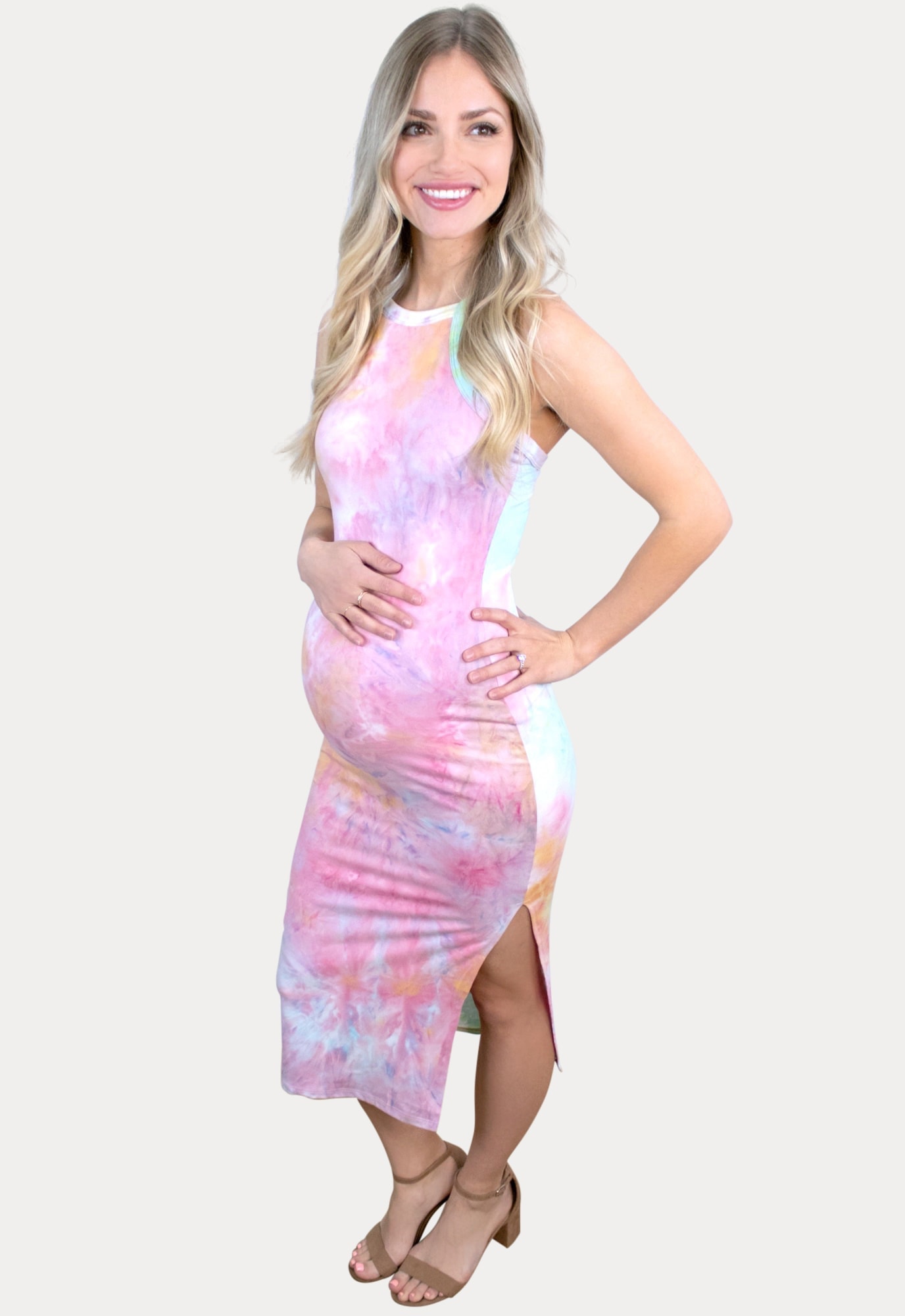 Picnic Date
Picnics may seem a bit old fashioned, but they are still one of the cutest date ideas ever for Mother's Day! These next looks all have two things in common: comfort AND style. You can sit, chase kiddos, and just move comfortably in each one of the styles you're about to see. Oh, and did we mention, they're all adorable as can be!
If you haven't heard, we're a bit obsessed with our next look: Bumperalls! They just may be the cutest maternity must-have, and yes they would be SO perfect for a Mother's Day picnic! Keep it casual chic with a pair of sneakers + a cute hat. Oh, and have you seen our cute graphic tees? They're worth checking out for Mother's Day, and make a great gift for the mama-to-be.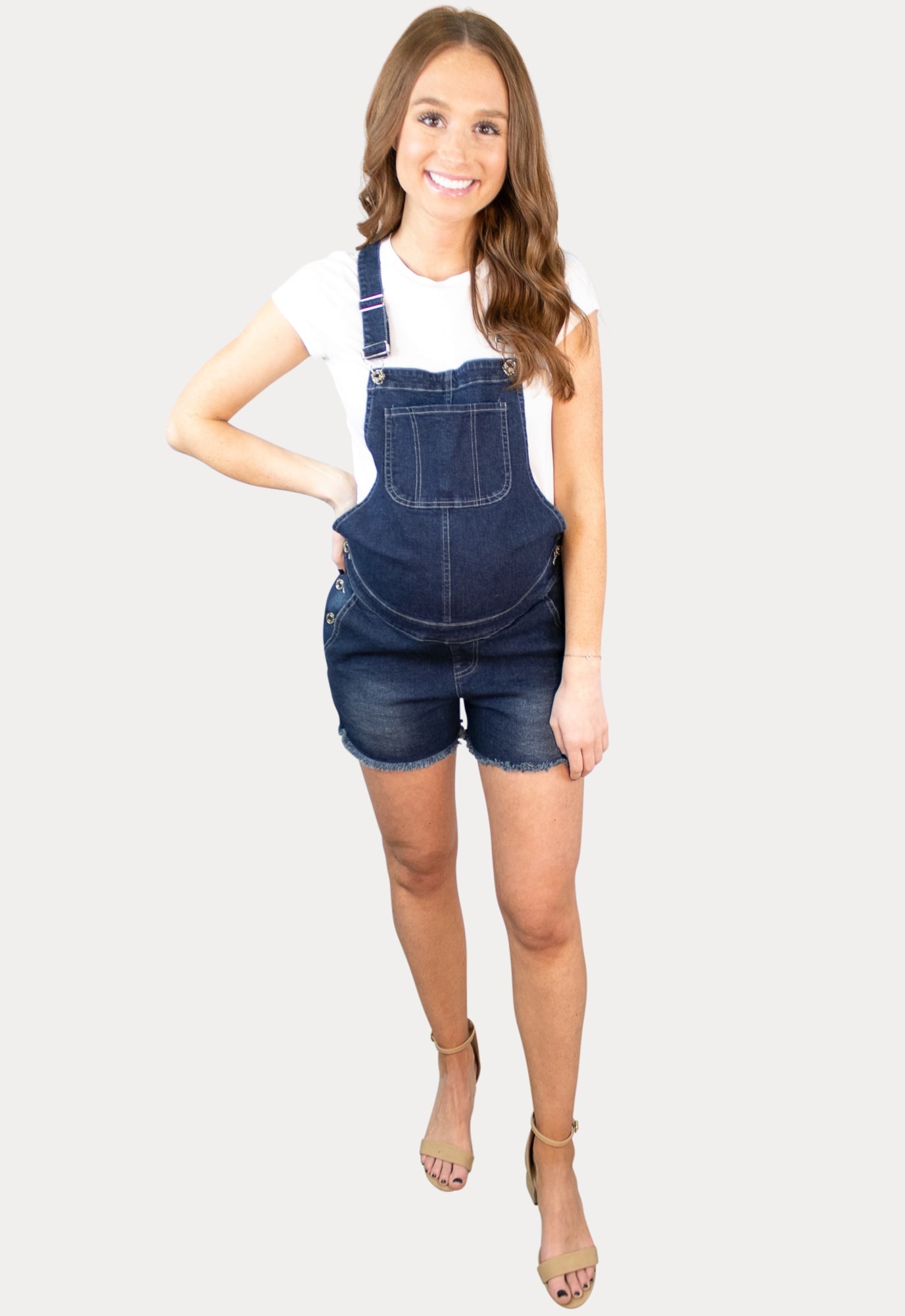 Hey mamas, don't be afraid to mix it up! This tie dye over the belly midi skirt is simply TO DIE for! We triple love this outfit for Mother's Day because it's a marriage of style + comfort. Wear it with sneakers, sandals, or whatever you're comfortable in. This skirt is made to stretch so you can picnic comfortably for Mother's Day.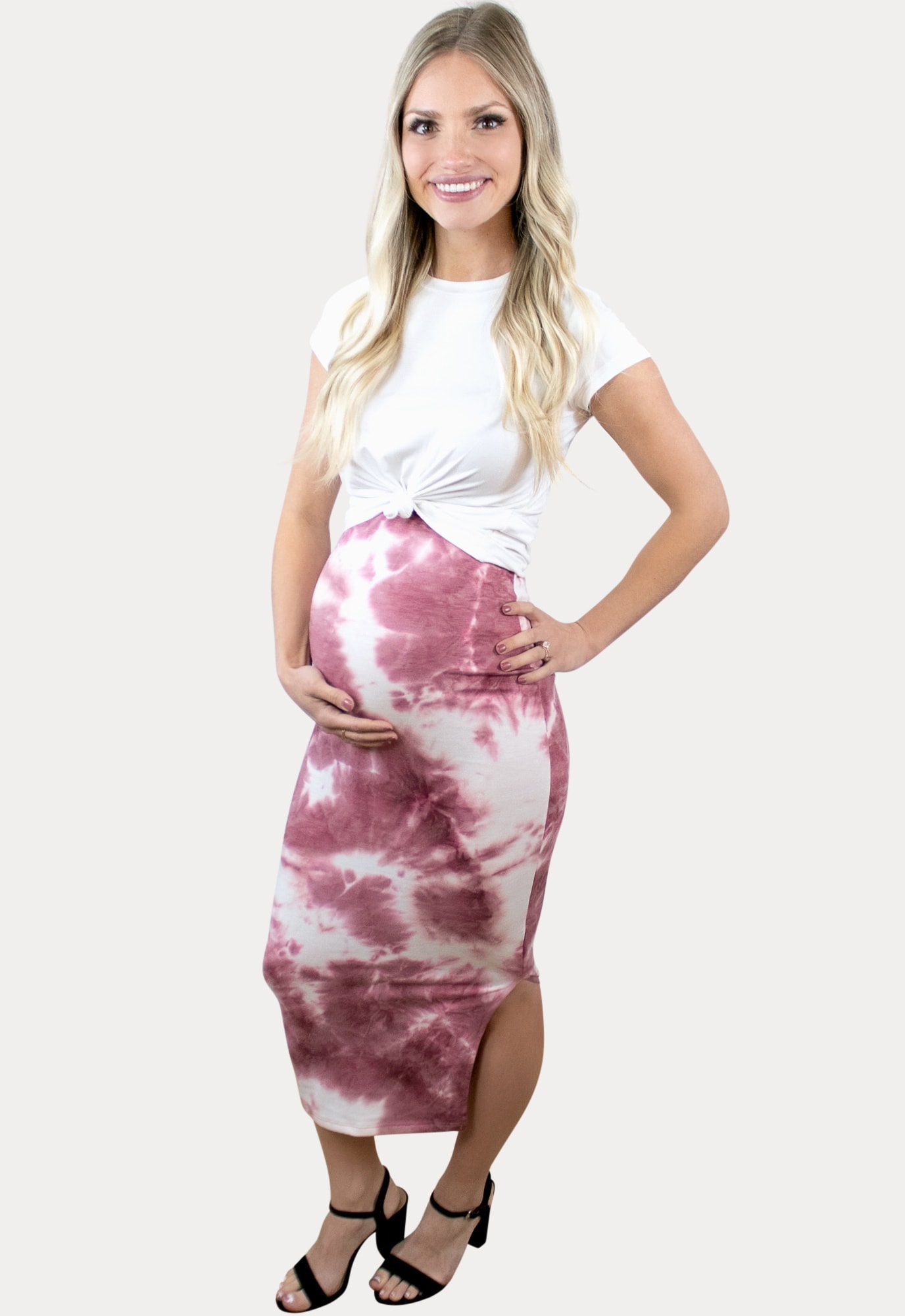 Picnic ready and 100% mama approved, this orange dress is the perfect pop of color. Perfect for a sunny day picnic with your family, this dress really has it all and is so easy to style. Accessorize with some jewelry and a cute pair of sandals or cowgirl boots and you're good to go.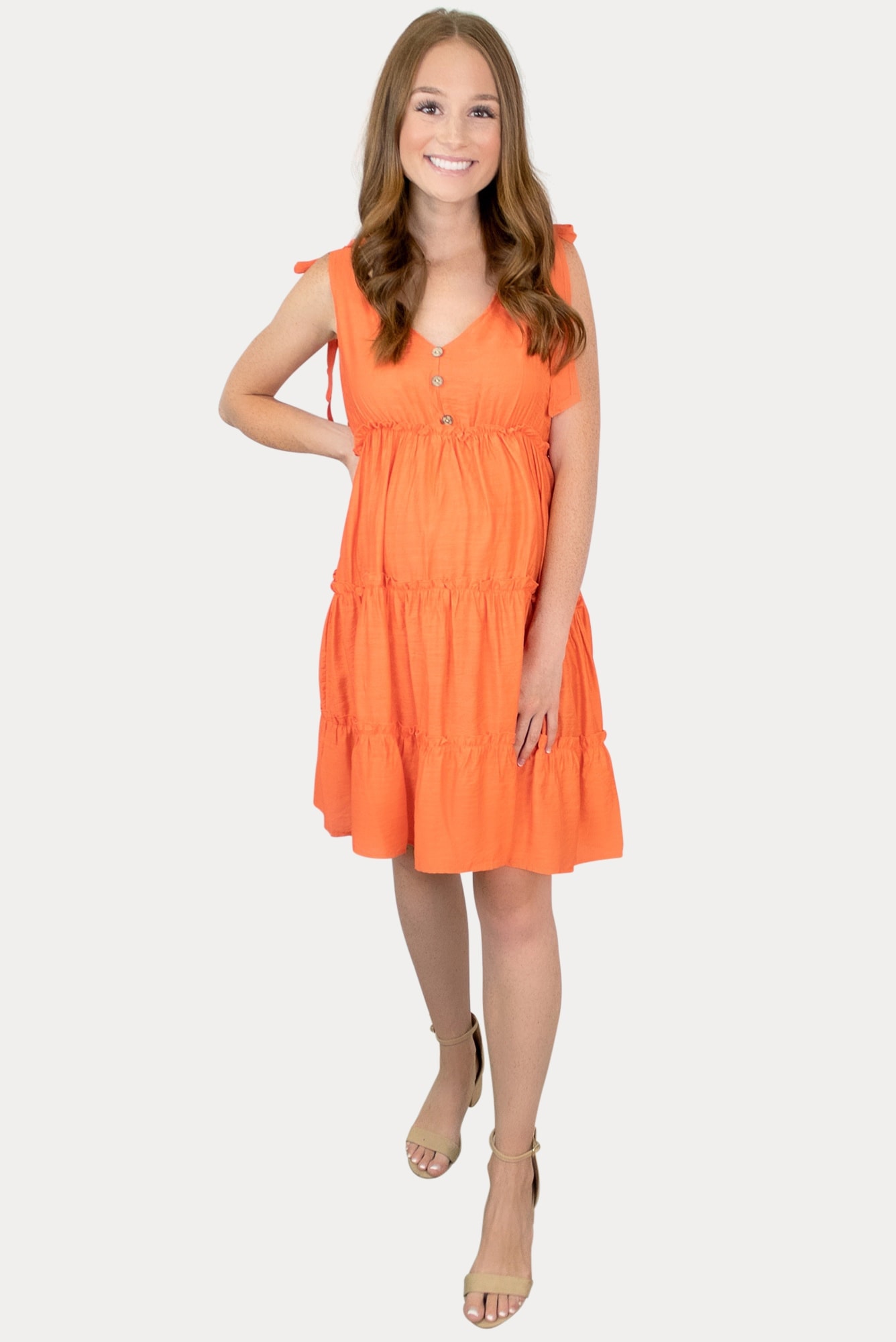 Going on a hike
Hit the trails in style this Mother's Day in our cute active wear! It's a must-have for all things lounging, working out, and yes, hiking! Each piece is made with premium stretch for ultimate comfort. Oh, and did you know we also have nursing sports bras? Talk about a must-have for pregnant and postpartum mamas! You'll definitely need one of those if you're expecting. Check out all our looks for hitting the trails below!
Up first, and easily one of our favorite looks is the black and tie dye everyday lounge set! Featuring our oh-so comfy stretch pants + nursing sports bra, this combo is a win for mamas pre- and postpartum! What mama doesn't love a comfy active wear set? You'll look stylish on your hike and beyond. Pssst….this set also makes a great Mother's Day gift!
The perfect blend of style, comfort, and sexy…we're obsessed with out strap back ultra-support bra! This bra is made to nurse on the go without sacrificing comfort or style. Plus, it features a super cute strappy back. What's not to love? Available in several colors, but we especially love the purple.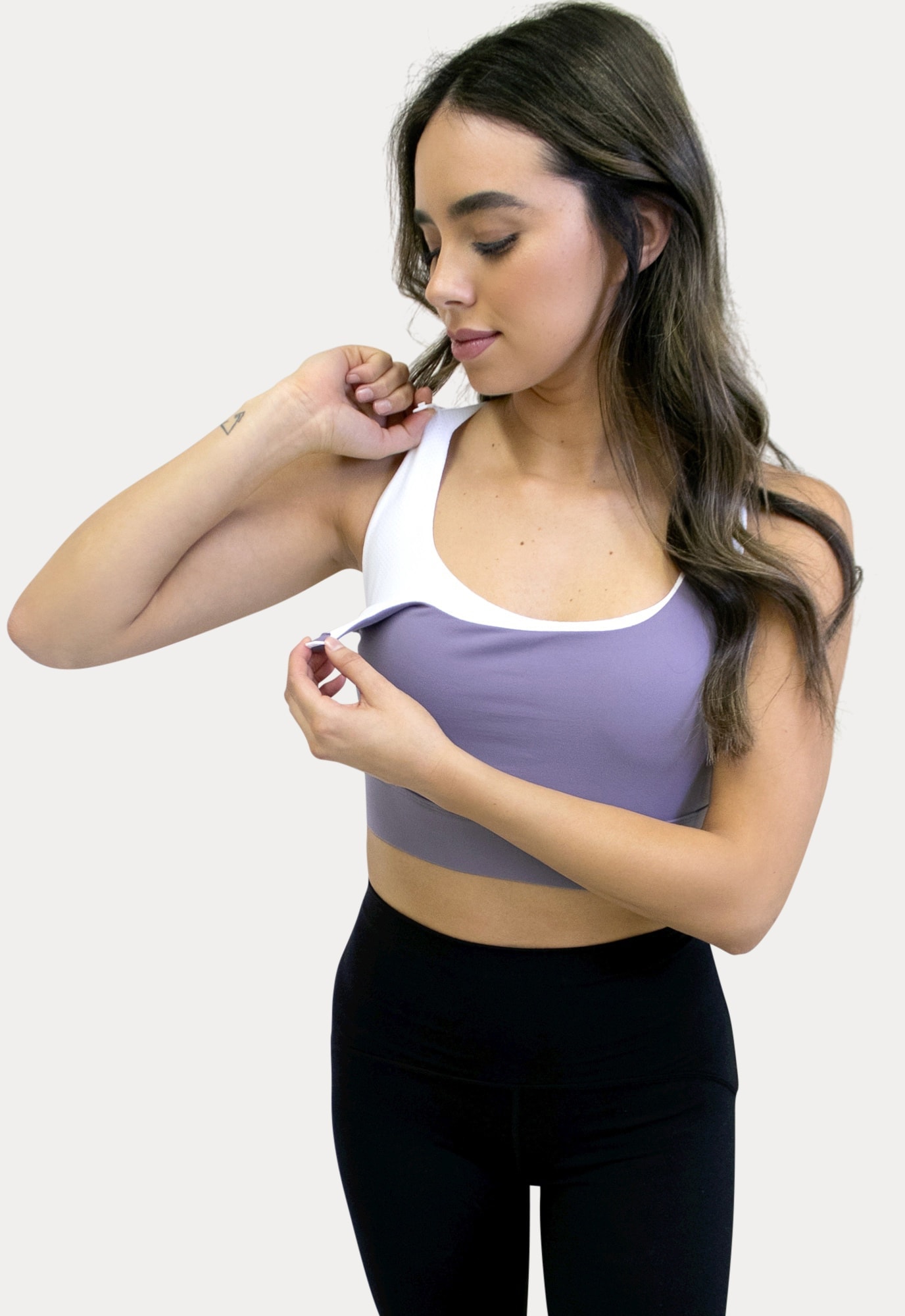 Stay active in this trendy camo over the belly leggings! From walking to yoga or just daily wear, these leggings will stay in place without constricting you. They're made from a premium spandex blend that's ultra comfortable for a mama on the go for Mother's Day.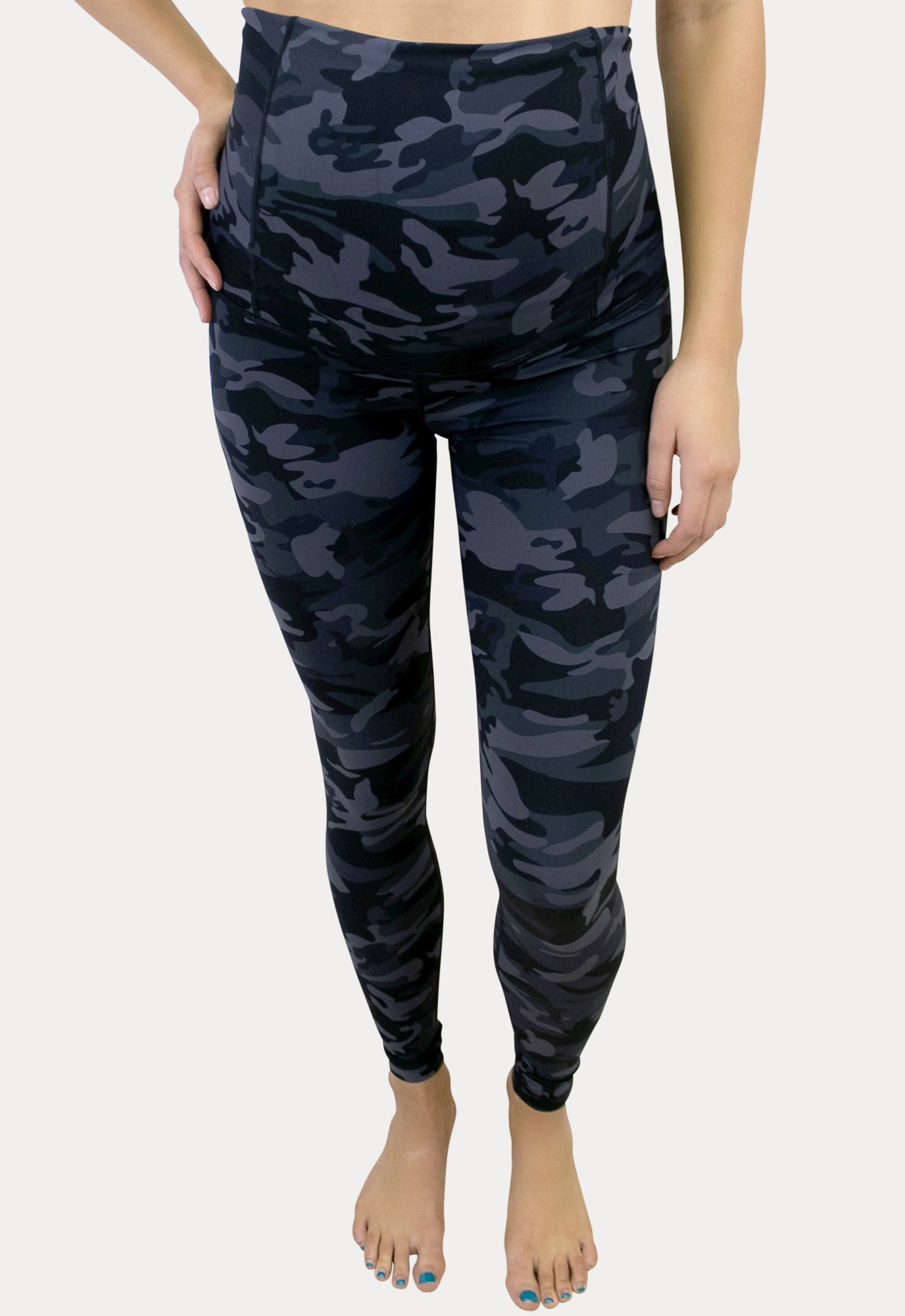 Date Night
You've earned it mama! A date night out on the town with your S/O is an absolute must for Mother's Day, and we have just the look to make you feel fabulous. From cute polka dots to ruffles, you'll be one sexy mama for your big night out to celebrate you! So don't be shy, splurge a little because your truly deserve it.
How fun and flirty is this floral polka dot maternity dress?! It's date night approved for all you mamas-to-be with it's  flowy pleated skirt and flattering v-neckline. Dress it up with your favorite pumps or throw on your best sandals for a more casual look.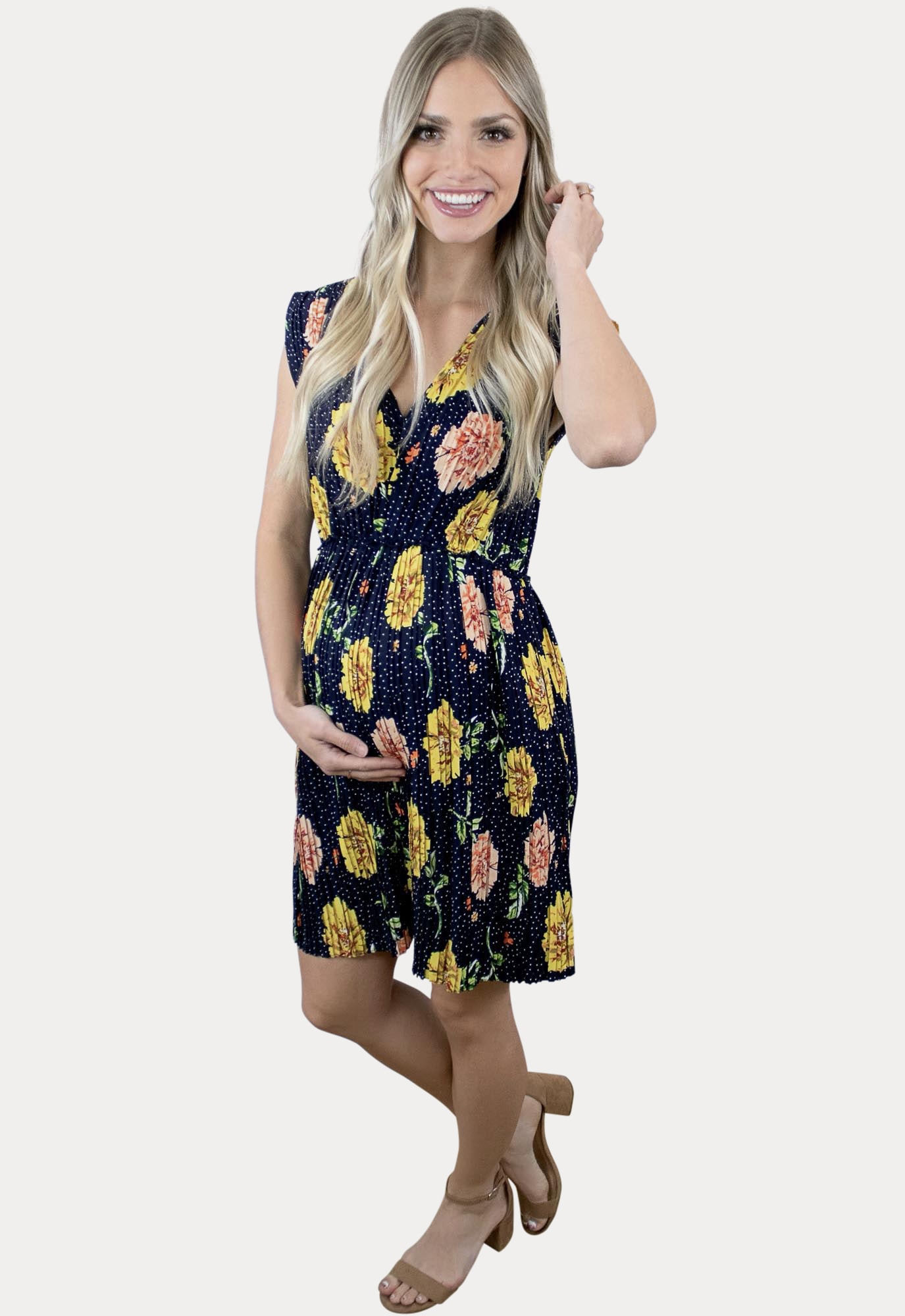 Look picture perfect for your Mother's Day date night in our gorgeous ruffle pregnancy dress. It's sure to flatter you and your growing baby bump!  Features a chic off the shoulder ruffle top, fitted bodice and flare bottom with plenty of stretch for all your mama curves. Dress it up with a cute pair of pumps or wedges.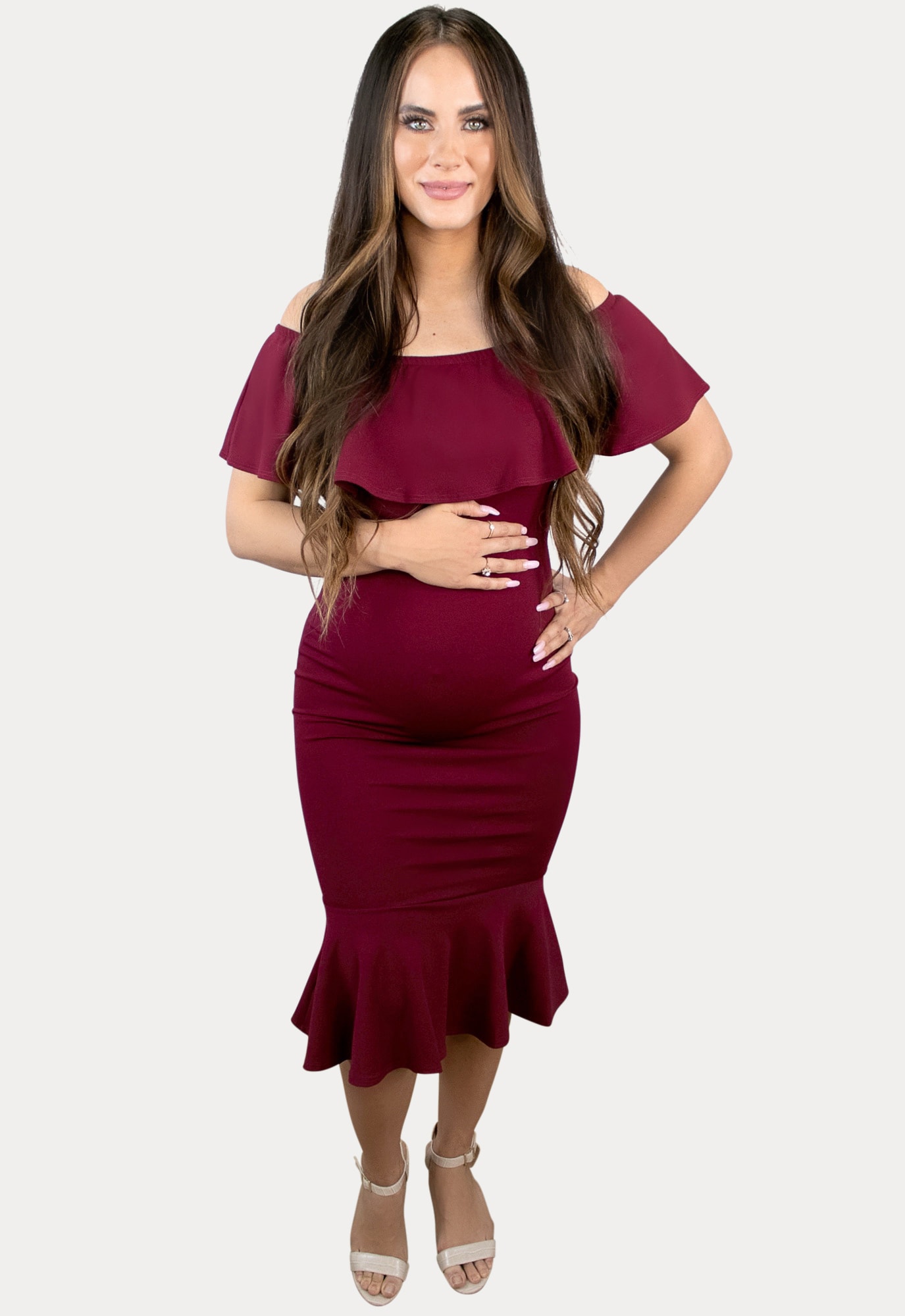 Specifically designed with mama curves in mind, this cold shoulder ruffle maternity dress is comfortable enough to wear all day and into the night. Pair this dress with a cute pair of sandals and you're ready for a fun night out for Mother's Day. You're welcome, mamas!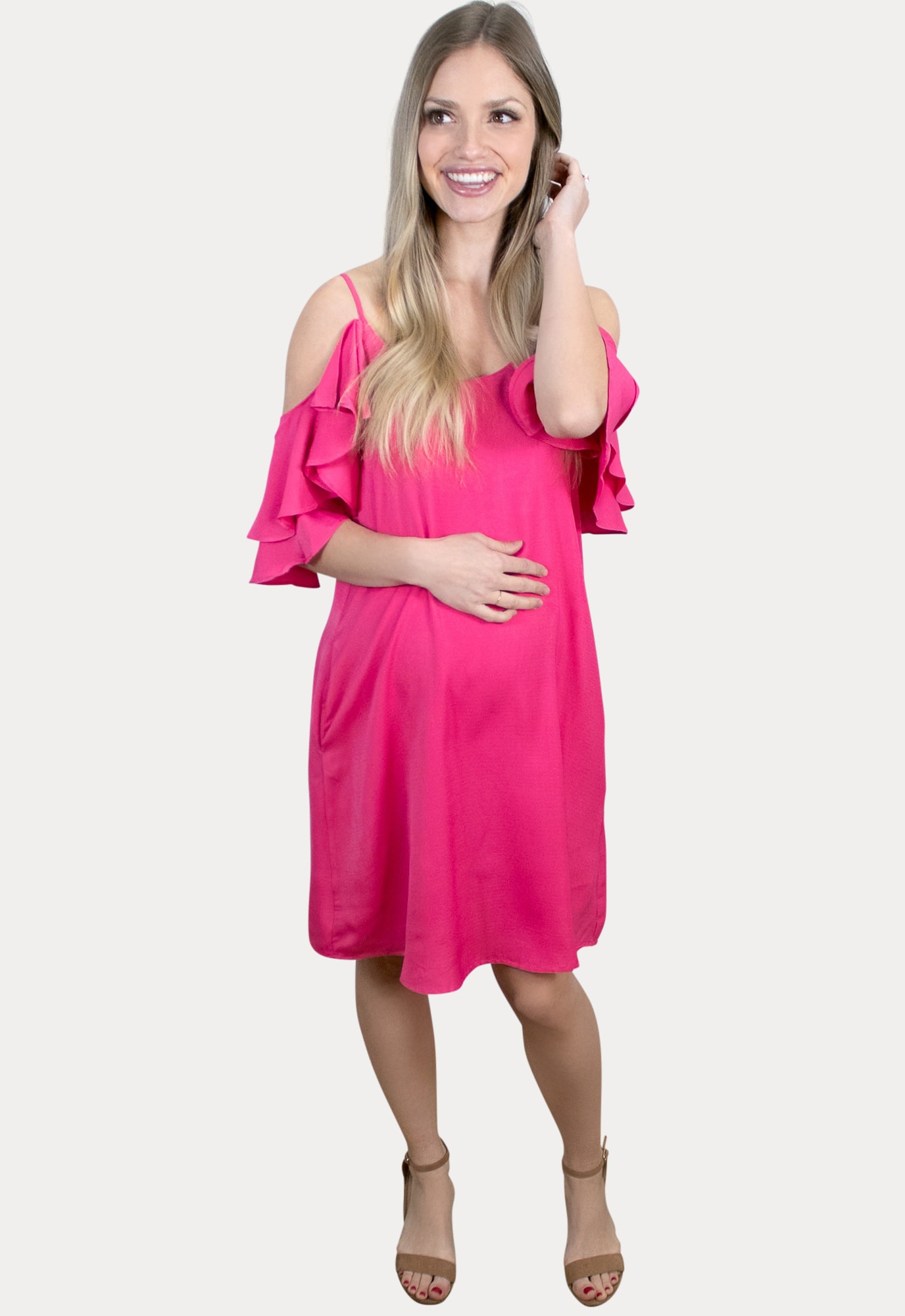 Well mamas, we are wishing you an amazing Mother's Day! And don't forget we have dozens of new styles with more arriving daily! Check out our New Styles page for all of the latest looks from SMM.
Need help picking out your favorite Maternity Mother's Day Outfit? Don't worry, we got you mamas! Chat with a stylist through the website or send us an email for assistance with sizing and styling. And don't forget to tag us in your pictures! We love seeing all our mamas gorgeous and glowing!