What better way to start the new year than with 7 new gown styles?! These gorgeous gowns are perfect for photoshoots, baby showers, or any event where you want all eyes on you! Lace, bows, chiffon, and more, there is something new for every mama. They come in a large variety of colors, with free alterations too! Here are a few of the best maternity photoshoot gowns of 2021!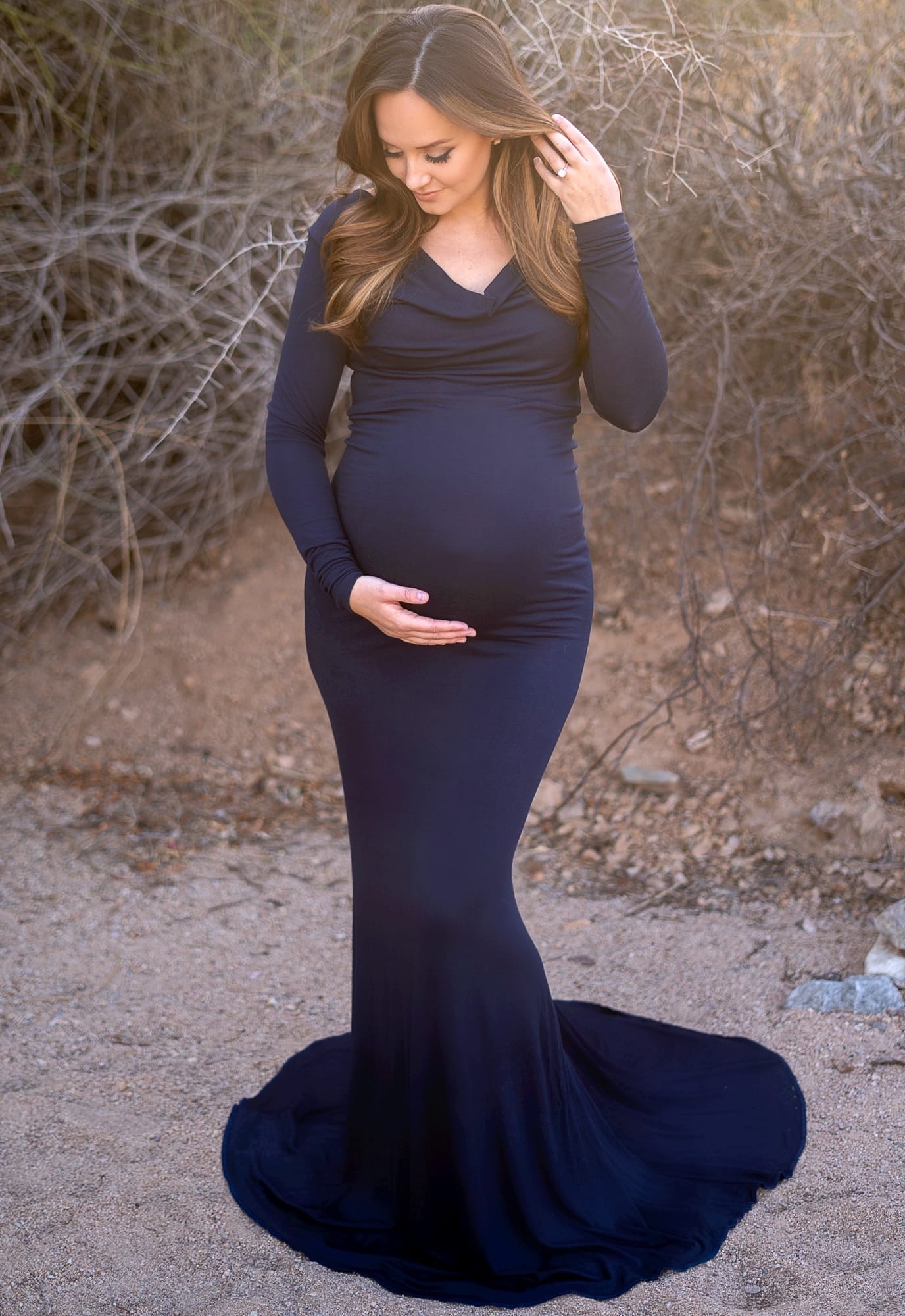 Elegant and stunning, the Long Sleeve Cowl Neck Gown with Mini Train is pictured here in Black. This gown is perfect for mamas who want to feel classy, but also a little sexy. It is made of premium stretch fabric that will flatter your curves and baby bump, but equally as important, you will feel super comfortable while wearing it too.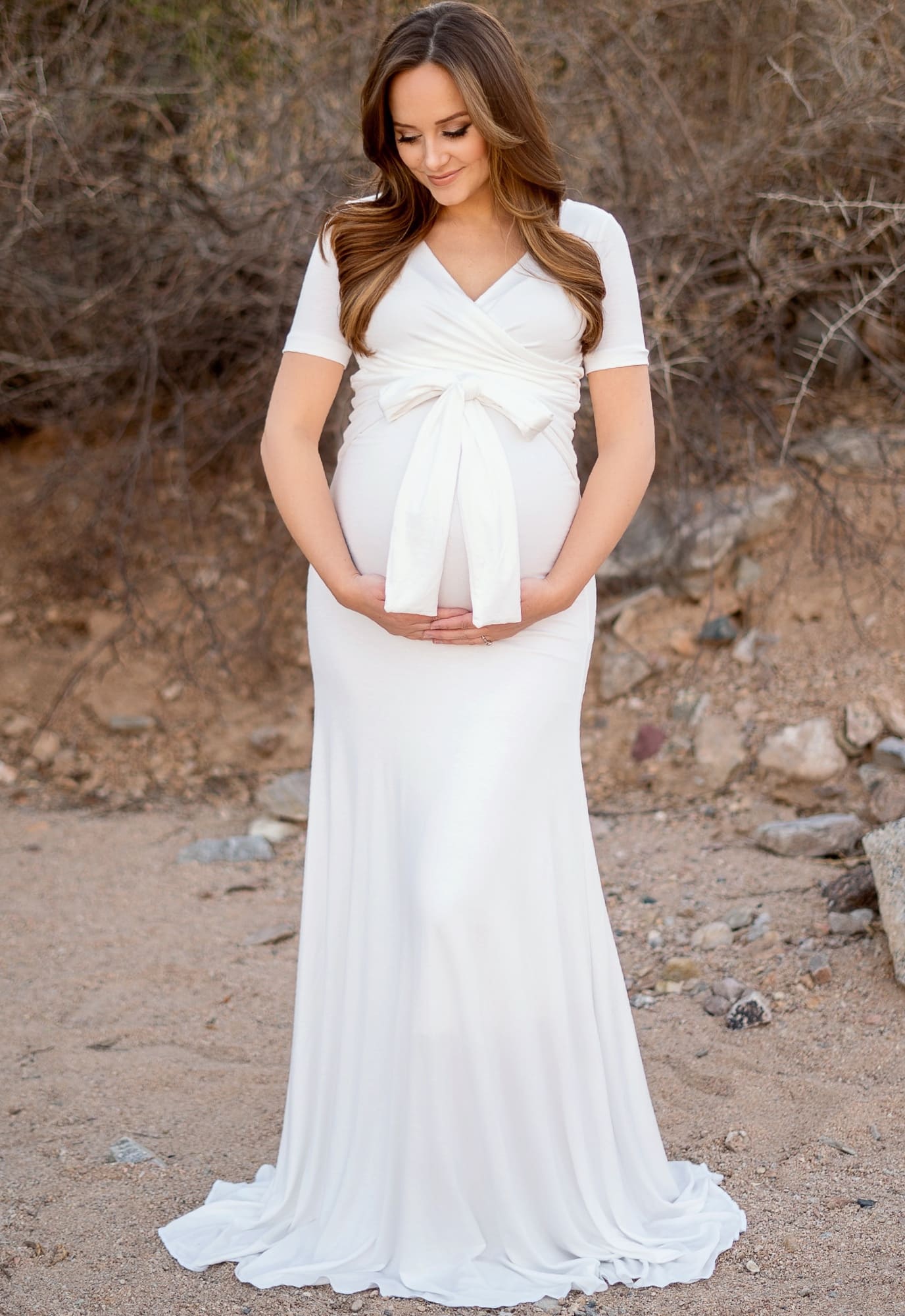 Pictured in Cream, the Short Sleeve Tie Front Sweetheart Flare Gown is graceful, flattering, and wrapped up with a bow! This gown features a sweetheart neckline, short sleeves, and a beautiful flared bottom. It's perfect for a flirty and fun photoshoot! Plus, you can also choose from 40+ colors to suit your theme, style and ideas!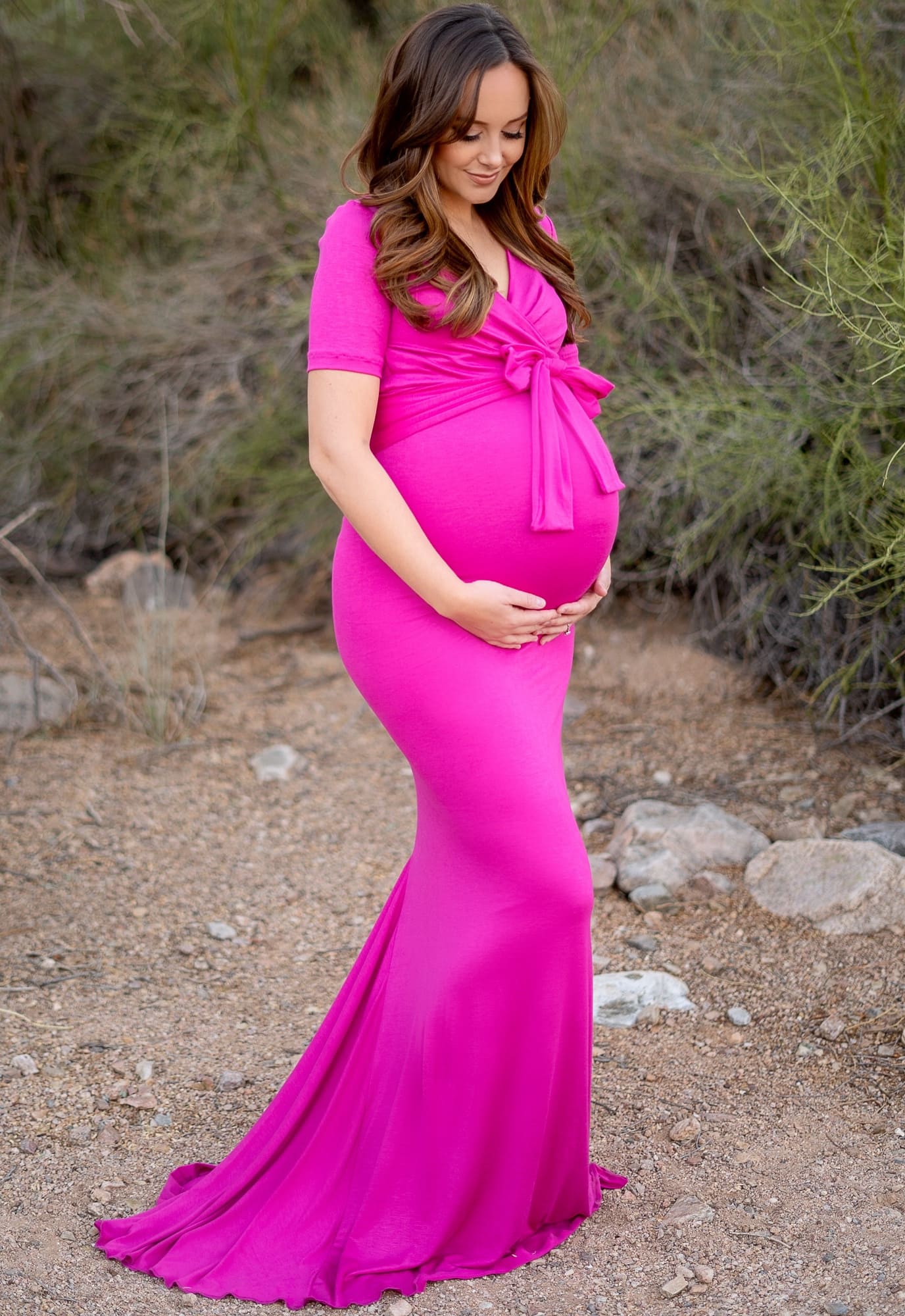 If you liked the last gown, but prefer a train style bottom, we have a gown for you! Our Short Sleeve Tie Front Sweetheart Gown with Mini Train is perfect for mamas who want a little bit of drama for their maternity photo session! Pictured in Fuchsia, this gown is sure to turn heads and create gorgeous photos.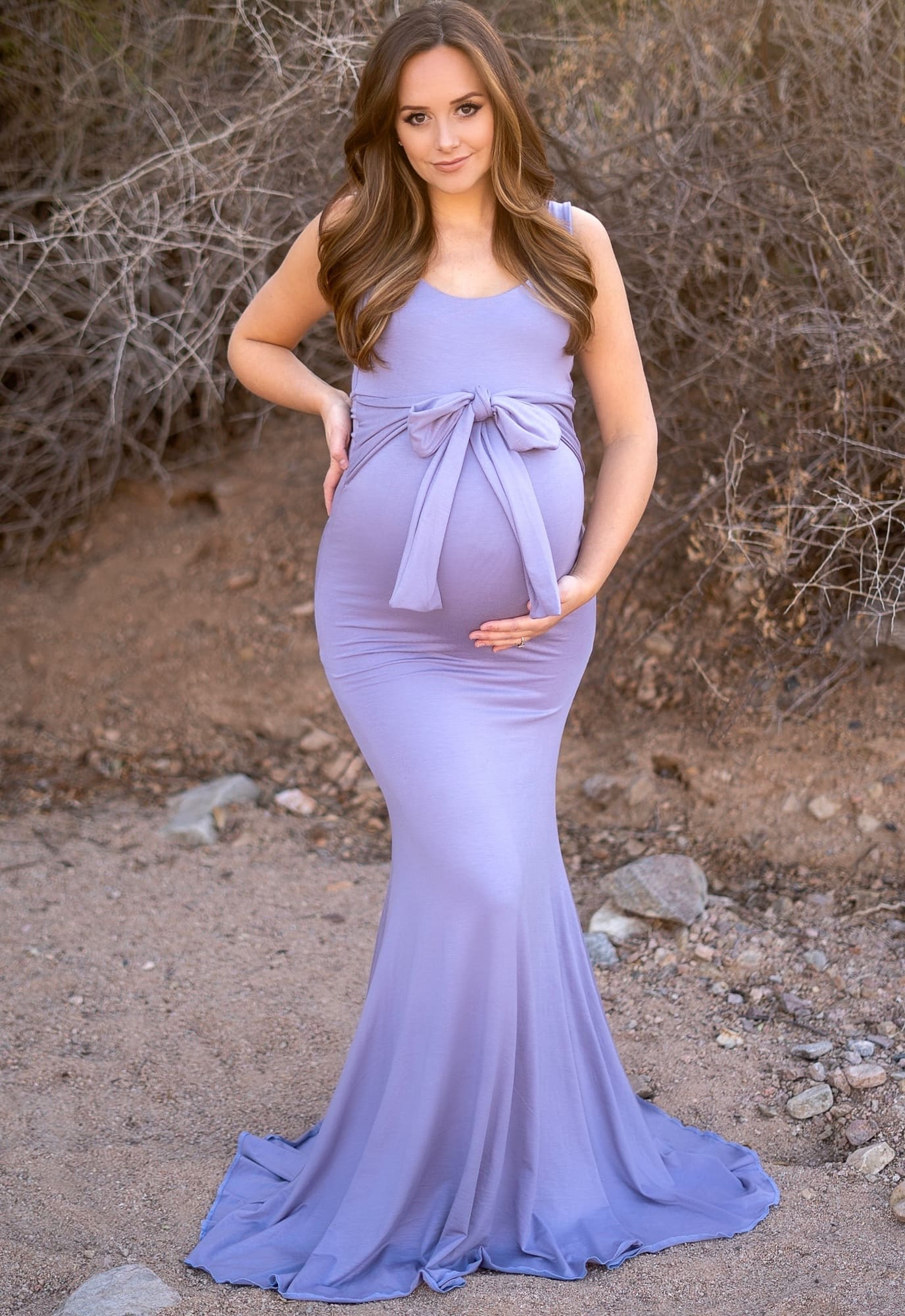 The Tie Front Flare Gown is every mamas' dream photoshoot gown! Made of soft, premium stretch fabric in almost any color your heart desires! It is pictured here in Lilac, perfect for a fresh, spring photoshoot. This gown features a gorgeous flared bottom and a cute tie across the front.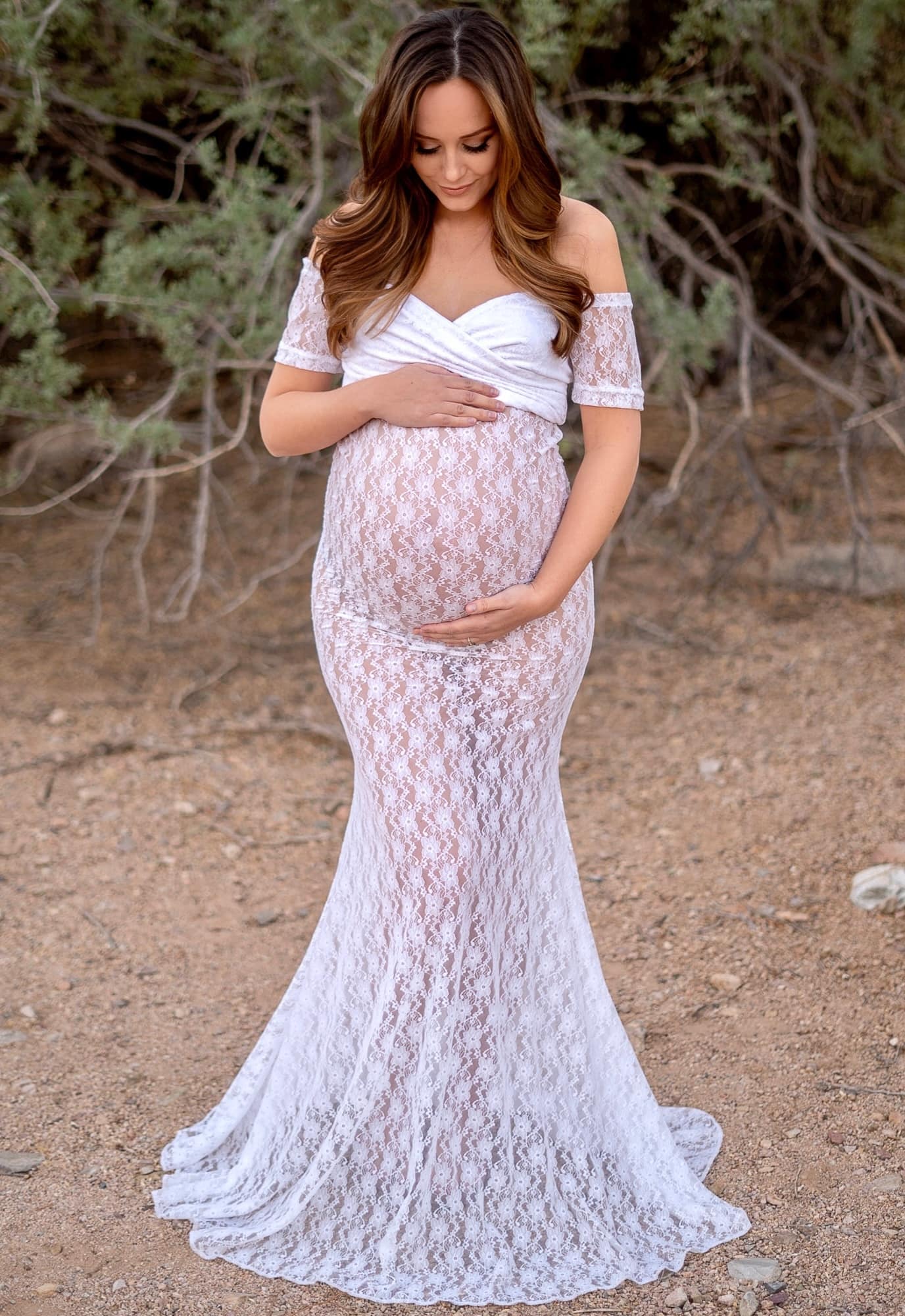 Sexy with the perfect amount of elegance, our Sweetheart Lace Flare Gown with Short Sleeves is one of the best maternity photoshoot gowns. Pictured here in White, the gorgeous lace combined with a flared skirt, create a magical gown perfect for your own photoshoot!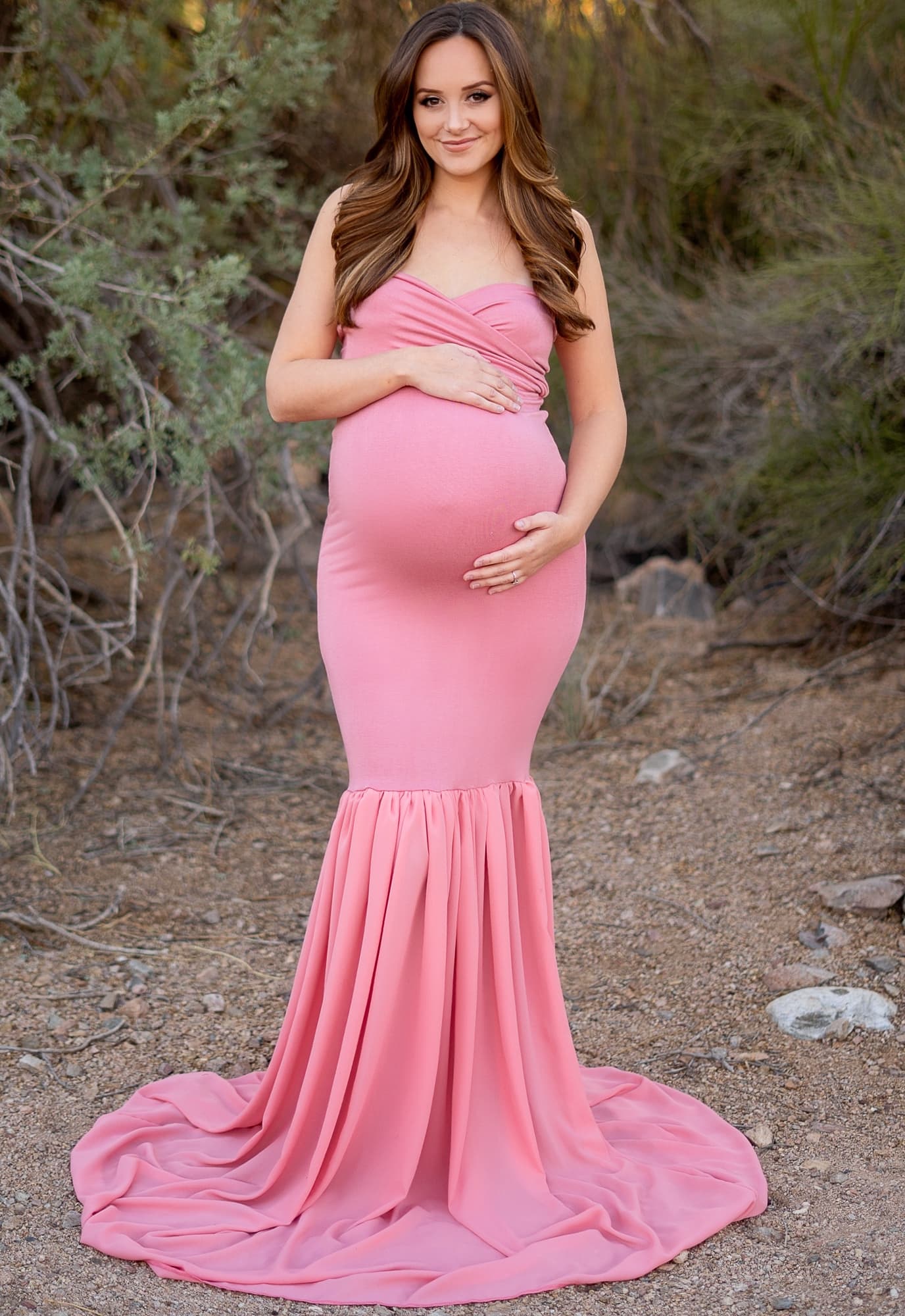 Pictured in Dusty Pink, our Strapless Sweetheart Mermaid Style Gown with Chiffon will make you feel elegant, sweet, and camera-ready! It features a strapless sweetheart neckline, a flowy chiffon mermaid bottom, and is available in a variety of colors, perfect for a maternity photoshoot or an all-out baby shower.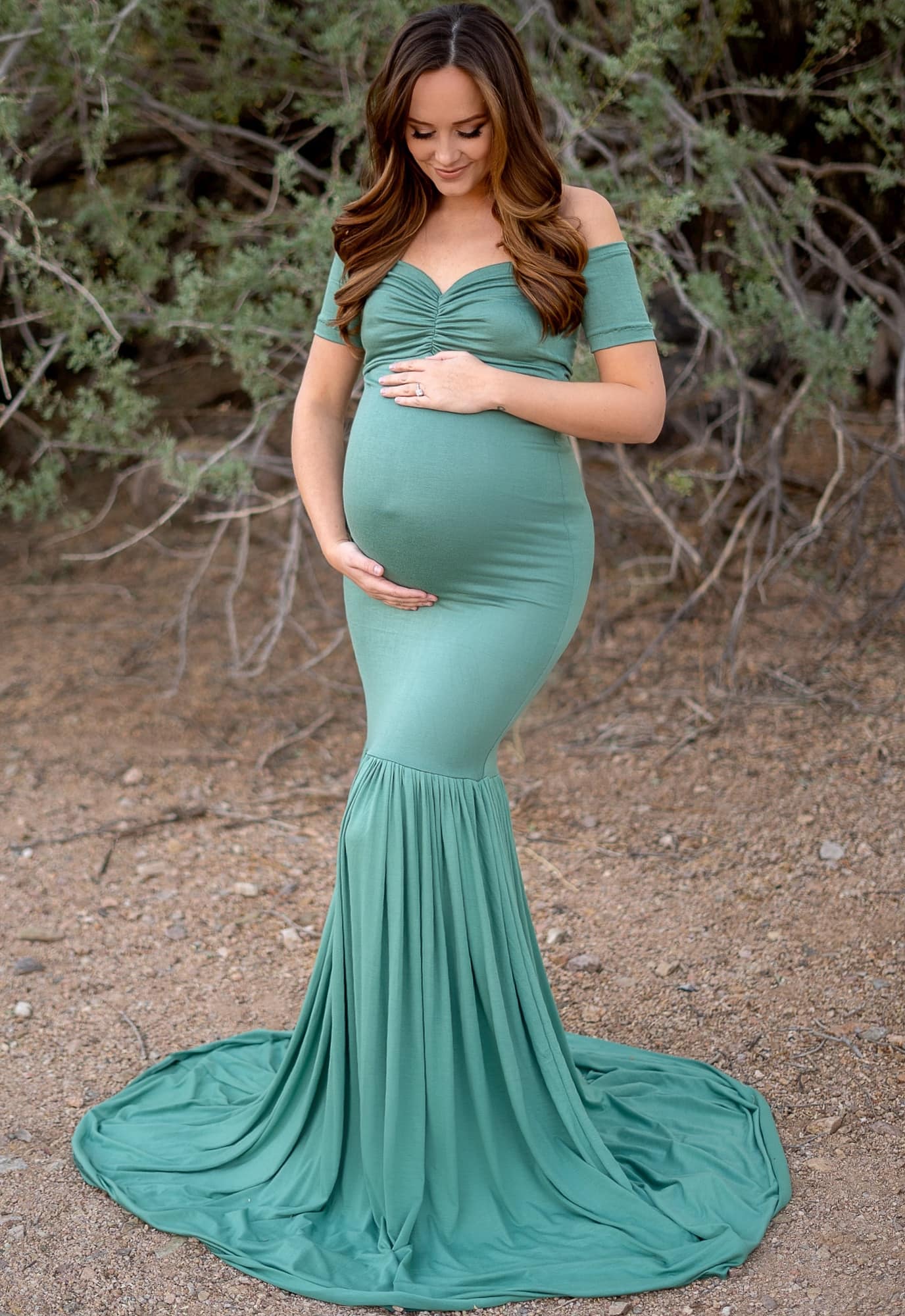 Drama and class, the Short Sleeve Ruched Mermaid Gown has it all! Pictured above in Sea Green, this gown features an off the shoulder neckline, a mermaid style bottom, and made of comfy and flattering fabric for a win-win!
Need help with sizing and styling one of our best maternity photoshoot gowns!? Sexy Mama Maternity is always here to help! Reach out on the chat window at the bottom right corner or shoot us an email at orders@sexymamamaternity.com.