A gender reveal celebration is the perfect way to kickoff your pregnancy plans! Throwing a gender reveal party will allow you to celebrate your new baby, announce if you are having a boy or girl, and begin to let the baby shower and nursery ideas flow. Whether you need gender reveal inspo for your theme, decor, outfit, or the reveal itself, take notes from these Mamas below!
Gender Reveal Theme Inspo
Choosing a theme helps you create a unique party that will wow your guests! Make sure your theme is a reflection of your family personality and guides your decor. This will allow you to select the perfect all eyes on you outfit. If you want a cute, pun-filled theme, we also have some great options for you to get inspiration from!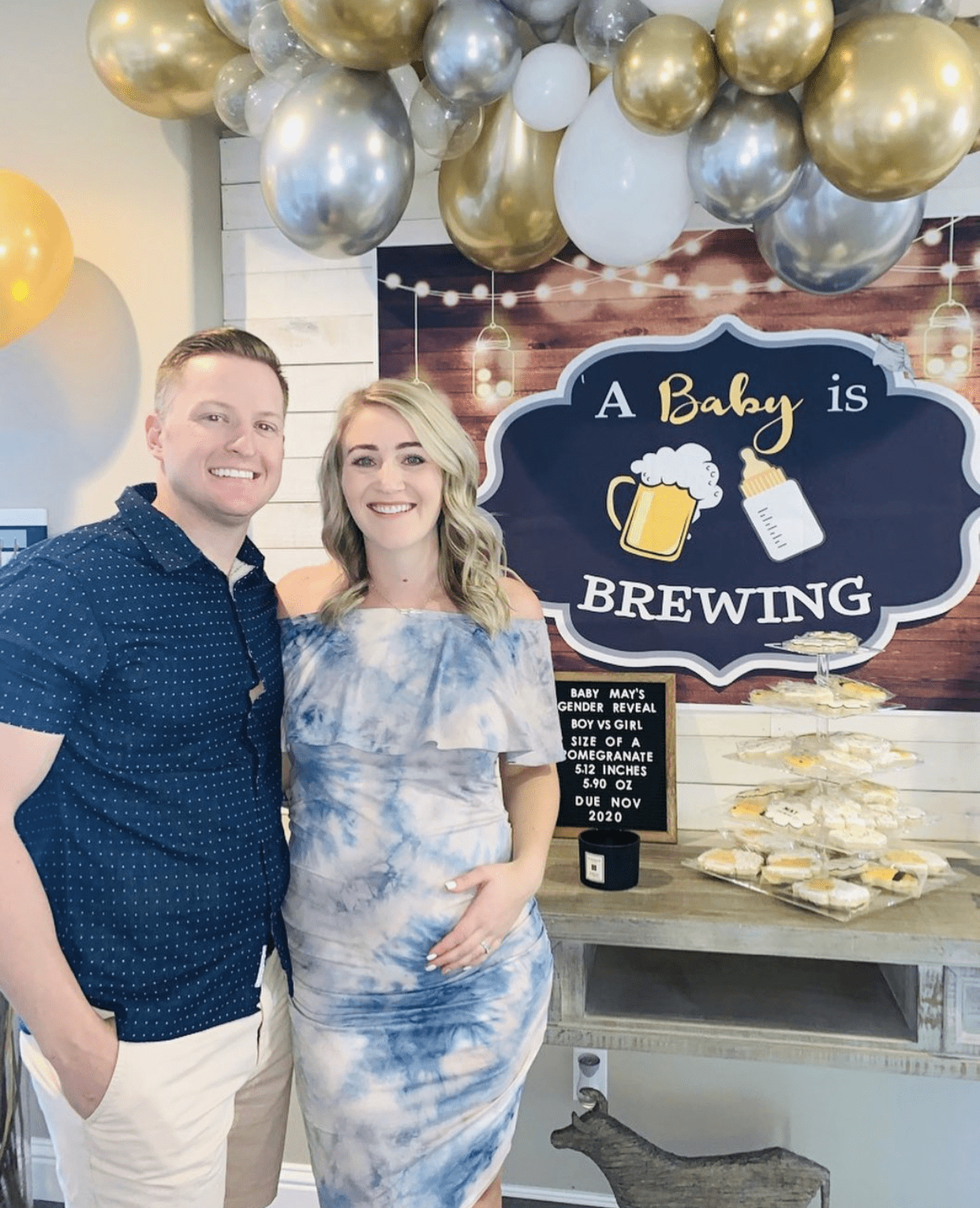 How cute is this?! Mama @k_8tiemay  is wearing our Tie Dye Gender Reveal Maternity Dress for her "A Baby is Brewing" theme! We love the stunning gold accents and matching cookies. Well done, Mama!!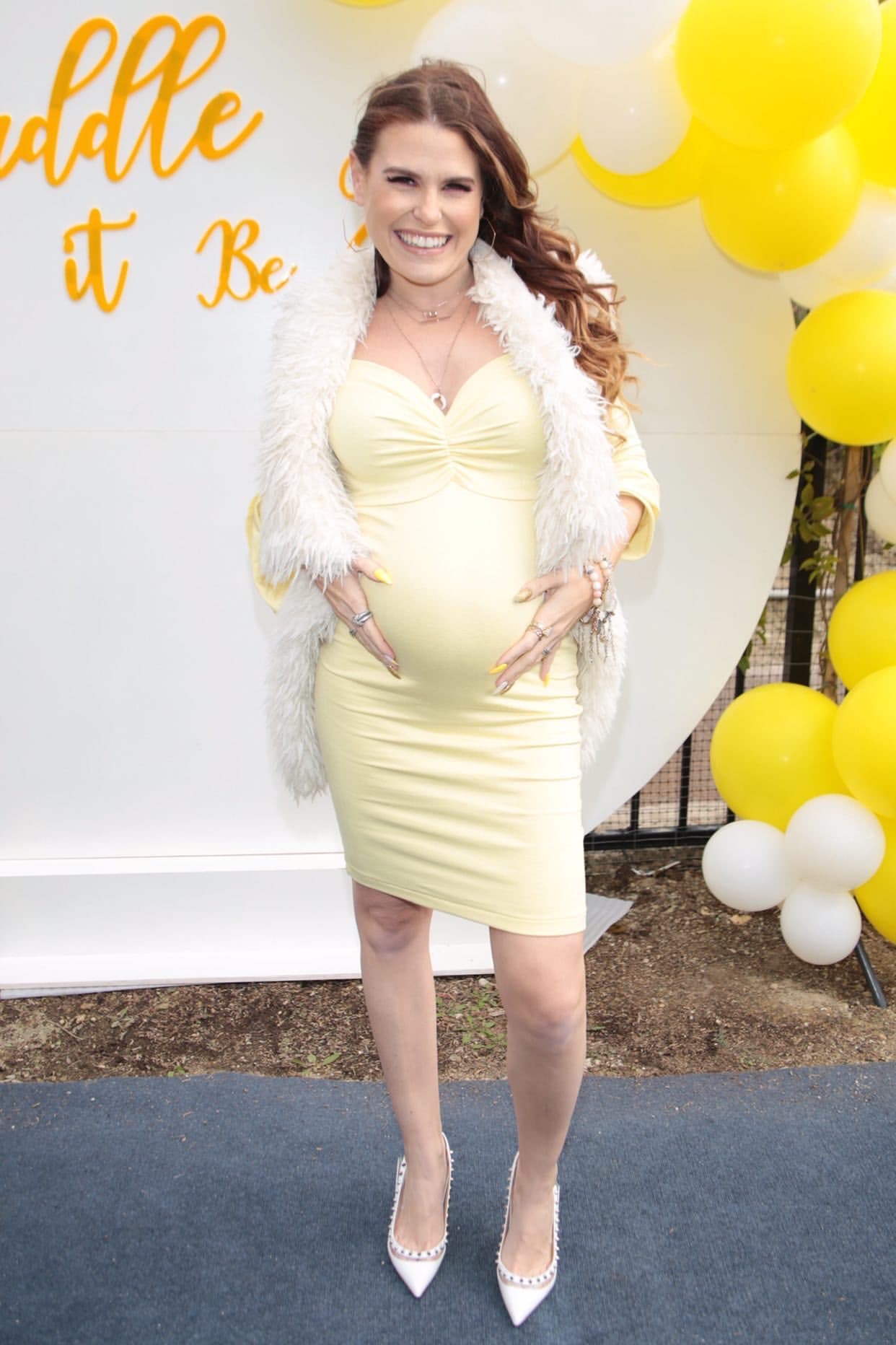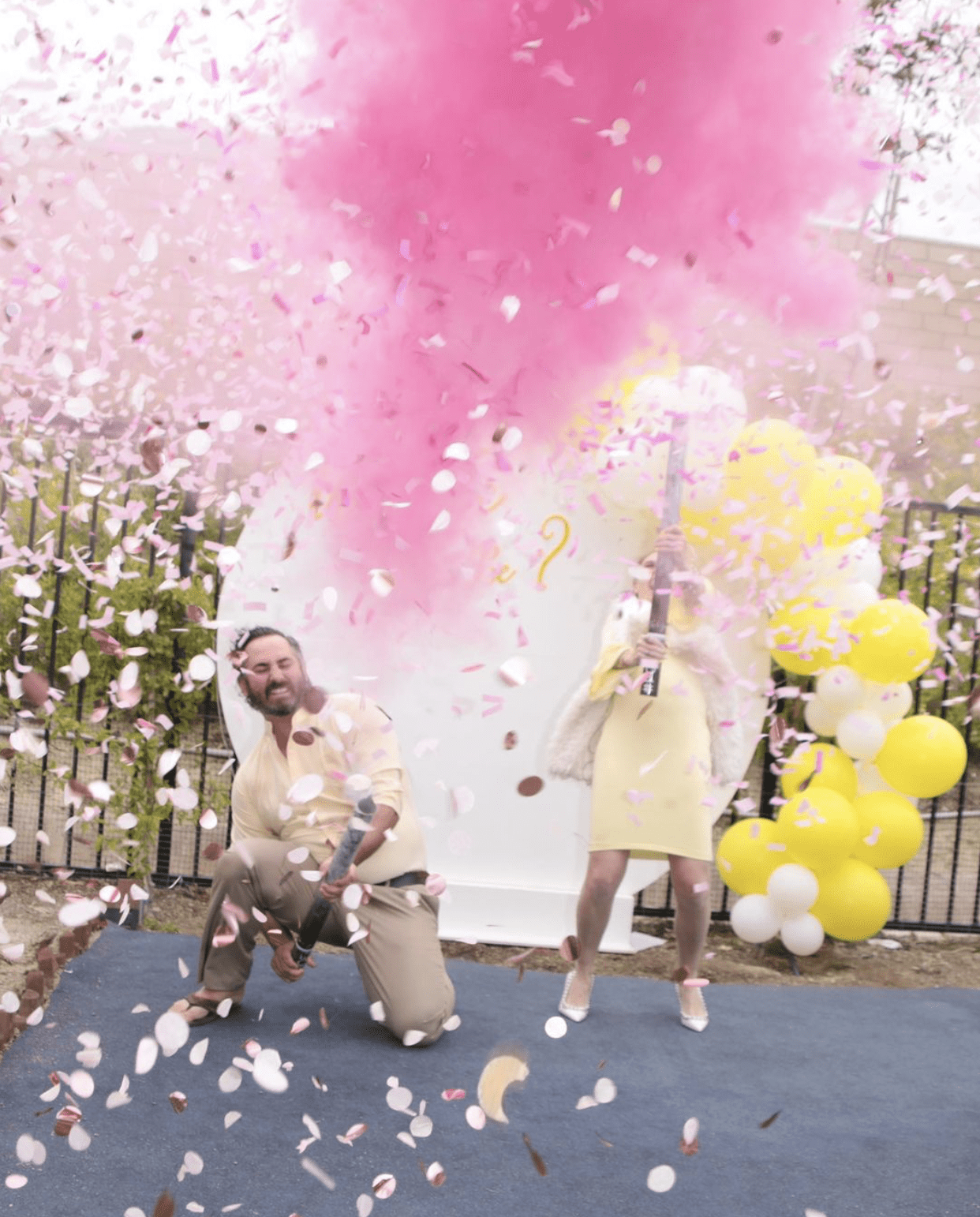 Next is Mama @alilevinedesign, wearing her Ruched Front Mini Bell Sleeve Maternity Dress in Banana! They chose the theme "Waddle it be?" and accented it with yellow and white, for the cutest little duck theme. Then they did confetti poppers for the big reveal. Congrats on your baby girl Mama!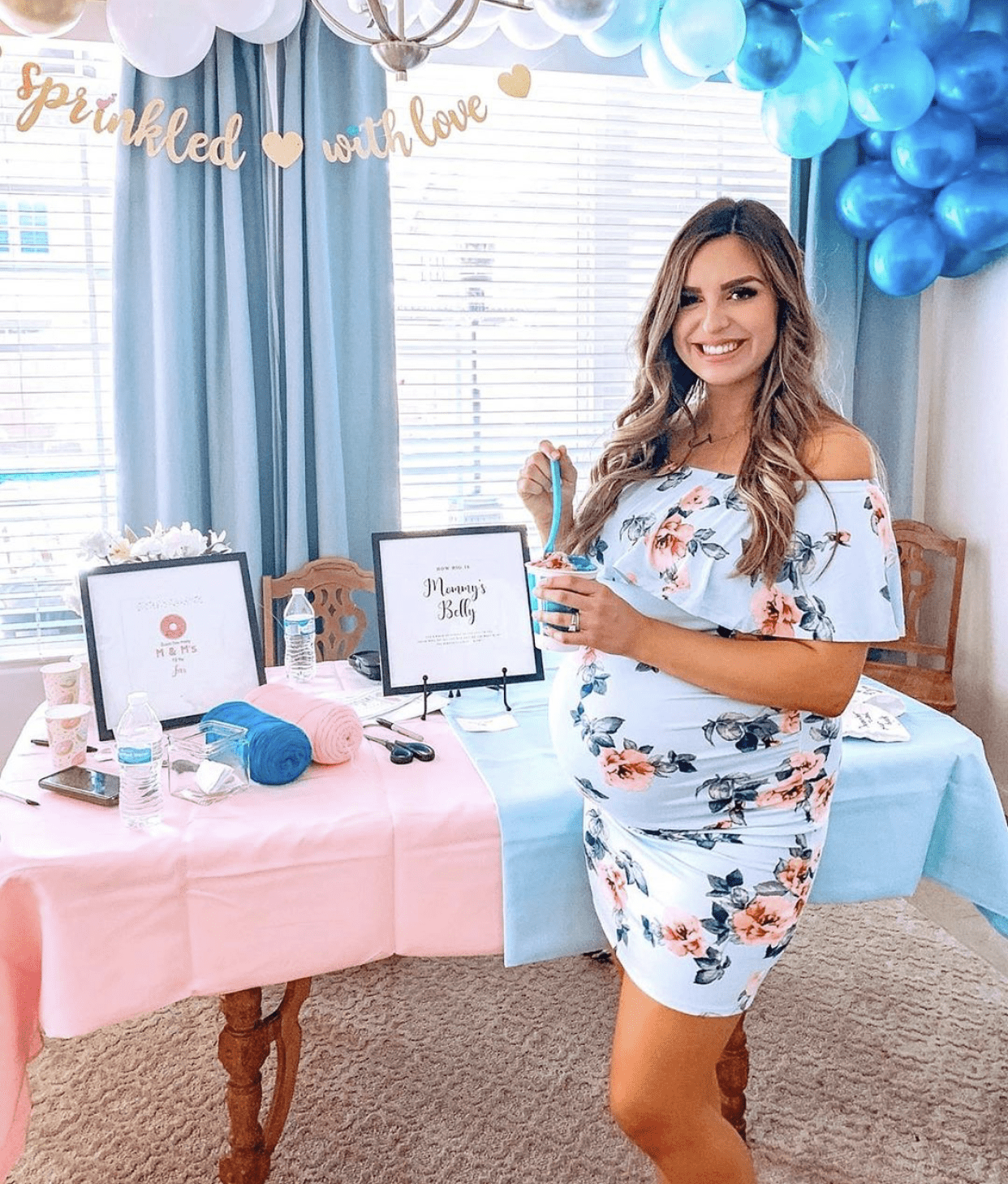 A gender reveal sprinkle is the perfect party for Mamas who want to throw one big celebration! Mama @xoxomarissajones combined her sprinkle shower and gender reveal party to create "Sprinkled with Love". With this theme, you can incorporate sweet, sprinkled treats such as donuts and ice cream. She is wearing our Off the Shoulder Light Blue Floral Bodycon Maternity Dress.
Gender Reveal Decor Inspo
Adorable decorations are essential for creating a picture-perfect gender reveal. The Mamas below have created gorgoeus parties with pink, blue, and of course, balloons! Take a look at what these Mamas did and grab some inspo for your own decor!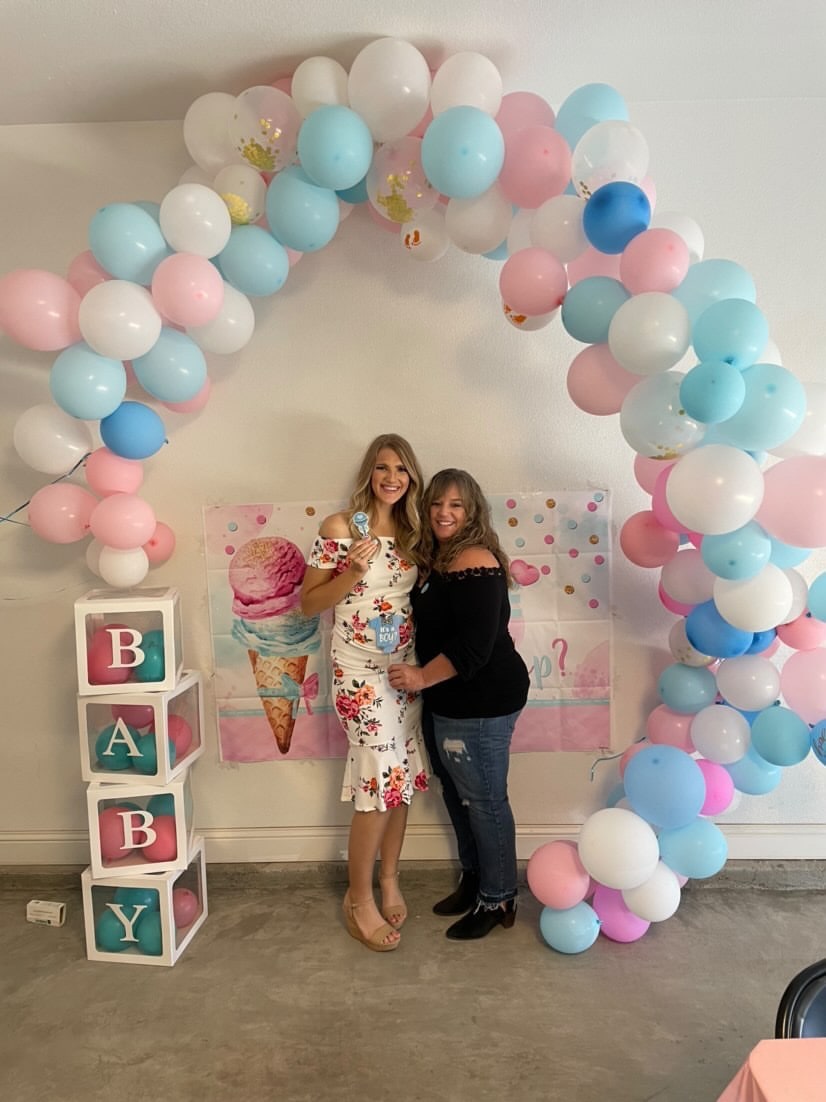 Between the balloon arch and the adorable baby boxes, what is not to love about this decor?! Looking absolutely adorable, Mama @harlieturner18 wore our Floral Off the Shoulder Flare Maternity Dress in White.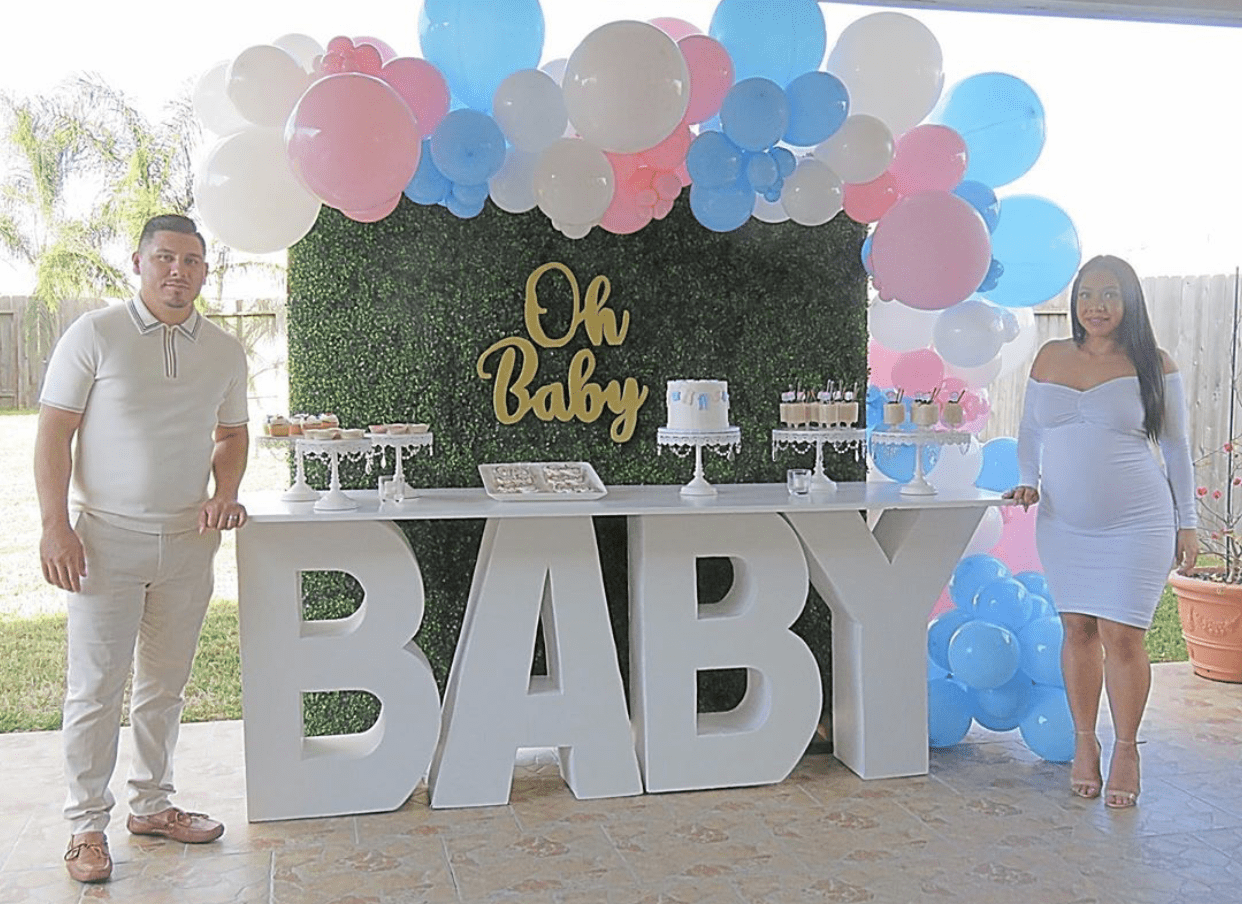 How perfect is this "baby" table?! Mama @d_a_e_n_a_ is rocking the Off the Shoulder Ruched Maternity Dress with Long Sleeves in White for her gorgoeus gender reveal party. This party looks so stunning, it is hard to believe it's real!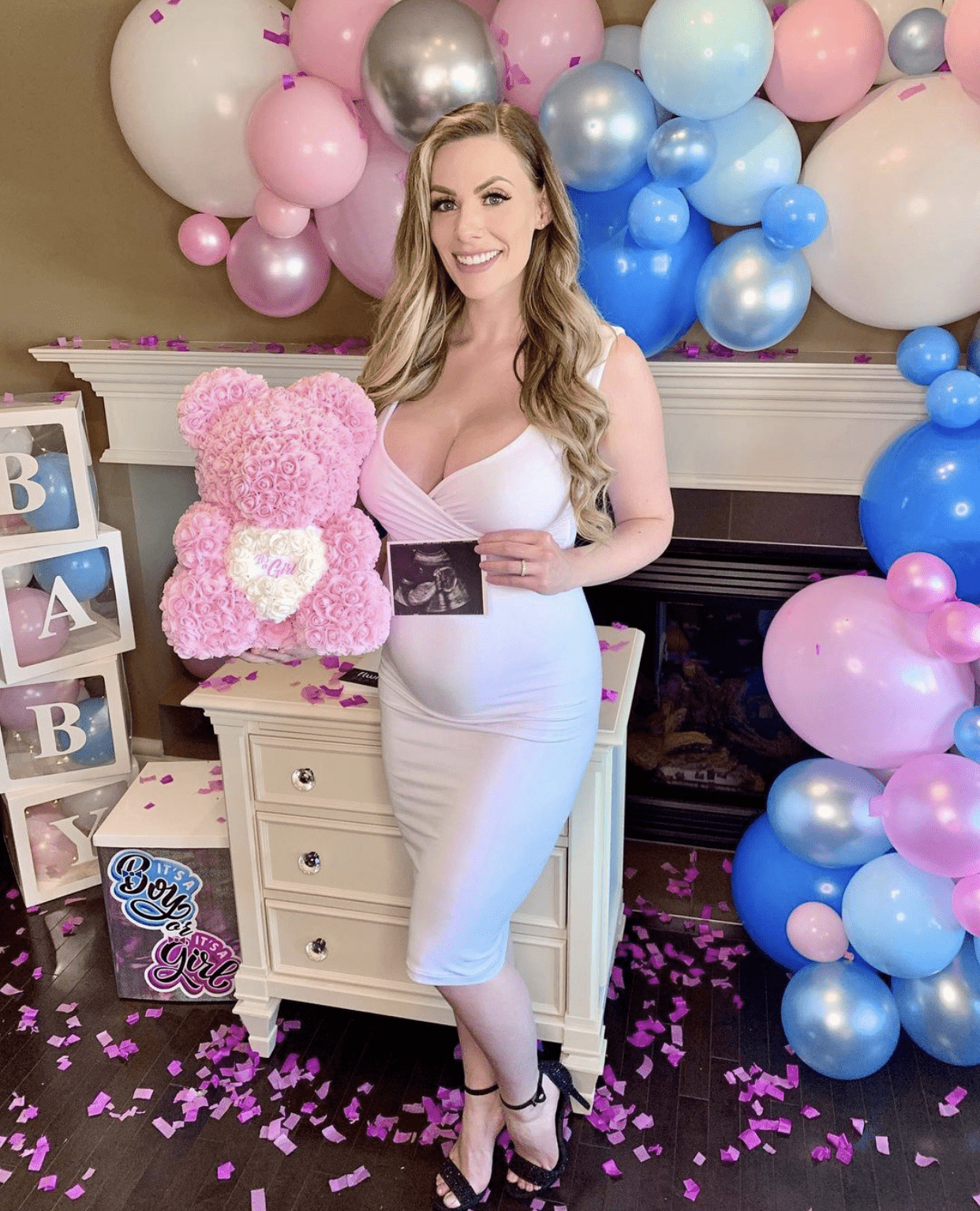 Mama @misskaracooper is wearing our Sleeveless Sweetheart Maternity Dress in White to celebrate her gender reveal. We are just obsessed with the perfect balloon arch! From the looks of the confetti and the adorable rose bear, we can confidently say congrats on your baby girl Mama!
The Big Reveal Inspo
Of course, one of the most fun parts about a gender reveal, is the reveal itself! These Mamas had such cute ideas for announcing if they were having a boy or girl. Inspo that includes the whole family!
If you already have a couple kiddos you want to involve, Mama @theperfectmom has a great idea for you! She had her little ones load up water guns with pink to reveal they are having a baby girl! She wore our Ultra-Stretch Classic Shorts Bumperalls with an added touch of pink paint.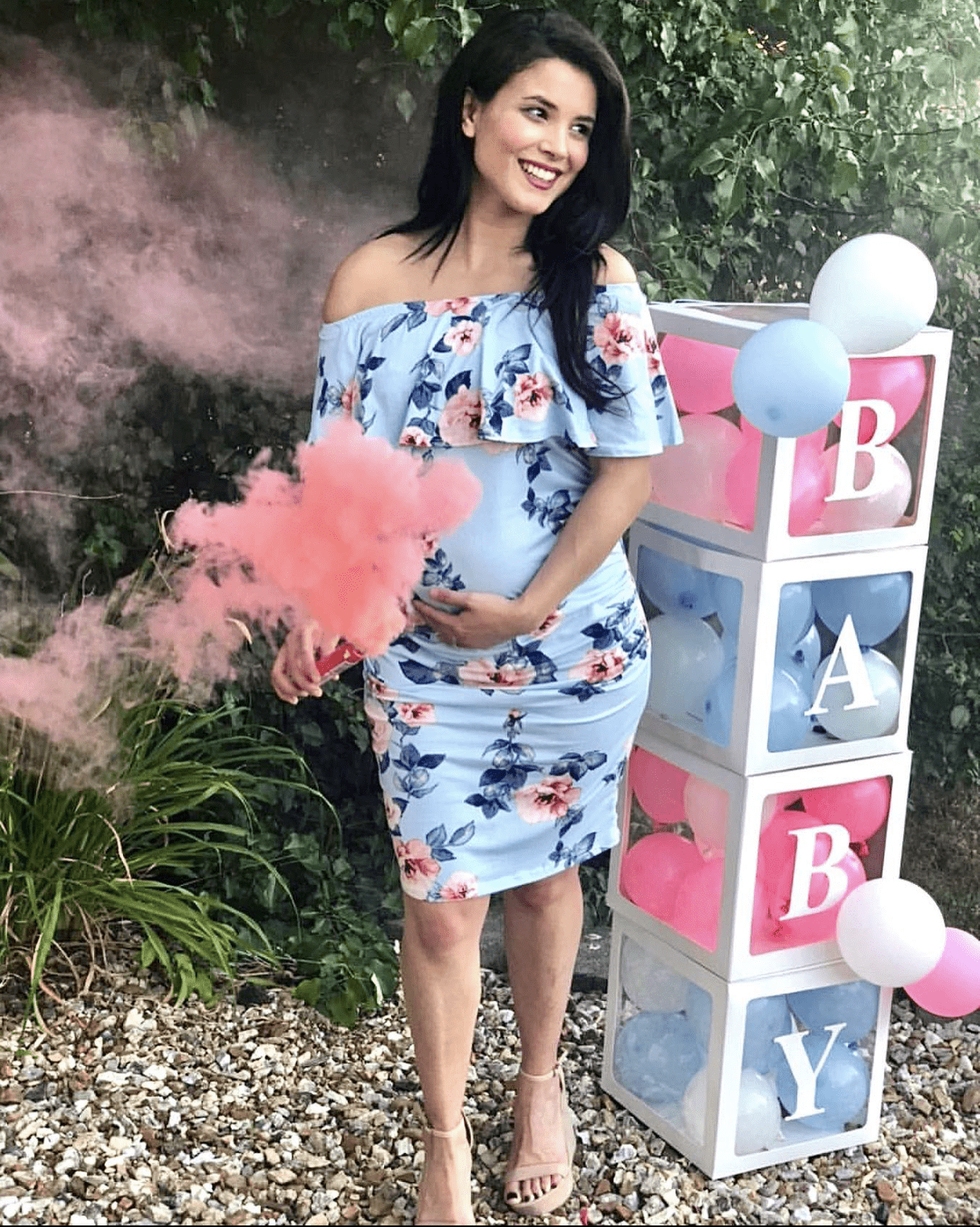 Mama @imjasmineperry is wearing the Off the Shoulder Light Blue Floral Bodycon Maternity Dress and holding a smoke bomb to reveal her baby's gender! This idea is perfect for a gender reveal photoshoot too, because the colored smoke creates a gorgeous effect!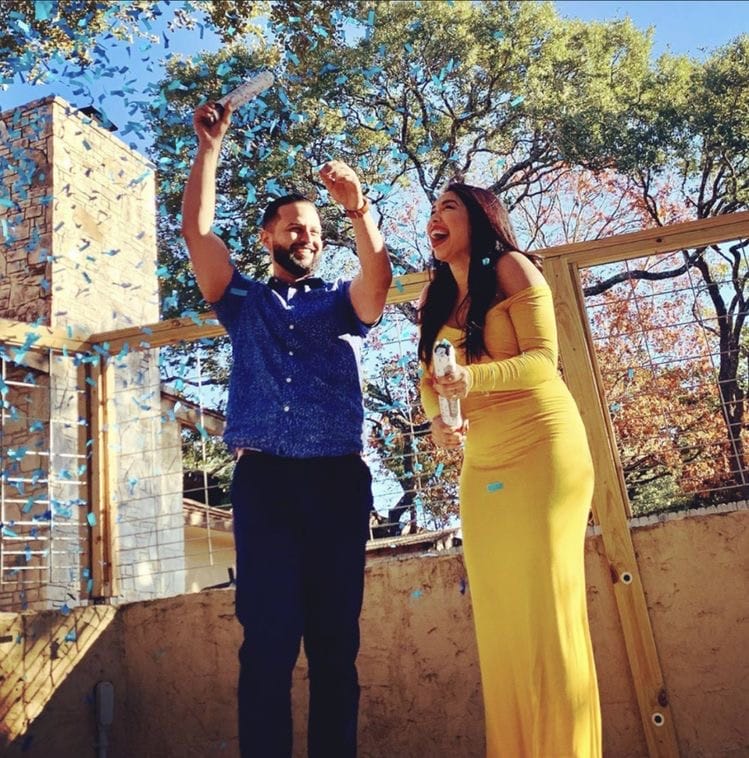 You can also go with a classic gender reveal, just like Mama @melissa.ann.barron did with a colored confetti popper! She looks so stunning, wearing our Long-Sleeve Baby Shower Gown in Gold. Congrats on your baby boy!
Gender Reveal Outfit Inspo
The final, and arguably the most important part of your gender reveal party, is your outfit! The pictures you take at your reveal party will hold the memory of finding out your baby's gender forever, so we have gathered some great options for you! These Mamas are rocking blue and pink dresses to represent both sexes, but also look super cute!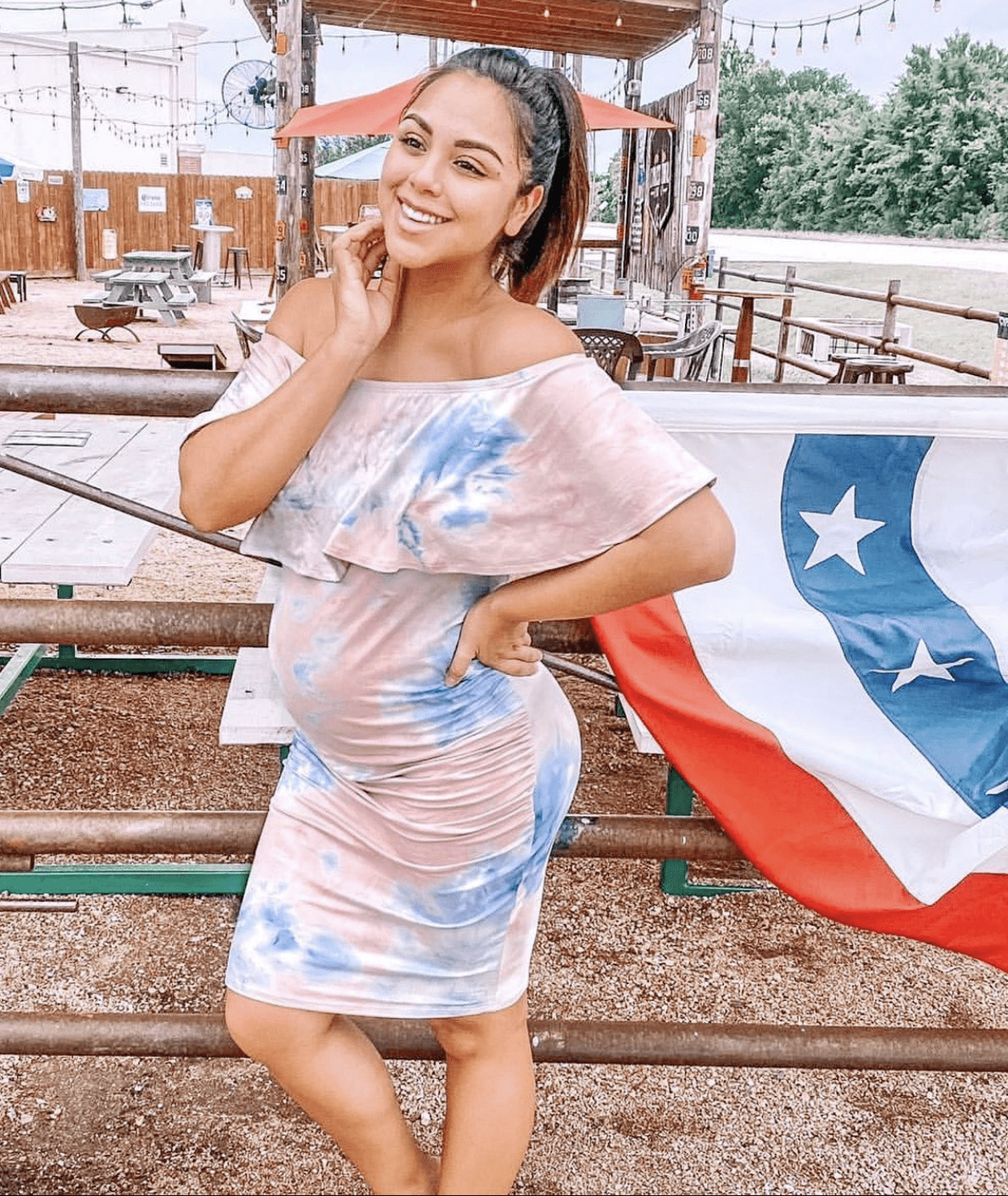 Mama @gembeauties is wearing a gender reveal party classic! It is our Tie Dye Gender Reveal Maternity Dress and it flatters all of your curves, while looking effortlessly cute!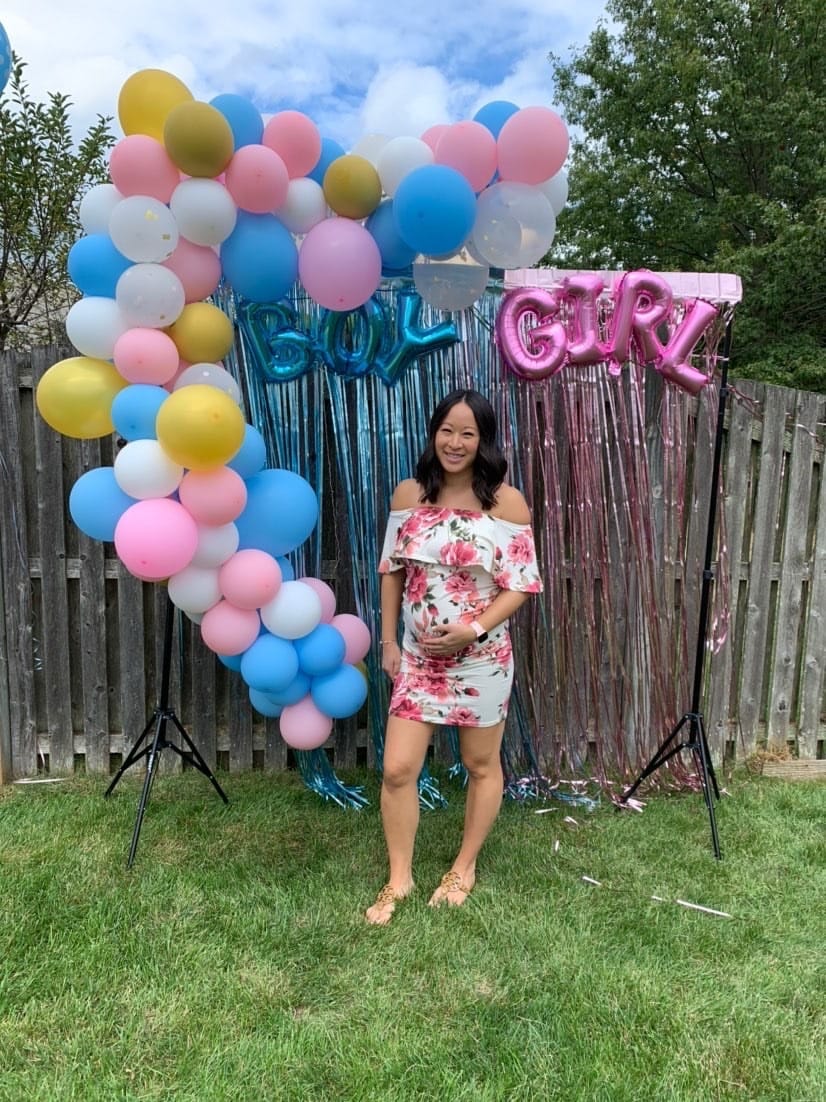 Mama @asiand0ll looks sooo cute here in our Off the Shoulder Cream Floral Bodycon Maternity Dress! This dress is perfect to wear for your reveal party, but it is also great for just going out and looking adorable!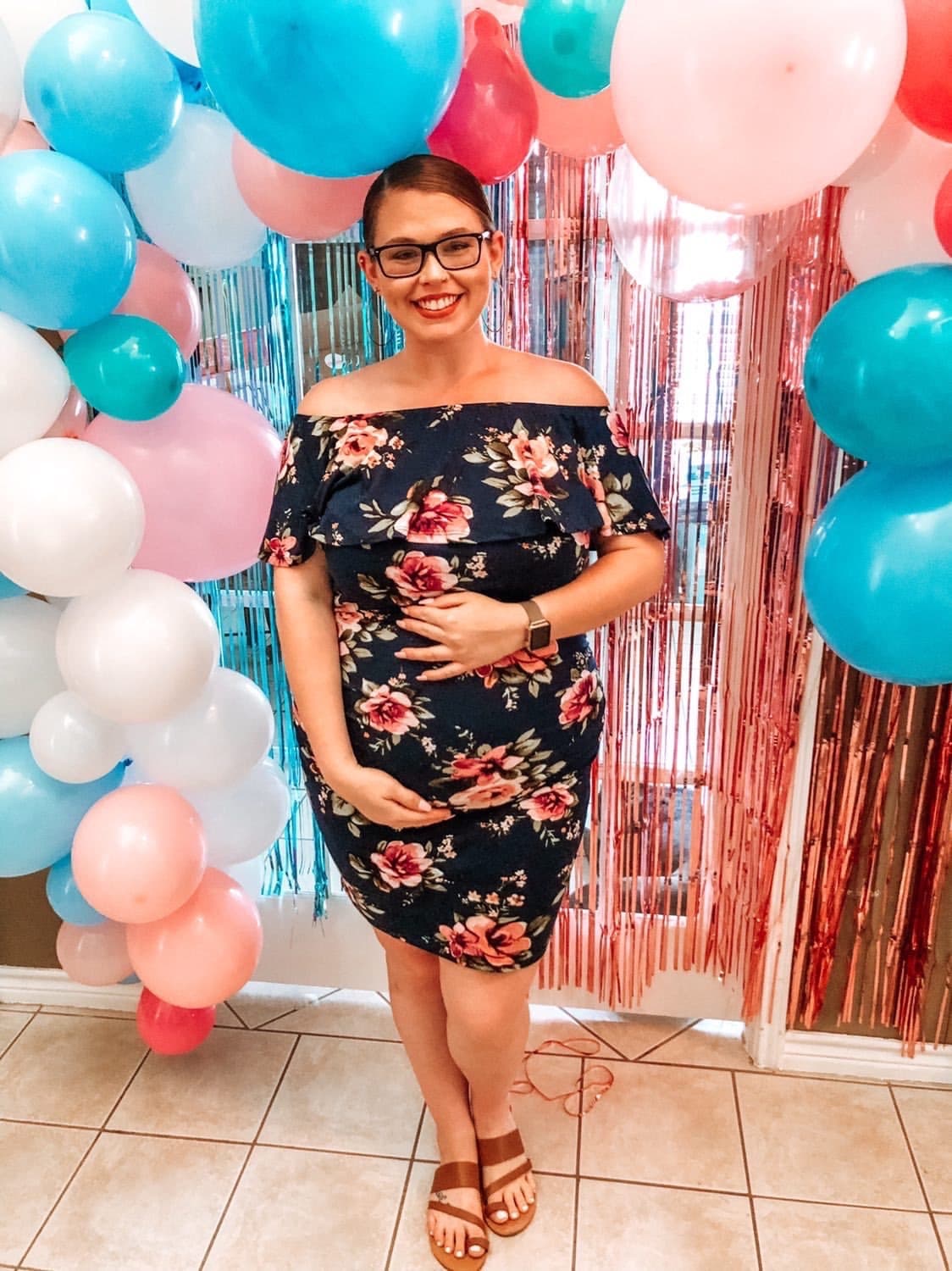 Wearing our Off the Shoulder Navy Blue Floral Bodycon Maternity Dress, Mama @thefearlesscurvy_amber looks absolutely adorable! This dress is perfect for your gender reveal party, as well as your baby shower, dinner, or whenever you want to look gorgeous!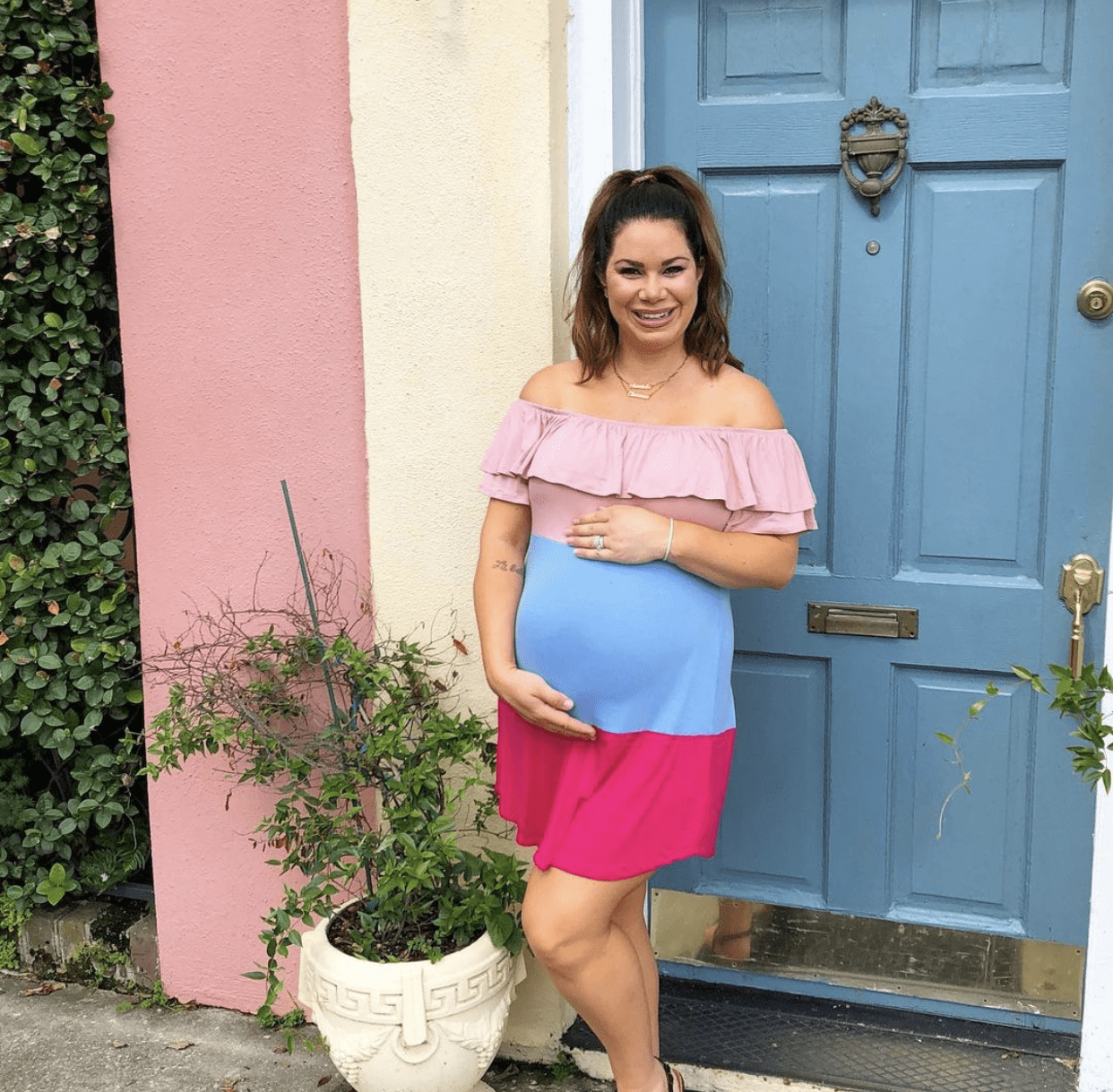 Mama @mrsjessicahoey is wearing the Off the Shoulder Multi Stripe Maternity Dress, and we are obsessed! This color block dress is such a great choice for your gender reveal party because it features both pink and blue, for whichever gender your baby is!
Need help with sizing and styling an outfit from our gender reveal inspo?! Sexy Mama Maternity is always here to help! Reach out on the chat window at the bottom right corner or shoot us an email at orders@sexymamamaternity.com.